Meet Your Host- The Spur Alliance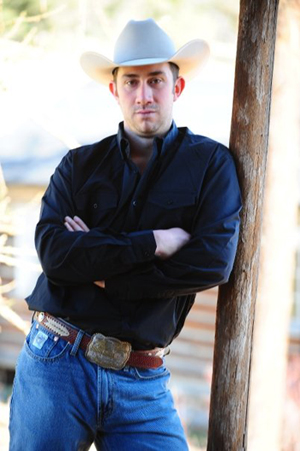 The Spur Alliance is a group of ten unique dude ranches that have been sharing the western lifestyle with guests from around the world for over a combined 500 years in the ranch industry.
Started by Tyler Beckley, a third generation cattle and guest rancher whose family owns Three Bars Guest & Cattle, a British Columbia guest ranch, The Spur Alliance offers travelers help and advice in getting matched with a ranch vacation.
It sounds funny to have "vacation goals," but as travelers seem to garner less and less time for vacations, it matters a lot where they spend their time away and there are hundreds of dynamic ranch vacations from which to choose. Just deciding where to go can be a job by itself! By answering just a few questions, Tyler says folks can help dramatically narrow their ranch search.
Equitrekking: Why did you decide to launch the Spur Alliance?

Tyler: I started the Spur Alliance to better help guests find that perfect ranch for them. For someone new to a guest ranch vacation, selecting a ranch can be a little overwhelming. There are literally hundreds of ranches and for the most part they all sound the same. I can tell you they are not all the same. There are huge variations in riding programs, locations, facilities, and atmospheres. Some specialize in adults, some specialize in families, some sleep 200, and some sleep 4. There are a lot of different thing to consider when choosing a ranch. By creating the Spur Alliance we pulled together the very best dude ranches to help the consumer find a ranch that is a good fit for them.
Equitrekking: You have only ten select ranches listed as a part of the Spur Alliance. Will you add more? Why or why not?
Tyler: There are, and will only ever be 10 ranches listed in the Spur Alliance. By selecting only the very best 10 ranches, we did a lot of the leg work and made the decision process a little easier for the potential guest. The Spur Alliance Ranches all adhere to the highest standards in dude ranching that I feel make a ranch great. All Spur Alliance Ranches are family owned and operated, with a min of 20 years in operation. Every ranch is a member of their respective state association, the Dude Ranch Association, and are all Horse Safety Certified though the DRA. With every ranch having served as president of either the DRA or their state association, these are the leaders within our industry. To be honest it is an honor to be associated, and work with this outstanding group of Ranchers.
Equitrekking: What is your family history with ranches?
Tyler: My family has been in the Dude Ranching business for over 60 years. My grandfather, Lloyd Jones, started Dude Ranching and running pack trips through Yellow Stone National Park in 1952. He and his family built and ran 3 ranches in Northern Idaho, before heading to Canada in 1980 where he built and ran Top of the World Ranch. In 1989 my parents moved across the valley and built a new ranch, Three Bars. By know they knew exactly what they needed and wanted in a Guest Ranch. Three Bars is the culmination of 50 years of experience. I am lucky enough to be a third generation Dude Rancher and to follow in my parents and grandparents footsteps. As Russell True, president of the DRA and Spur Alliance member says "I had the good fortune of picking my parents well"
Equitrekking: What are some things that guests should think about when choosing a ranch vacation?
Tyler: There are a lot of things a potential guest should consider when choosing a ranch, but it all boils down to just a few simple questions. What kind of accommodations are you looking for? Ranches offer everything from rustic cabins, through to 5 star accommodations. What kind of food do you enjoy? Would you prefer gourmet meals, or more of a family style meal service? Does the ranch have a bar? Or do they allow alcohol at the ranch. What is the makeup of your traveling group? If you are travelling as a family, you will most likely enjoy visiting a ranch that has an age appropriate program and other guest kids that are the same age. There are ranches that have full extensive kids program for kids, and there are other ranches that offer more opportunities for families to ride and participate in activities as a family. If traveling as a family it is important for these guests to understand what kind of a program the ranch offers. And what kind of an activities program they run. Some ranches offer mostly riding, while others have more diverse activities such as rafting, shooting sports, fishing etc. The Spur Alliance ranches have been selected to fill all of the categories listed above.
Equitrekking: How is the dude and guest ranch industry changing and how does the Spur Alliance fit in with this changing travel climate?
Tyler: The Guest Ranch Industry has changed dramatically over the last 50 years and more so in the past 10 with the emergence of the internet. In my grandfather's day, guests came for 4-6 weeks at a time and they came back every year. You could not just go to a dude ranch, you had to be invited. Hence not a lot of need for marketing. But the internet has made travel and finding new interesting vacations easier than it has ever been. We have found that more and more of our guests are visiting our ranches every second or third year, and visiting someplace new in-between. The Spur Alliance was created to make it easier for us to refer clients to a different ranch, without having to worry about whether they would enjoy it or not. While your experience at a Spur Alliance ranch my differ from ranch to ranch, the quality never will.
Equitrekking: What resources does the Spur Alliance make available to travelers?

Tyler: Even though the Alliance is only 10 ranches, we have built a very effective interactive search tool on the web site. The interactive search allows guests to see, in real time, the cause and effect while searching though ranches. Allowing them to decide what is most important to them while using the application. Within seconds the interactive search will help you find the perfect ranch.
Equitrekking: You are part of the new generation of American ranchers. What does holding on to this way of life mean to you?
Tyler: Holding on to and sharing my way of life is everything to me. I am lucky enough to have a lifestyle that people are willing to pay to be part of. In a time when the gap between people and agriculture is larger than ever before in history, it is important that people have the opportunity to get back to something real and natural. My connection to my family is not only very important to me, but it is a vital component of our business. We take pride in our ability to work together and create an environment where our guests feel like they are part of the bigger picture, and not just a visitor.
Learn more about great British Columbia guest ranches in Equitrekking.com's Vacation Guide, a resource for great ranches, resorts, outfitters and destinations offering equestrian vacations.