Meet Your Host- Tanzania Luxury Horseback Safaris
Meet Alison and Martin, your hosts for the African luxury horseback safarsi. Read about how Alison and Martin grew up, fell in love with horses, Africa, and each other.
Equitrekking: How did you end up in Africa leading horseback safaris?
Martin: While in the UK, I was asked to help exercise hunters prior to the hunting season. Here I met a friend who asked if I would like to go to Botswana on a horseback safari with them. The idea sounded fantastic so we all went to the Okavango Delta where my guide turned out to be Ali. Halfway through the holiday, we realized something was working between us. This is sometimes called Khaki Fever, which is normally a male guide in uniform and a female guest. However, it also works the other way round if you are lucky enough to have a female guide (in uniform) on horseback that can stand down a charging elephant.
Ali came to visit in the UK and during her visit we quickly realized that fever or not, 'something' was still working. We wanted to stay together and had to make a choice of working in the UK or Africa. Sasakwa Lodge owners were keen to employ us, which made the decision very easy. Africa it was.

Alison: I was born in UK and my parents moved from the UK to Kenya when I was three with my two sisters and brother. My parents loved the bush and we spent our holidays on long camping trips through Kenya and Tanzania. When I was ten, we moved from Kenya to South Africa and continued to enjoy safaris throughout Southern Africa.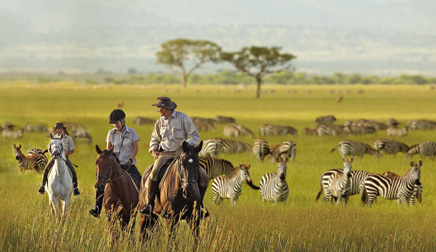 Equitrekking: What's the most surprising/ exciting wildlife encounter that you've had while riding horses in Tanzania?
Martin: The excitement of riding in a true wilderness on African horse safaris and never knowing what is around the next corner never fades. Riding here is a constant surprise as every ride is different. Watching the wildlife from horseback is very different from a vehicle or even on foot.
Recently we were observing a pride of lion resting under a shady Balanites tree on the plains. The lions were also watching us in an inquisitive way. My guests wanted to stay longer so we looked for some shelter from the sun at a safe distance from the pride. We approached a tree offering good shade and kept an eye on the pride plus checking out around the tree. Just before entering the shaded area, I looked up and there were four legs plus a tail hanging down from under the canopy. It was a lioness watching with interest as we approached her unique resting place. It is not common for lions to rest in trees, but in the Serengeti anything can happen!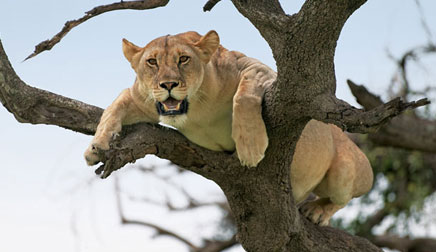 Equitrekking: What is your background with horses?
Alison: Coming from a family with three horse-mad girls and one non-horse-mad brother, I started riding at a young age. My elder sister had a pony and I started being led around on it when I was three-years-old. Living in Kenya, we had to go to boarding school when we turned six. We were at a lovely school on a farm. We had to choose between ballet and riding and having two left feet and a little girl's love of horses, it had to be riding for me.
My parents bought me my first pony when I was seven and during our school holidays, we used to ride through the Kenyan bush for three days to our local pony club camp, stopping along the way to overnight and collect more riders and ponies. We moved to South Africa when I was ten and my parents bought an equestrian property and I went into more competitive riding in show jumping, eventing, dressage, and showing disciplines.
As an adult, I focused mainly on the showjumping discipline and rode in A-grade classes. I had already decided at a young age that I wanted to work with horses and achieved my Horsemastership and Instructors certificate. At twenty-five, I spent four years in the United Arab Emirates, developing a riding club for the Intercontinental Hotel with lessons, desert safaris, and horse shows.
Having a keen interest in the veterinary side of horse management, I decided to go into Equine Sports Therapy and I spent two years in the UK for my training. Once qualified, I spent two years in Northern Ireland with my own equine therapy practice, working closely with a number of the equine veterinary hospitals. At this stage, the African sunshine was calling, and I was fortunate to be offered the opportunity to set up and manage a horseback safari program at Tswalu Private Game Reserve based in the Kalahari, Northern Cape back in South Africa. This is where I started my Horse Safari Guiding career. I qualified as a Safari Guide during the years I was there and gained valuable experience riding with the Big Five and managing horses in a remote area where the nearest vet was hours away. I later moved to Macatoo Camp in the Okavango Delta in Botswana as Horse Manager and Guide and spent a number of amazing years with the horses and guiding. In October 2004, Martin and I were offered the fantastic opportunity to develop and manage the horse program at Grumeti Reserves bordering the Serengeti National Park in Tanzania.
Martin: I started riding too many years ago (approximately twenty-five) in the UK-- mainly dressage, jumping and hacking at a local stables in the Northamptonshire countryside. This was a good basis for learning the art of bush riding, which is relaxed riding but always ready for sudden surprises. Since 2005, all my riding has been in Tanzania as equestrian guide.
What is your favorite place to ride around Singita's Grumeti Reserves?
Alison: Wow, what a question! It is like asking a mother who her favorite child is! We have such diversity here and I love it all. If I am out on the plains, I love the plains. If I am along the Grumeti River, I love that. Exploring around the hills and never knowing what is around the next corner is also very exciting.
Martin: Between Sasakwa and Faru Faru are open plains, drainage lines, hills, and kopjes plus the Grumeti River. All of these are favorites for horseback safaris.
What's so special about riding in Tanzania?
Alison: Of all the places in Africa that I have visited and worked, the Serengeti eco-system is without doubt the top horseback riding safari experience. The spectacular scenery would make a horseback safari to this area a memorable experience on its own. Add to this the diverse and plentiful wildlife, the perfect riding terrain, the varied and interesting eco-systems to enjoy from the wide open plains offering long canters, to riding along the Grumeti Rive, and you have the best riding experience for an Africa horse safari.
Martin: The feeling of endless space (no fences) with the excitement of riding amongst such a huge and varied wildlife.
What type of special training must you do when introducing a new horse to trekking with Singita for your Africa horse safaris?
Alison: One of the most important things is the horses temperament, and we are extremely careful when we are selecting horses for our Safaris. Once they arrive at our stables, they have a bit of time off to acclimatize and get over the journey and then we start taking them out on easy rides with our staff riding them and in the company of older and experienced horses. Most of our horses settle very quickly. It is amazing how many of them see their first giraffe or elephant and just give it a glance as if to say "so what, can I have some grass now please".
Our horses all live as a herd and so they quickly learn to socialize with each other. Once we are confident that the horses will behave in the company of their stable mates, they are relaxed and sensible with all the different species of game we are likely to encounter and we know they have no behavioral issues that need working on, we put them out on the rides with guests. Some horses take a few weeks, one or two can take a year. Selection, patience, and understanding are our key words. We don't hurry horses that need a bit of extra time and it all pays off in the long run.
What is most surprising to equestrians who travel to Singita's Grumeti Reserves to ride?
Alison: I think the quality and condition of our horses, equipment and the stable yard itself is a great surprise to people. They are also very impressed with the professionalism of our Tanzanian staff that work with the horses.
Martin: Equestrians are always surprised at what we can provide at the equestrian center, especially when offered top brands of all the necessary clothing if required. There is no other place in the world to compare with the Serengeti Plains of East Africa and to ride this area with well-mannered horses is an unforgettable experience.
Learn more about Africa horse safaris at EquitrekkingTravel.com and in the Equitrekking Vacation Guide to horse safaris, riding holidays, dude ranch vacations and great horse riding escapes.