Meet Your Host- Jimmy Smith of Horses Landing in Utah
Horseman, trainer and clinician Jimmy Smith of Horses Landing offers horsemanship clinics to teach skills and techniques to improve safety, build mutual respect, and foster an enjoyable relationship between you and your horse. Located in and around Zion National Park, these Utah horsemanship vacations offer confidence building and learning sessions in stunning natural surroundings and focus on groundwork, reining, trail riding, safety and more.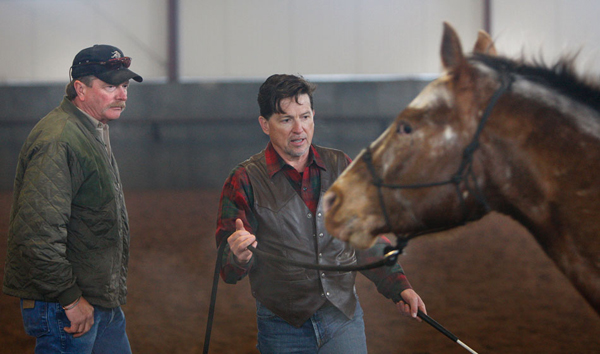 Jimmy Smith, right, teaches during one of his many Utah horsemanship clinics.
Smith himself is a lifelong horseman, having been raised on his family's cattle ranch in Utah. Studying Natural Horsemanship techniques practiced by Clinton Anderson, Jack Brainard, Eitan Beth-Halachmy, Franklin Levinson, Richard Shrake and Tom Dorrance, Smith formed his unique methodology to foster the potential that the horse and human can achieve together. We spoke with Smith to learn more about his horsemanship vacation clincis.
Equitrekking: What is most special about your location?
Jimmy Smith: Our proximity to Zion National Park and private riding areas including world class restaurants and outdoor venues.
Equitrekking: What inspired you to run your vacation clinics and teach others to become better horsemen and women?
Jimmy Smith: I have been doing it since I was a young boy and discovered the beauty, climate and wonderful people of the desert southwest and one of the most beautiful spots for a launching point for world class riding and training in and around Zion National Park. Guests can bring their own horse or ride one of our great horses.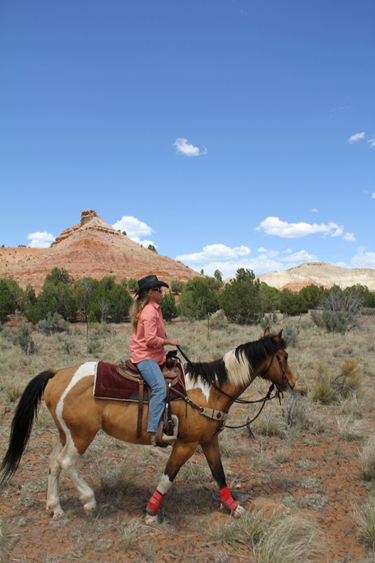 Riders saddle up in spectacular scenery in Utah during their riding vacations, where learning in the arena and trail riding make for a great combo.
Equitrekking: What level of rider do you need to be to participate in the Horses Landing Riding Clinics in Utah?

Jimmy Smith: I usually work with good Foundation Intermediate Riders, but all levels of riders are welcome. Clinics are customized to help each individual, whether they want to excel in reining, learn the techniques to help their horse become a soft, supple and willing partner or feel confident on the trails.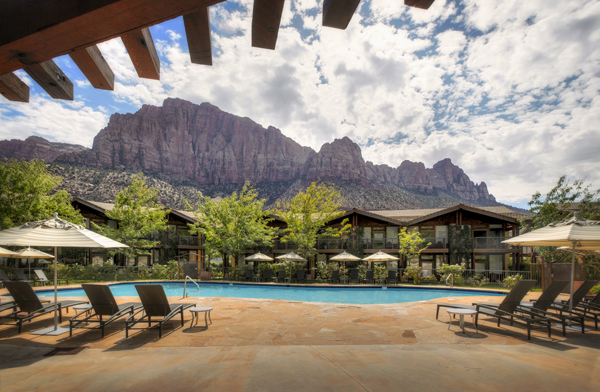 Guests enjoy sitting by the pool, great food and relaxation after a day outdoors at the upscale Desert Pearl Inn.
Equitrekking: Do guest's have a favorite activity either in or out of the saddle? If so, what?
Jimmy Smith: Developing riding skills and practicing in some of the most wildly beautiful country in the west. We can cater the clinics, so mornings are spent learning in the arena and afternoons take guests out on trail rides around Zion.
Learn more about clincis and equestrian learning vacations in the Equitrekking Vacation Guide to great dude ranches, guest ranches, cattle drives and horsemanship vacations.