Meet Your Host- HorseWorks Wyoming
I've been told that I grew up to do what I said I would as a child – marry a cowboy... MaeCile Brown, one of your hosts at HorseWorks Wyoming.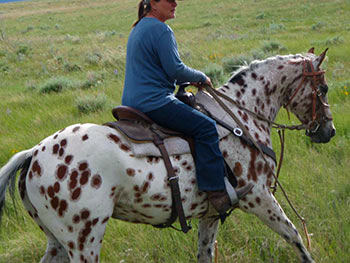 Dreaming of taking a working ranch vacation with authentic cowboys? Want ride sagebrush flats to grassy slopes with canyon views? Head to the American West to HorseWorks Wyoming located in Grass Creek near Thermopolis.
Run by husband and wife team Nate and MaeCile Brown, HorseWorks Wyoming is an authentic working horse ranch that hosts riders, interns and those getting ready for vet school on horseback riding and educational travel adventures. Nate is a Wyoming native and living legend, as a longtime cowboy, rancher, horseman, poet and guide. MaeCile hails from Kentucky and it's her love of Nate and horses that brought her to HorseWorks. Together, they help international travelers from around the world gain unique skills and the special experience of spending time on a true working rach.

We interviewed MaeCile to find out more about HorseWorks and their lives as ranchers.
Equitrekking: How did you come to own and run a working horse ranch?

MaeCile Brown: Nate's Grass Creek Ranch, in his family from 1941 until he retired in 1989, was miraculously re-purchased by us several years after we met in 1994. I've been told that I grew up to do what I said I would as a child – marry a cowboy! While I have no recollection of having said this, I admit that we are living our dream now – running a horse ranch and having cattle to work our horses.
Nate is a renowned horseman and trainer in this area of Wyoming. At 92 years young, he says that he never worked harder than since he retired, married a younger woman and moved back to the ranch!
As a horse lover from Kentucky and international businesswoman prior to moving to Wyoming, I relish learning everything that Nate has been able to teach about ranching and horsemanship. Recently we fulfilled another part of our dream – moving the ranch headquarters off the grid and building an eco-friendly lodge, corrals and outdoor arena for the enjoyment of our many visitors from around the world.
Equitrekking: What's your favorite part of living on a ranch in Wyoming?
MaeCile Brown: Being greeted by the animals when we walk out our door – by eighty horses that we know intimately, that trust us because we are consistent in our treatment of them – this hands-on relationship is extremely rewarding, and a huge responsibility!
Watching the goats, Amelia and Winston, run out to pasture with the horses as fast as they can on their short little legs makes me laugh at the certainty that they think they are horses, too! I love the companionship among the animals and between them and us.
I also enjoy growing the feed for them - listening to the water run down the irrigation ditch and onto the hay field, walking the fields hour after hour changing dams, seeing the first results of my labor as grass breaks through the dirt on the south-facing slopes in the spring, watching from the back of the tractor as the wind rows fall at haying time, every sunrise and every sunset that casts its glow over the ranch – all these heart-filled experiences are what I love about living on a working ranch. Whether we are working with the horses or the land, there is constant change, growth, challenge, learning and always a lesson in humility just around the corner. And before retiring for the night, taking a last walk on a moonless night and gasping at the intensity of the stars – what's not to love!
Equitrekking: What is most special about your location?
MaeCile Brown: HorseWorks is set in a peaceful valley, readily accessible by road, but remote and off-grid.
Equitrekking: Do guests have a favorite activity either in or out of the saddle? If so, what?

MaeCile Brown: Wrangling the horses from pasture, loping in wide open spaces, riding numerous horses during their stay, or if they choose, bonding with one horse, and team penning the cows. It is hard to single out just one favorite!
Equitrekking: What do travelers find most surprising when they visit you?

MaeCile Brown: The number and variety of the horses participants have an opportunity to ride surprises them. This is what a rider says most often afterward and is surprised to find that their experience at the ranch changed their life, a very personal and individualized phenomenon that we attribute largely to their intimate experience with the horses and the simple, rustic lifestyle on the ranch.

Check out HorseWorks and other great working ranch vacations in the Equitrekking Vacation Guide to great working ranch vacations, dude ranches, guest ranches and horseback riding vacations.