Meet Your Hosts- Wise Mountain Retreat, Dominican Republic Horse Tours
Located in Veragua in the Dominican Republic, Wise Mountain Retreat, formerly Rancho Montana, is a guest ranch that offers Western style trail riding through the lush rain forests, rivers, mountains, canyons and Dominican pueblos. Owners Leslie Hawkins and Gerald Baker were looking for a pre-retirement job when they came across the ranch and decided to start their own business. That was more than 25 years ago.
Learn more about Wise Mountain Retreat from Leslie and Gerald and check out photos from the trails. Plus, check out a destination offering multi-day riding holidays in the Dominican Republic.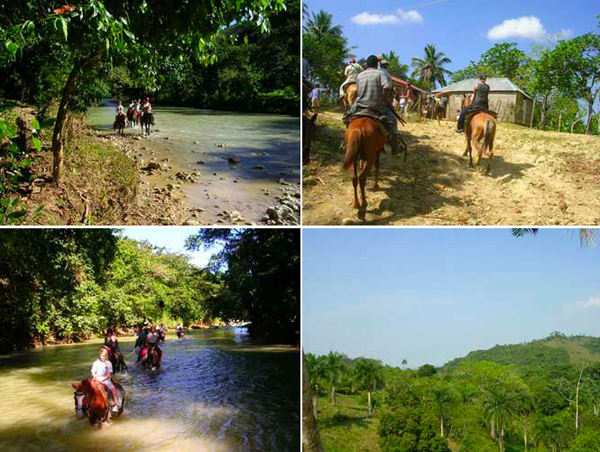 Equitrekking: What inspired you to buy and run your ranch?
Leslie Hawkins and Gerald Baker: We wanted a place where we could pre-retire. We knew nothing about horses but loved the property and the location and decided to take the leap. The staff have been here for more than 20 years and knew the horses and the tour industry very well. We love to host guests in our home and see each new guest as a extended family member.
Equitrekking: What is most special about your location?
Leslie Hawkins and Gerald Baker: We are located in a tropical oasis in a peaceful valley.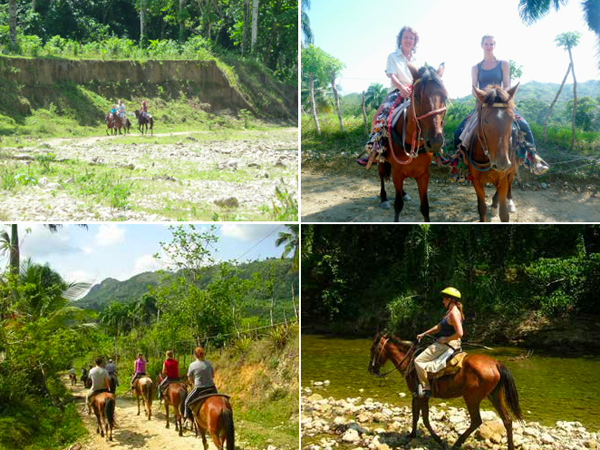 Equitrekking: What level of rider do you need to be to take a riding vacation with Wise Mountain Retreat?
Leslie Hawkins and Gerald Baker: We cater to all levels of riders. Our horses are very well trained, and we take the time to match each rider to a horse that is compatible both in experience and personality/ horsenality.
Equitrekking: Do Wise Mountain Retreat's guests have a favorite activity either in or out of the saddle? If so, what?
Leslie Hawkins and Gerald Baker: We have beautiful hiking trails and places to walk along the river. We have also lost a guest or two in our hammocks for a few hours. It's the perfect spot under the palm trees swaying in the breeze.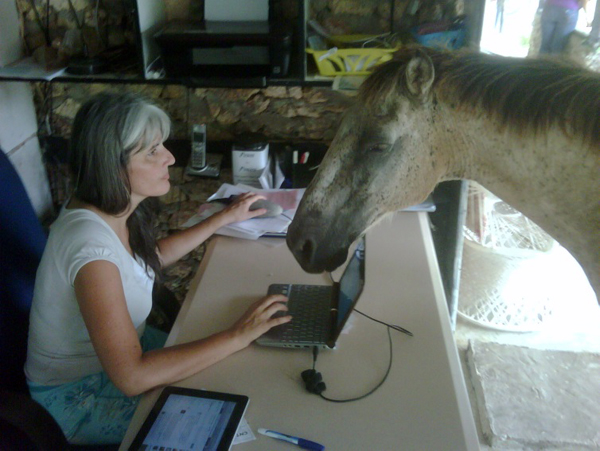 Equitrekking: What do travelers find most surprising when they visit you?
Gerald Baker: The surrounding countryside is so beautiful. Our most common adjectives we hear are beautiful, peaceful and serene. Guests love the restful sleep they get. They also love seeing our horses roaming free on the property. We also have some horses that like to walk through the house and one who enjoys visiting Leslie while she is working at her desk. He often walks up the front steps and just walks in and wanders over to the desk and watches her work on the computer. He sees the dogs do it so why can't he?
Learn more about riding in the Dominican Republic in the Equitrekking Vacation Guide to great dude ranches, guest ranches, cattle drives and worldwide riding holidays.