Meet Your Host- Steve Shaw of Great American Adventures
Meet Steve Shaw, the creator of Great American Adventures, offering historic Old West tours on horseback. Guests can ride in the hoofprints of Wyatt Earp, Butch Cassidy, Billy the Kid, George Custer and John Wayne through Arizona, Colorado, Montana, New Mexico and Utah. We interviewed Mr. Shaw to learn more about these unique riding vacations and how he decided to pursue his passion for Western history and adventure and share it with others through Great American Adventures.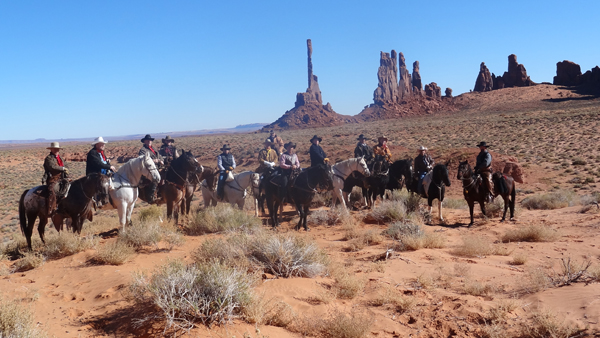 Riders experience Monument Valley and the sights of this iconic Western film location.
Equitrekking: What is most special about the locations for your horseback riding tours?
Steve Shaw: Each location represents an historic event and illustrious Old West or film character. Some locations are Western film locations.
Equitrekking: How did you get into this?
Steve Shaw: I grew up playing cowboy, enthralled with our American history, especially the Wild and Wooly West, watching the many Western TV series and movies that were so prevalent at the time. Once retired from corporate America, I turned a hobby into a small, successful business.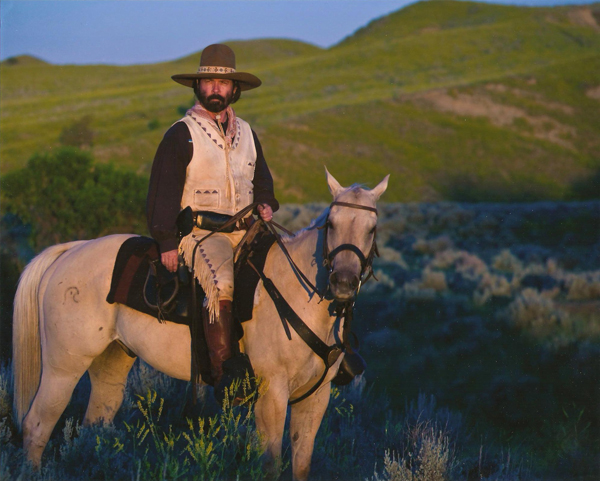 Great American Adventures is owned by Steve Shaw, who shares his great love for history revolving around the Old West.
Equitrekking: What level of rider do you need to be to participate in Great American Adventures rides?
Steve Shaw: All rides are suitable for all riding levels, from the novice to the advanced. Safety is always paramount and we have an exemplary safety record. For the advanced rider, when conditions allow (terrain, safety) we will take them away from the group and lope and play (usually 'tag' on horseback – always fun), just to get away from the nose-to-tail riding that so often exists on rides.
Equitrekking: Do guest's have a favorite activity either in or out of the saddle? If so, what?
Steve Shaw: Depends on the ride and the day. Each day of each ride is actually a major event, from the time we have breakfast to after we finish dinner. Historians and private historic tours are popular – especially when the historian either meets us at a location or rides along with us. A little more strenuous riding days are always unforgettable and people still talk about some of them, such as us swimming, on horseback, across a very swollen Little Bighorn River (Custer's Ride to Glory); climbing an insurmountable mountain to get to White Oaks (Billy the Kid's Regulator Ride); following our Apache guides into the dense Chiricahua Mountains (Wyatt Earp's Vendetta Ride); or, climbing and then descending "Top of the World" (highest point during John Wayne's Monument Valley Ride) are just a few that quickly come to mind.
Many riders take to the trails wearing period-correct clothing.
Equitrekking: What do travelers find most surprising when they visit you?
Steve Shaw: The camaraderie is immediately infectious. Lasting friendships take hold quickly. Everyone is like-minded… not necessarily that we enjoy riding horses – because we do get folks that seldom ride, but so many dress in period attire, most are very knowledgeable about the history and can't get enough of it – they have their opinions and freely discuss the controversies. Then again, it's the surprises I love to spring on each group – and what separates my rides from the norm.
For example – and I will admit I won't do this every time, or it spoils it for the repeat riders, but I do something special each ride:
We had the good fortune to be able to do our cavalry training at Fort Abraham Lincoln, Bismarck, North Dakota – where Custer and his 7th Cavalry were stationed and trained – a very long way to haul our horses from Montana. We stayed 3 nights in the historic 7th Cavalry barracks. We also had a direct descendent of Sitting Bull take the group to where Sitting Bull had his "vision quest" – a very sacred site for the Sioux to this day. We had a direct descendent of Custer's scout, Curly, lead us through Reno's Retreat. Of course, that swim across a swollen Little Bighorn River was daunting… at first. Some of us totally submerged!! After that first time, we did it about a dozen times during the week ride – everyone loved it!
Of course, being able to "rob" the Durango & Silverton Narrow Gauge Railroad without being a hired re-enactor is something special that no one ever does. We had a direct descendent from the Earp family give us a 45 minute first-person performance as an aging Wyatt Earp looking back on his life; two Apache historians have regaled us with stories of Cochise and Geronimo and the US Army and once led us so deep into the Chiricahua Mountains, to a 'holy' place of theirs, they got lost… and people still talk about that.
When I get enough riders to warrant it, I will have auctions… we've given away the Wyatt Earp's Buntline Special (a firing replica of the 10" revolver Wyatt was supposedly given), and some other great gifts each ride.
Riders who join The Great Train Robbery tour travel on the Durango & Silverton Narrow Gauge Railroad through the majestic San Juan Mountains.
Upcoming for the Monument Valley Ride, I have hired a stagecoach to be brought in… sound familiar? Stagecoach was John Wayne's first major motion picture. I have hired a half-dozen Indians (Navajo) to dress in period garb and follow us a few days during the ride (like in Wayne's The Searchers movie). I found an 1894 Winchester lever action John Wayne Commemorative Big Loop Rifle (they don't make these anymore) to raffle off. These raffles are for just 30 or so people… it's not like the raffles where thousands of people buy a ticket and someone you never knew or heard of wins... Someone on the ride, that week will walk away with a prize almost worth the price of the ride itself.
I could go on, but suffice it to say creating, organizing and hosting these rides is fantastic. Doing all the creative, special things I do or buy for my riders is the most fun and memorable for everyone!

Learn more about these trips on the Great American Adventures website and check out other great riding vacations in the Equitrekking Vacation Guide to dude ranches, guest ranches, cattle drives and global riding holidays.