Meet Your Host- Lian Hayes of BlueGreen Adventures
BlueGreen Adventures, which leads travelers on adventure vacations through the stunning landscapes of Chile's southern Patagonia, has recently started new riding holidays. Their polo experience stays take riders to some of Argentina and England's finest private estates and a new ranch ride in Colombia. We corresponded with Lian Hayes, who founded BlueGreen Adventures in 1996, to learn more about what travelers may expect on these adventures in South America and the United Kingdom.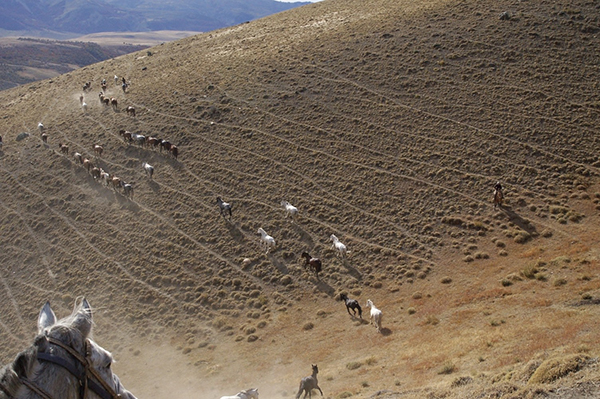 Moving horses in Patagonia on BlueGreen's Horse Moving Riding Vacation.

Equitrekking: What is most special about your location?
Lian Hayes: Riding in southern Chile is hard to beat in terms of scenery and the limitless open spaces. Not only is the horseback riding exciting but the mountains and scenery are literally jaw-dropping. The horses are an equine version of a Land Rover. In addition to being forward going and responsive, they have the stamina for the terrain and weather for which Patagonia is famous. If all this wasn't enough, our clients get to ride out with the famous cowboys of the south. This provides a cultural dimension and an intimacy with the locals and the land that would not otherwise be possible.
On our 10 day rides we stay off the beaten path preferring the quieter trails out to remote glaciers and waterways. It is rare to encounter a gate or fence. The riding style is similar to western with comfy sheepskin-lined saddles providing comfort for the long days in the saddle.
Learning new skills from the cowboys in South America.
Whether our clients prefer to commune with nature or sleep in soft beds in estancias and lodges, we have a trip to suit.
In addition to our rides in Torres del Paine, we are constantly exploring new areas to ride in Patagonia and hope to have a ride in another great wilderness; Tierra del Fuego in the future. In addition we are shortly launching a new menu of estancia stays in both Argentine and Chilean Patagonia. And we offer rides in other parts of Chile including the far north.
To complement our Chile rides we have recently launched the Polo Experience Trips in Argentina and the UK together with an exciting new Colombia riding holiday.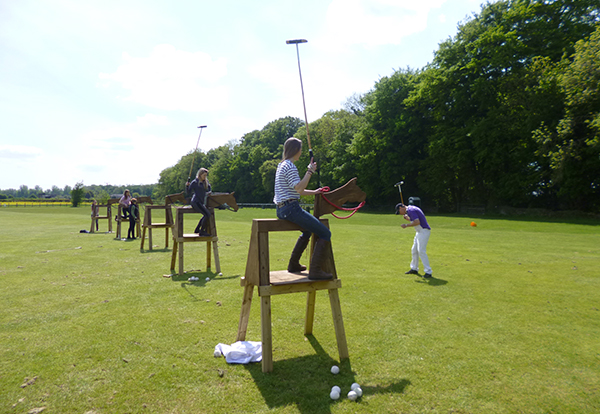 Learning polo in the UK.
Equitrekking: What inspired you to run BlueGreen Adventures?
Lian Hayes: I have been riding most of my life and it was always a dream to take off to distant lands and set up a riding outfit. After many years working in the City of London, the dream finally became reality in 1995. Chile was top of my list. I flew to South America and arrived in Patagonia. It captured my heart, and I decided to start offering rides. The Glacier Ride was our first ride and it is still one of our most popular rides today.
Equitrekking: What level of rider do you need to be to take one of your trips?
Lian Hayes: For our longer rides we ask that riders are intermediate - advanced riders capable of controlling a horse at the canter in open terrain. The riding days are long and it is in everybody's interests to meet the required standards. However for our shorter and custom rides, we can accept a lower level of riding and of course are happy to discuss suitability at any time.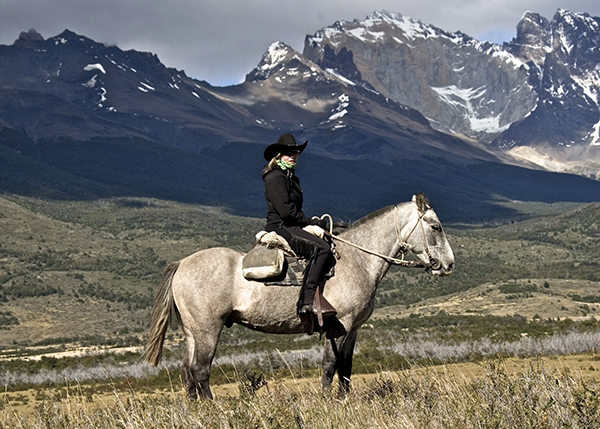 Rider in front of Patagonia's striking mountains.
Equitrekking: Do guests have a favorite activity either in or out of the saddle? If so, what?
Lian Hayes: Drinking wine from the famous cowboy 'bota' is usually a favorite as is enjoying fire roasted organic lamb cooked under the famous Patagonian skies. Impromptu guitar and dance nights are particularly fun on the Glacier Ride.
Equitrekking: What do travelers find most surprising when they visit you?
Lian Hayes: The stamina of the horses, the scenery and the famous southern wind!

Learn more on the BlueGreen Adventures website and in the Equitrekking Vacation Guide, a global resource for great ranch and horseback riding vacations.