Maui- Makawao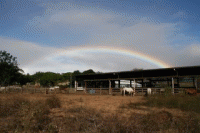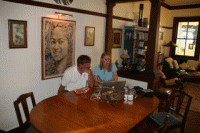 Makawao is a very cool little Western town in Upcountry Maui. So far, this is my favorite town in Maui. It's right down the street from Piiholo Ranch, so if you are riding there, you may want to check it out.

After using Makawao as a base for travel and getting restaurant suggestions from the locals and then trying them, here are a couple of recommendations. This town consists of all locally owned shops and restaurants, so each place is really unique.

Shopping: Aloha Cowboy has some really cool Western gear. We stopped by to shop. I got some shirts and a new straw hat. This is a great place to shop if you want to fit in with the locals.

Makawao Food: A couple of doors down from Aloha Cowboy is a good sushi place. We've been eating a lot of fresh seafood on the island and trying a lot of different fish that I had never even heard of before.

Hali'imaile General Store was my favorite island dinner place. We tried the Sashimi Napolean, which was spicy and crispy. I had a macadamia nut crusted fish with mashed purple sweet potatoes. I love the sweet potatoes here. They are delicious. My fish came covered in mango, papaya and other island fruits. Desert consisted of pineapple upside down cake, which reminded me of the buttery version that my mom used to make. It was really good.

I definitely recommend stopping in Makawao while you are on the island.
Darley Newman is the host of the Emmy Award-winning Public Television series Equitrekking®, which takes viewers on horseback riding vacations around the world. Equitrekking is broadcast on PBS stations and on international networks in over 30 countries.

Watch the Equitrekking video promos and purchase Equitrekking DVDs in our Store. Learn about equestrian vacations and book an equestrian vacation on Maui or Hawaii's Big Island. Join Club Equitrekking and receive discounts on your next horseback riding vacation.