Linda Carson's Dream Ranch LIfe
Want to change your life? Wonder what it's like to leave your corporate job behind to live on a ranch by yourself with a menagerie of animals? Read on!
Have you ever wanted to do something different with your life? Perhaps quit your office job, travel somewhere new and take things at a slower pace? That's exactly what Linda Carson did. She took a big risk quitting a great DC job and ended up seven miles south of nowhere on "The 7MSN Ranch" in New Mexico.
According to Linda, Eighteen years ago, I jumped off the corporate ladder when I got to the top and realized, "What was I thinking? I hate this! I'm too short for this much responsibility!" I quit my job, walked away from the fancy lifestyle, and moved to New Mexico, where I'd never been and didn't know a soul.
Linda sold her house and moved to a place where the cost of living was less than metropolitan DC and found a less stressful job that left her time to volunteer on a horse rescue, where she realized that being around animals made her truly happy. Her final step in her life transformation was to buy a remote ranch, where she could have all the animals she desired (and more!) and work from home.
I found out about Linda through the7msnranch.com, where she chronicles her ranching adventures through her writing and photographs, happily living with her horse Hank, three donkeys named Lucy, Alan and George, a dog, cat, chickens, potbellied pig and an elusive porcupine. In this special interview with Equitrekking, Linda sheds light on her life choices and life on the ranch.

Equitrekking: You are an avid photographer. Would you share one or two of your favorites with us, so we can drool over your life there?
Linda Carson: I call this one "George and Alan's pas de deux." I'm always taking pictures of them playing, but this one captures the glorious New Mexico light and sky, and I love the shadow play in the dirt: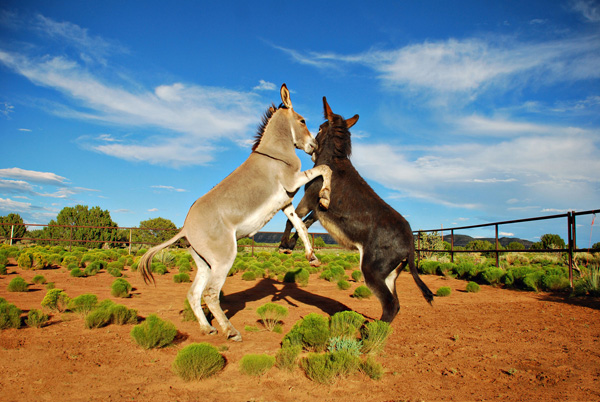 This one is Hank, Alan and George coming in from the pasture. It's one of my favorites because it reminds me of how very lucky we are to be in a place where they can live as nature intended.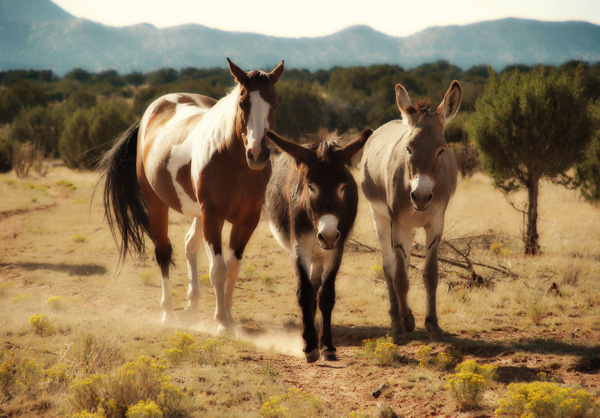 Equitrekking: When did you discover that scooping horse poop was your true calling?
Linda Carson: "Scooping poop" is my metaphor for taking care of animals in general. When I brought home my first horse, I realized how much I thrived on every part of horsekeeping, not just riding. The feeding, the management, the training – I loved it all, even the poop scooping. It was then that I figured out that I am the happiest in the company of animals, and I've never looked back.

I know that in addition to your own animals, you have the wildlife guests. How many animals do you take care of at the 7MSN Ranch?
Linda Carson: There are 10 now. Hank, a retired 20-year-old Paint gelding, is the herd boss. He's got a bad knee so I no longer ride him, but he's a blast to hang out with, and everybody loves him and vice versa. George and Alan are six-year old burros I adopted from the BLM's Wild Horse and Burro program as yearlings. Lucy is a 12-year-old mammoth donkey who came into my life two years ago. She's the most reliable ride a girl could ask for. Wynonna is a pot-bellied pig and a total diva, who will soon be turning 17. My faithful canine companion is Smooch. She's in charge of ranch security. And then there are the four chickens: Clara, Peach, Eugenia and Minnie.
2011 at The 7MSN Ranch from Linda Carson on Vimeo.

Equitrekking: Besides the occasional moth invasion, what's the hardest part of ranch life? What's most fulfilling?
Linda Carson: The weather extremes are the hardest part. Though I live on a ranch, I don't make my living from it, which is a good thing because I'm not at the weather's mercy. But it certainly adds a degree of difficulty and makes for lots of adventures. I try to be prepared for the extremes, and some of my most fulfilling experiences have resulted from getting through them. I'll never forget the morning I woke up to a temperature of minus 27 degrees. That was just obscene. I managed to get the animals fed and watered, the pipes didn't freeze, and we all lived to tell about it. You don't get that kind of satisfaction living in town.

Equitrekking: I see that you sometimes ride your donkey Lucy around the ranch. How do you like riding a donkey compared to a horse? What's your favorite trail?
Linda Carson: In my situation – always riding off alone in the middle of nowhere – I feel much safer on Lucy than I've ever felt on one of my horses. Regardless of how broke a horse may be, it's just a matter of time before he spooks at something and dumps you in a cactus. Donkeys will stop and figure something out rather than to run from it. Lucy spooks at nothing, she never bucks or gets silly, and I can ride out on her for hours without a care in the world. The fact that she's gaited is an added bonus. We can cover a lot of territory. My favorite trail is whichever one I'm riding at the moment. I'm fortunate that I can ride out my front gate and explore miles and miles of the southwest without ever having to trailer somewhere to ride.
Homestead on the range from Linda Carson on Vimeo.

Equitrekking: What was the most useful thing you learned from your work at a horse rescue that perhaps has helped you in your life on your ranch?
Linda Carson: When I started volunteering at Walkin' N Circles Ranch/NM Horse Rescue, I was relatively new to horsekeeping, having two horses of my own for just a couple of years. At the rescue, there were about 40 horses at that time, and I dealt with more medical issues and emergencies than I can count. That experience has proven invaluable when I've had to deal with the occasional crisis here. I highly recommend volunteering at an equine rescue to anyone who is new to horses or is thinking about horse ownership. The knowledge and experience is there for the taking, and the rescues need all the support they can get.
Hank and Lucy go to the vet from Linda Carson on Vimeo.

Equitrekking: What's been the most interesting thing you learned as a rancher?
Linda Carson: Dealing with rattlesnakes – it may not be the most interesting thing I've learned, but it's certainly been the most useful. I was petrified of snakes when I moved to the ranch, but the more I've had to deal with them on the porch or in the yard, the more relaxed I've become. That's not to say I like them! I've figured out an easy way to relocate them by roping them and putting them into a trash can. Then I take them for a long drive off the ranch and release them. I'm passionate about peacefully coexisting with all the wildlife out here, be it snakes, porcupines, coyotes or packrats. They were here long before I was, and it's my responsibility to make the relationship work without anybody getting killed.

Equitrekking: What advice do you have for someone who is inspired by your story and wants to make a life change?
Linda Carson: Don't be afraid. Your gut will tell you if it's the right thing to do or not. And what's the worst that can happen? If it doesn't work out, you go back to what you were doing. It's better to have made the change and maybe not have it work out than to keep on doing something you don't like and regret it for the rest of your life.

Read more about Linda's life at the7msnranch.com.