Interview with Kristin Meek of WYLD Leadership
WYLD Leadership is an innovative and inspiring leadership program that combines horses, psychology, and wilderness retreats that helps people access their inner compass and create a better life. Equitrekking chats with founder and CEO, Kristin Meek, to learn more about this unique program.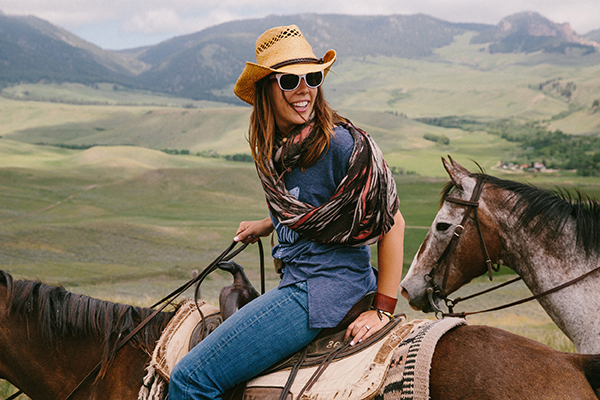 Kristin Meek of WYLD Leadership. Photo courtesy Jenelle Kappe.
Equitrekking: What is WYLD Leadership?
Kristin: WYLD started as a side hustle on my family's working cattle ranch in Wyoming in 2013. I thought it might be a cool idea to use the wild west and ranching activities like herding cattle or fly fishing as learning modalities to teach people about their strengths and unique internal GPS as leaders, artists, parents, etc.It was awesome and FUN.
Last August, I decided to hang up my Gallup Consultant hat and give WYLD the full-time focus I felt it needed. Nine months later we have an incredible team across the US, and our mission is resonating with so many: We guide individuals, teams, and businesses in the intentional design of how they spend their time, use their talent, build their tribe, and personalize their environments. The way we do this is through consulting, experiential offsites and retreats, and coaching. WYLD draws from positive psychology, neuroscience, Gallup workplace research, ancient wisdom, and ecopsychology to create customized learning experiences.
WYLD retreats draw wisdom from a variety of sources, including the Clifton Strengths Finder, neuroscience, positive psychology, leadership development, holistic wellbeing science, ecopsychology, etc. Activities that we use to deepen learning and growth include horseback riding, intuitive horsemanship, nature exploration, herding cattle, creative writing, art, yoga, and more.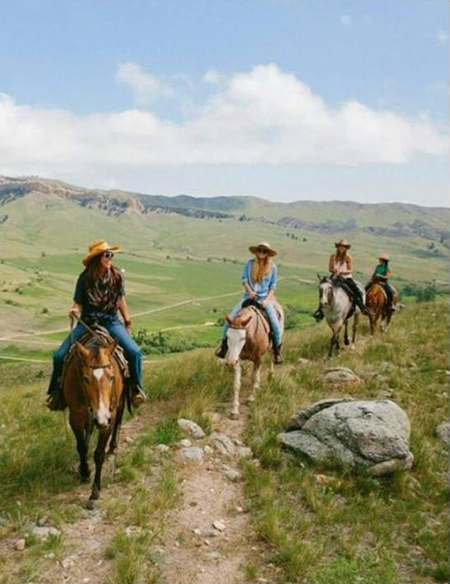 A WYLD Leadership trail ride outing. Photo courtesy Jenelle Kappe.
Equitrekking: Please introduce yourself and tell us a little bit about your background with horses.
Kristin: I graduated from Duke University with a degree in Psychology in 2007 and went on to receive my Masters in Applied Positive Psychology from the University of Pennsylvania in 2008. I also studied coaching and leadership at the Coaching Training Institute. I grew up in Connecticut--incredibly blessed with a great education, great health, and incredible friendships and mentors. Because of this gift I've felt a profound responsibility to create meaningful experiences for people of all ages.
Nature is our greatest classroom. I believe it is in the presence of the wilderness where we can learn best about our true nature and true north. Everything in the great outdoors is a metaphor for the lessons and paradoxes of life and work. As I connect the dots in hindsight, I see now that my curiosity for psychology, ancient wisdom, and experiential learning were little signs to a bigger calling, which is now my life's project and business: WYLD.
My grandma grew up in County Cork, Ireland and lived on a farm. She rode her horse every day to school. Her passion for horses was inherited by both my mother and me. I was lucky to grow up riding both English and Western.
In Wyoming, horses are seen as members of the workforce, necessary guides, and helpers in everyday cattle work and ranch life. In Connecticut, horses are mystical athletes groomed and adored whether it's for pony club or the Grand Prix. Between the ages of five to sixteen, you would most often find me at Country Lane Farm riding multiple ponies a day and doing anything to stay and play longer.
No matter where I stand, east or west, horses have always been God-like animals to me, majestic teachers here to help us learn great life lessons and see the world from new vantage points.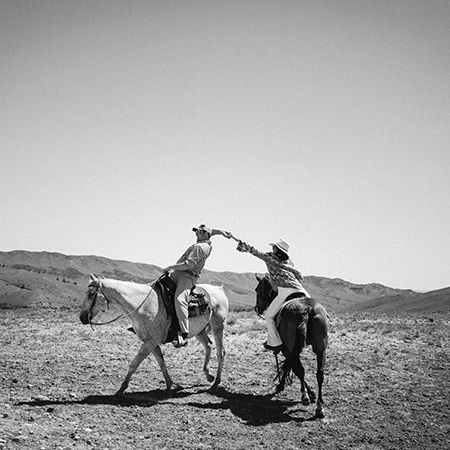 WYLD Leadership retreats offer teambuilding work for corporate clients. Photo courtesy Jenelle Kappe.
Equitrekking: What inspired you to start WYLD?
Kristin: It hurts me to see people waste their potential. I've always had a fascination with what makes each person brilliant, strong, beautiful….. I believe each of us has a gift that uniquely contributes and serves a purpose for the world.
It's up to us to use our journey of life as a treasure map--to claim and follow the innate wisdom we already carry in the face of distraction, self-sabotage, and others' voices. I get so excited when I see a person light up about what's possible, about what they can build or create, about an idea coming to life.
Seventy percent of the American workforce is disengaged in their jobs; which essentially means that the majority of people feel checked out and a sense of purposelessness for the majority of their day, week, year. Think of what it would look like if that time and energy were redirected towards curiosity, imagination, innovation, play, or meaning.
WYLD carves out the time and space we all crave but rarely can create for ourselves. Each WYLD experience, whether its an hour phone call, a day-long workshop, a work offsite or a 5-day retreat is curated for thought-provoking reflection and courageous initiations that challenge people to power up -- to activate their self-belief and notice where they get in their way of living the life they want. This time allows people to press pause and be more intentional with the way they craft their everyday.
Wilderness adventures help people find their unique strengths amidst scenic surroundings. Photo courtesy Jenelle Kappe.
Equitrekking: What is the focus of these retreats?
Kristin: The focus of our retreats varies, but the bedrock remains the same: build trust, confidence, self-awareness, compassion, and wonder.
For businesses, we customize all curriculum to the learning goals of the team. Almost every team we work with utilizes our expertise in Strengths-Based Work. For our Women Who Run with the Wolves retreat, the day is centered around the wisdom of the four directions or compass. WYLD West uses western adventures like herding cattle or fly fishing as mediums to learn about your values, strengths, and leadership. WYLD Child is a one to five-day camp for children, ages six to fourteen that incorporates adventures in nature, creative play, farm care and celebrating the unique strengths in every child.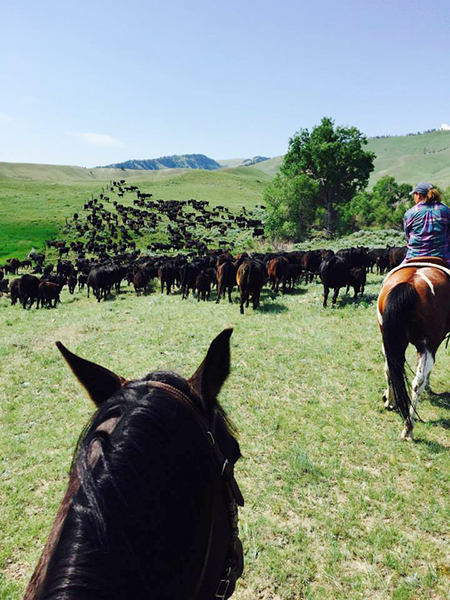 Cattle work is a great way to develop your trust and intuition. Photo courtesy Kristin Meek.
Equitrekking: What do you think makes horses so gifted at this type of work? Can you elaborate on their role in your retreats?
Kristin: We don't always use horses, but when we get to bring them in as teachers, it may be my most favorite work.
Intuitive horse work is done on the ground, so no prior experience is necessary. As most of your readers know, horses are our mirrors. As prey animals, they respond instinctively to the nonverbal cues our internal emotions send them. Without ego or agenda, a horse will respond and react to the truth.
They act and then think. We think and think and think and then act. Horses are masters of intuition and call us forward to examine what it is we hide, avoid, or shore up in moments of vulnerability and courage. Each horse has innate wisdom or lessons, and because of this, we may be called to different horses to receive messages or learn what we need to. The horse work helps us tap into our intuition and empathy as well as witness the immediate impact of our energy on the environment.
Riding horses or herding cattle is another kind of partnership and dance where we must trust our horse and self to navigate and explore. When you have a goal in mind, whether that be a destination or sorting cow #257 from her friends, you witness your strengths rise to the surface and are challenged to stay centered to get the job done with grace and effortlessness -- a true microcosm of leadership, communication, and resilience.
Equitrekking: Who is WYLD for?
Kristin: Anyone! In particular, people who want to grow and live a more intentional, purposeful life. Typically the people who are drawn to WYLD are seeking answers to questions like these: What do I want to do next? What do I want to do now? How can I better understand myself? How can I better understand my team? Somethings missing--what is it? Can you help me rediscover my awesomeness? Society seems to have stolen it….
Horse kisses with the equine members of WYLD Leadership. Photo courtesy Kristin Meek.
Equitrekking: When and where do you hold retreats?
Kristin: Currently, we hold retreats all over the United States and Canada. We can bring WYLD to your city or town, or you can come to our five-day experience in Buffalo, Wyoming (spring, summer, fall) or the one-day workshops that we host quarterly in Los Angeles, San Francisco, New York, Virginia, or anywhere you want 'em!
We prefer to have at least part of our experiences in nature, but for our corporate clients, we often find interesting urban locations that evoke a sense of novelty and creativity.
To learn more about WYLD Leadership please visit their website or info@equitrekking.com?subject=Equitrekking%20article-%20Kristin%20WYLD%20inquiry">contact Kristin Meeks via email.