Horseback Riding Western North Carolina's Pisgah Ranger District
Deirdre Perot Lightsey shares great horse trails in the Pisgah Ranger District in North Carolina as part of Equitrekking's 50 State Trail Riding Project.

Pisgah Ranger District, near Brevard and Mills River, North Carolina is an amazingly gorgeous part of the state. Within the Pisgah National Forest, over 500,000 acres is made up of three districts, Pisgah Ranger, Appalachian and Grandfather. Pisgah Ranger District is known as the "land of waterfalls" and the views around each bend, especially from between the ears of my horse are more lovely than the next.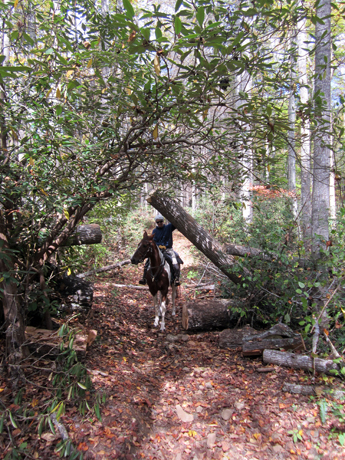 Enjoying the fruits of their labor. Deirdre and her horse Honey riding the trail after some trail clearing work.
I have been lucky enough to have lived close to this place for over twenty years now, and been associated with a group of dedicated folks who've recently formed a "Back Country Horsemen" chapter (of Pisgah). Together, we ride, maintain and enjoy the miles of trails in the area. We have a work weekend each month but also get out as often as possible to cut trees off of the trails, clip back branches and just generally enjoy the out of doors, our horses and great fellowship.


Back Country Horse"women" power! (dogs help too) The ladies work on the reroute of an unsustainable trail in the North Mills River area.

North Mills River Area Horse Trails
From the east on Hwy 280 from I-26 (Asheville Airport Exit), our first access is the North Mills River area. Wash Creek horse camp, which is accessible from a good gravel road, is available for rent for $35/night through the 800 Reservation system. Though primitive, the field is large enough to accommodate six to eight rigs. You can high line your horses or use portable corrals in the grassy field. The Forest Service maintains a sweet smelling toilet, and there's a picnic table and fire ring for enjoying a crisp cool evening with your friends.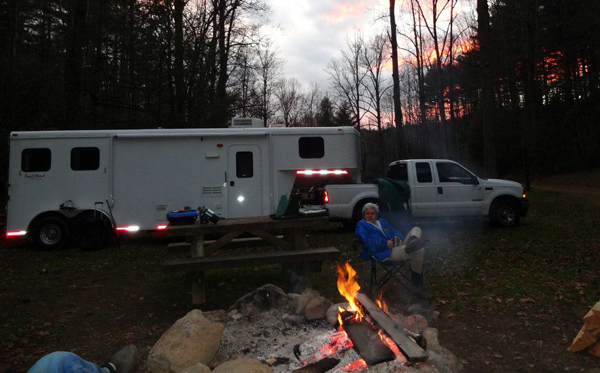 Deirdre enjoying the campfire after a lovely day of riding the trails, Wash Creek field in the North Mills River area.
Cold mountain streams are close by to water your horse and cool off yourself on a hot summer's day. If you're not camping, there's also plenty of pull off areas and a trail head, too, all with miles of multi use trails spidering in every direction. From Wash Creek, you can ride along the Mills River, hit the elevations to ride the ridgeline trails or go east to explore the Bear Branch tall pine forests.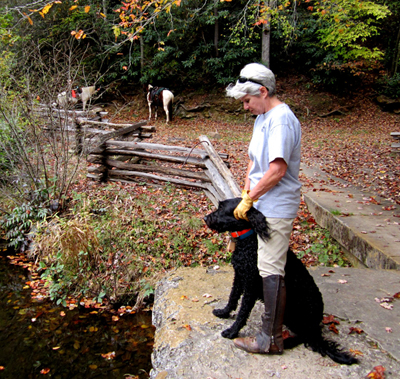 Deirdre and her dog Blue enjoying a break on the North Mills River Trail with her horse Honey in the background.

Turkey Pen Road Horse Trails & Deirdre's Favorite Horse Trail... Laurel Creek
Moving west, Turkey Pen Road off of Hwy 280 is not for the faint of heart. Only around two miles long, the first third of the gravel road is privately owned by the homes adjacent and not very well maintained. The road is barely wide enough to drive a truck and trailer through and certainly not recommended for larger rigs with A/C units on top.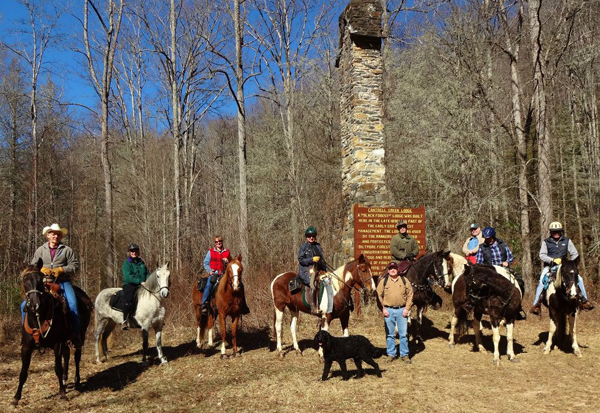 Back Country Horsemen of Pisgah take a break at the site of the original Cantrell Creek Lodge, which was moved to the Cradle of Forestry.
At the end of the road, Turkey Pen trail head will park four to six rigs in a separate "horse trailer parking only" area as well as twenty or so cars. This destination is very popular with hikers and mountain bikers, as well as equestrians, because the trails are so spectacular. Riding down to the river, you can chose to continue along the river on Riverside Trail or cross the river and explore the trails along the S. Mills area. The old Cantrell Creek Lodge chimneys are still visible from the trail, but the lodge itself has been airlifted to its new home at the "Cradle of Forestry". My favorite trail in this area is the Laurel Creek trail, which meanders along a creek and then tops the ridge at Squirrel Gap.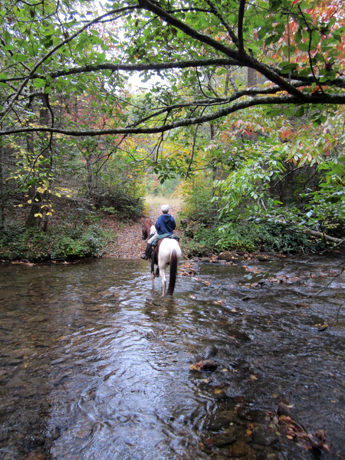 Deirdre and Honey in Turkey Pen area on Laurel Creek Trail, their favorite horse trail.

Wolf Ford Horse Camp
Further west, you drive into Brevard and pick up Hwy 276, which takes you north to the Ranger Center. If you have a few minutes, it's a great place to stop and visit, pick up a map and chat with the Rangers on duty.
North on 276 about eleven miles will get you to road 1206, turn right onto another good gravel road and three miles down, you'll take a right and immediate left (between the steel gates) into the Wolf Ford Horse Camp. The circle drive gives you access to the 12 graveled sites, each with a picnic bench, fire ring and lantern holder. Four brand new sustainable high line systems will each accommodate two to three horses. We were happy to get these built with grants from the NC Horse Council and the STEP grant through AQHA and Tractor Supply and labor, heavy equipment and some supplies from the Pisgah Rangers. We had a great time putting the high lines in and our horses love using them. Wolf Ford also has a "double sweet smelling toilet" from our wonderful rangers.
Riding a short distance on the gravel road toward the Gaging Station, you'll have access to Yellow Gap (gated) Road which takes you up to the top of Yellow Gap and loop trails from Horse Cove Extension or you can ride from S. Mills River main trail to the Wolf Ford and several loops from there. The South Mills River continues on back up to Turkey Pen area. Long distance views of the Blue Ridge Mountains greet you at every turn.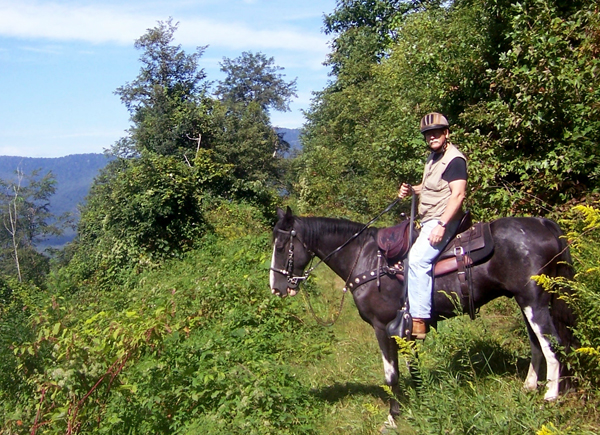 Tom Thomas, president of Back Country Horsemen of North Carolina, enjoying the views from Horse Cove Extension Trail in the Wolf Ford area.

Tips for Riding in the Pisgah Ranger District
Most of Pisgah Ranger District trails are rugged and shoes are recommended. You will be sharing trails with hikers, mountain bikers and trout fishermen so make sure your horse is used to seeing them. We've shared the trail for years with these other partners and even do some joint work details with them, and we are all grateful for each other's help and companionship.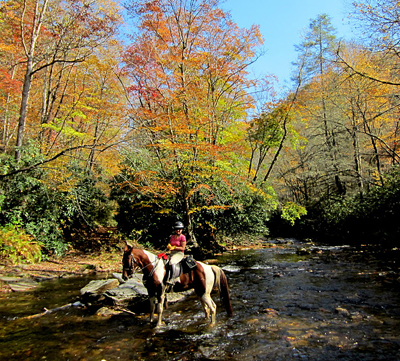 Deirdre and Honey enjoying trail riding the North Mills River.
I hope I've given you enough of a 'peek' at the horse trails in Pisgah to want to get out there yourself! If you do find yourself in the area, please look us up and we'll see if we can't get out and show you these trails ourselves. Given a great excuse, most of us would ditch any work we've got going to be able to get outdoors too!

About the Author: Deirdre Perot Lightsey lives in Green Hill, NC with her husband Frank, their dogs Blue and Tess, Tennessee Walking Horses Honey and Major and assorted cats, chickens and honey bees. Deirdre counts herself among the luckiest humans alive to call Western North Carolina home, where she can trailer in any direction for an hour and enjoy days of trails with amazing scenery. Retirement is GREAT!