Horseback Riding McDowell Mountain Park Trail in Arizona
Longtime equestrian and Marchador breeder Lynn Kelley showcases the McDowell Mountain Park Trail in Maricopa County, Arizona for the Equitrekking 50 State Trail Riding Project.
by Lynn Kelley

Adjacent to the Scottsdale Preserve is McDowell Mountain Park with similar terrain and well-marked trails. The Sonoran Desert is rich in vegetation, birds and animal life. It is the only place to find the Saguaro Cactus, an iconic image for the West.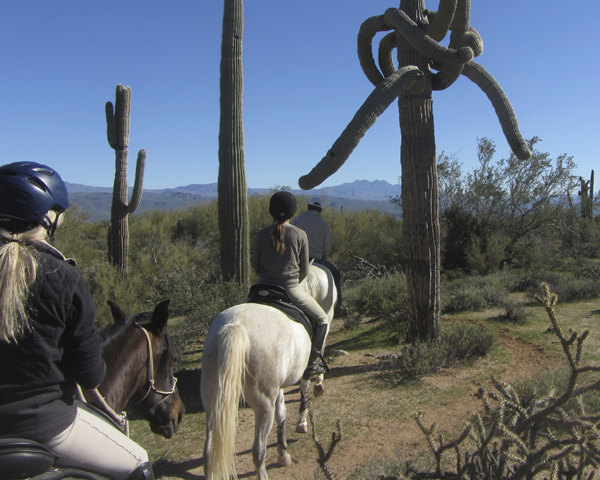 The entry to this Park by car, truck and trailer is in Fountain Hills, AZ. The park is a Maricopa County Park and provides a horse staging area as well as picnic areas and camping. There are several camping areas that can accommodate an RV up to 45', and they are well set-up with restrooms, hot water showers, barbecues and covered picnic tables.
McDowell Mountain Regional Park offers over 40 miles of hiking, mountain biking, and horseback riding trails. Park trails range in length from 0.5 miles to 15.3 miles and range in difficulty from easy to strenuous. Those looking for an easy hike should try the North Trail at 3.1 miles. Those looking for a good workout for themselves or their horses should try the Pemberton at 15.3 miles.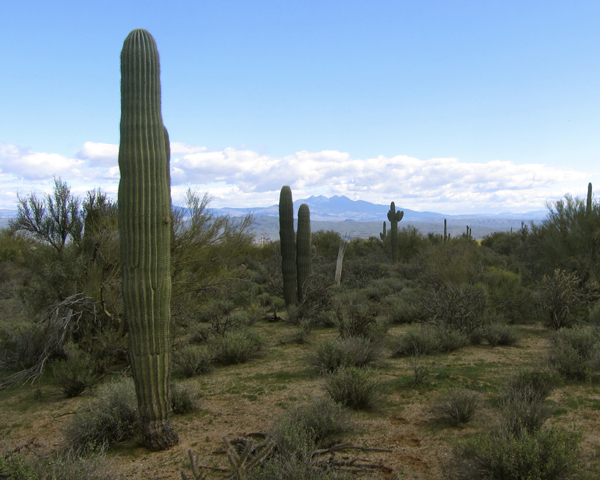 The Pemberton trail is one we have used in training for endurance rides and there are one or two endurance rides per year held at this park. On one ride on the Pemberton, we met up with two wild burros that are said to be descendants of some of the miner's burros. Nice story and it was nice to meet the burros (soon to be three). They looked very healthy. We enjoy the diversity of the Pemberton trail and all the trails here. It is nice to be able to ride a loop trail and know the distance too. The park also hosts some Competitive Trail Rides.
Be sure to bring in plenty of water for your ride. And in the warmer months, keep an eye out for rattlesnakes.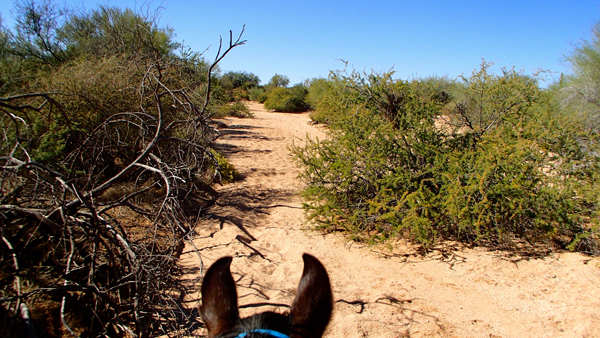 As with the Scottsdale Sonoran Preserve, there are no motorized vehicles allowed on the trails. However, all the trails are combined use unless designated otherwise, so you might encounter hikers or bikers. It is a mecca for mountain bikers.
The riding here is generally flat with few mountains and the trails are hard pack or sandy washes. While shoes or boots are recommended, in the areas we ride, we do ride our horses barefoot.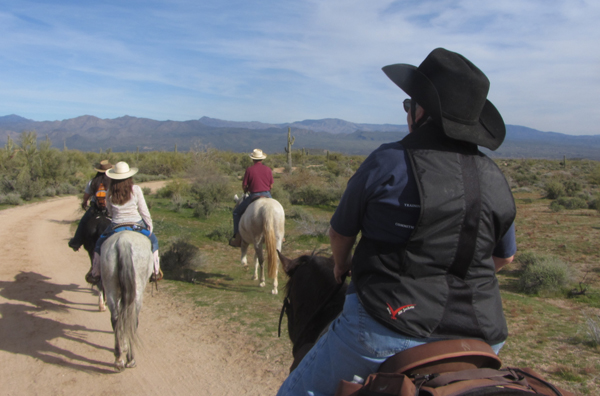 Dry riverbeds here are called "washes". These are wonderful natural pathways that are often quite wide. It can be strenuous on the horse - like walking on the beach sand. But, if your horses are conditioned to them, they are a great place for a gallop!
Some parts of the park suffered a fire over 10 years ago and you can still notice the change in vegetation where the fire burned. Most of the area is well vegetated with many mesquite trees. If you are watchful, you can see the Fountain Hills Fountain (every hour it shoots up into the air pretty high) from many vantage points.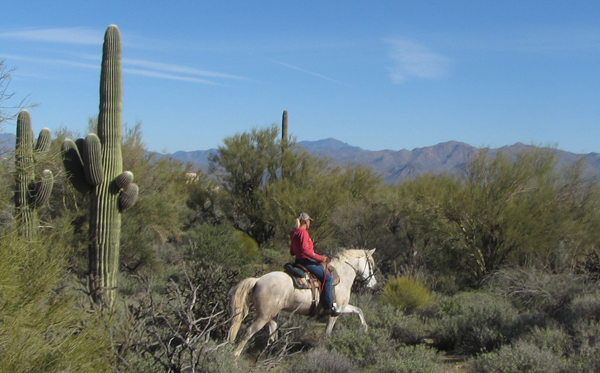 There are also several access points to the park from the local neighborhoods. We almost always ride in from the Scottsdale side of the Park unless there is an organized event that departs from the horse staging area.
We hope to see you on the trails!
How you can go: For more information, visit the Maricopa McDowell Mountain Park website.
About the Author: Lynn Kelley is passionate about riding and about Mangalarga Marchador horses, the ultimate Brazilian Saddle Horse. Lynn and husband John own and operate Summerwind Marchadors and SW Future Foal in AZ, CO and NC. For more information and photos of the Marchador breed, you can visit her at the Summerwind website or on Facebook.