Horseback Riding Kentucky's Green River Lake State Park
Looking for a great weekend getaway with your trail horse? Green River Lake State Park near Campbellsville, Kentucky, is one of my favorite trail riding locations–– part of the Equitrekking 50 State Trail Riding Project.
by Janis Flynn, Lancaster, KY

Green River Lake State Park contains 1,331 acres of land along with the 8,200-acre lake. Green River offers more than 30 miles of non-motorized, multiuse trails surrounding Green River Lake. Trails are shaded with gently rolling terrain. Some trails are single-track trails through the woods, and there are several miles of trails wide enough to accommodate those who enjoy driving their horses and mules.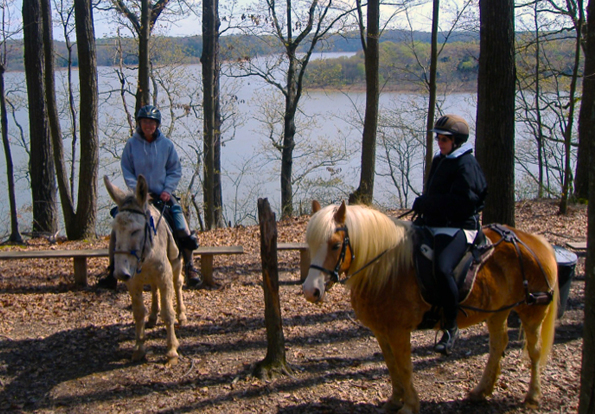 Janis Flynn and her Mammoth Donkey Sherman and Tere Short and her Haflinger J'abbot overlooking Green River Lake from the rest area on Turkey Bluff Trail. During late fall through early spring, when most of the leaves are gone from the trees, the views of the lake are fantastic. Photo Karen Stine.
Day-use parking is located on Robin Road right at the trail head. The area is graveled. Water is available in the day-use parking lot, and there is a covered shelter and tie rails. Trail maps can be picked up there also. A map is available at the Kentucky State Parks website but it does not contain trail names which is a bit confusing for riders trying to follow a particular trail.
The trail map indicates the difficulty level of all trails as easy, moderate, or very difficult. Only two very short trails earned the "very difficult" designation and these have some pretty trappy spots.

Most trails at Green River are open to horses, but some are limited to hikers or bike riders only, so be sure to check the trail map to avoid riding where horses are not allowed. All areas are well-marked.
Many of the trails at Green River allow gorgeous views of the Lake. There are occasional spots where you can ride right up to the lake. Be sure to pack a lunch before starting your ride.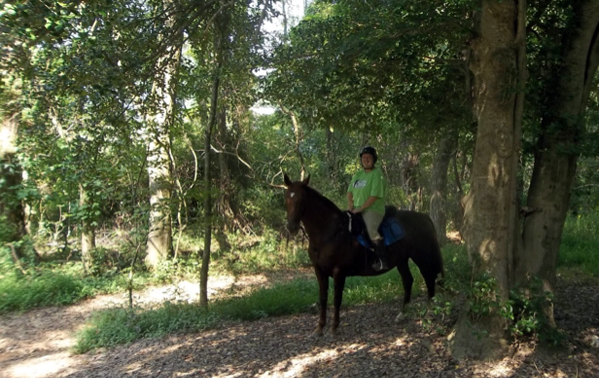 Karen Stine and her American Saddlebred Susie taking a break in the shade along Marina Main Trail. Photo Janis Flynn.
There are three areas with high lines and benches where you can take a break from your ride. Wildlife is plentiful at Green River. Look for deer, wild turkey, coyote, and fox. There are several short loops at Green River, so it is easy to plan a quick ride, or combine several loops and ride all day.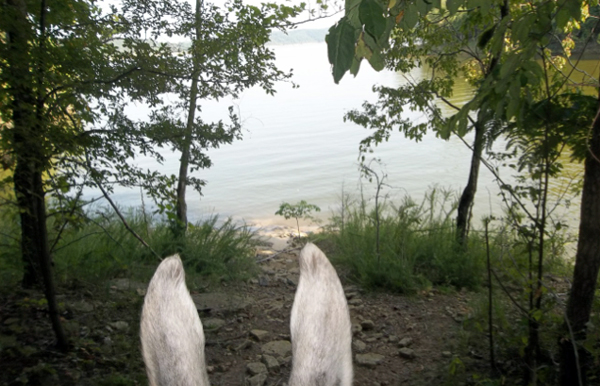 A view of Green River Lake between a donkey's ears. This view is from Rocky Bluff Spur. Photo Janis Flynn.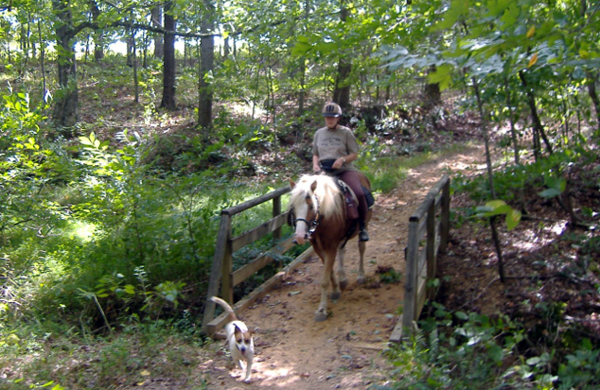 Tere Short and her Haflinger J'abbot riding along Cobee's Trail. Photo Janis Flynn.
If you want to stay longer than one day, Green River Stables is only a few feet down Robin Road from the day parking lot. Green River Stables is owned and operated by Darrell and Erin Wise. Campsites have water and electric, and most have sewage hookups. There is a nice barn with roomy stalls for your horse. Heated and air-conditioned shower facilities are located next to the barn. Access to the trails is available right from the campground. For more information, check out the Green River Stables website.
About the Author: Janis is a retired teacher who is enjoying her retirement by spending as much time as possible trail riding and camping with her donkeys and horses.