Horseback Riding in Yosemite National Park
Horseback Riding to Glacier Point on one of California's Finest Trails in Yosemite National Park, part of Equitrekking's 50 State Trail Riding Project.
By Sherry Antill & Ann Bates of Central Sierra Nevada Horse Trails

If you have ever visited Yosemite National Park, more than likely you took the drive to Glacier Point. Did you know that up the Glacier Point Road at the end of Bridalveil Campground is a horse camp? Although you can ride many trails directly from camp, trailering into Yosemite for day rides is also possible. One of our favorite day rides is the trail to Glacier Point.
Glacier Point, Yosemite.
The trail is single track with great footing and there are several places where horses can drink water. The staging area is a wide dirt shoulder along the Glacier Point Road at the McGurk Meadow trailhead. The ride is approximately 16 miles out and back, and horses should be in good condition. Occasionally you will pass hikers, especially heading toward Dewey Point and from Taft Point to Glacier Point. We have seen bears, deer and once had a mountain lion cross the trail no more than 50 yards in front of us.

Leaving the staging area, you will ride on a shaded single track dirt trail. Just before reaching McGurk Meadow, you ride through a small grove of aspens and pass by the old "McGurk Cabin" which was built around 1895. McGurk Meadow, best seen in late June and July, is a virtual carpet of wildflowers including corn lily, orange-red paintbrush and pink shooting star. Looking toward the east from the meadow, you will see Ostrander Rocks. Surrounding the meadow, White Fir, Jeffery Pine, Huckleberry Oak and Manzanita are abundant. Crossing the meadow on a small wooden footbridge and rock pathway, the trail once again becomes a lovely dirt single track trail.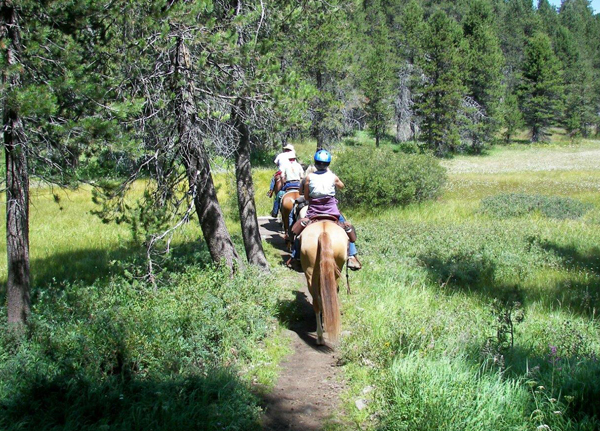 Crossing McGurk Meadow.
Coming to a 3-way junction and turning right, heads you toward Glacier Point on the historic "Pohono Trail". Shortly, you will cross over Bridalveil Creek on a wooden footbridge as you make your way to the next waypoint which is Taft Point. Directly across the Yosemite Valley from Taft Point is massive "El Capitan". Taft Point is also known for it's rock formations called "fissures".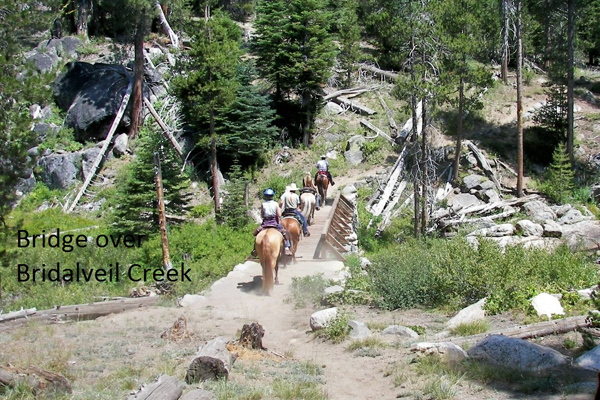 Bridge over Bridalveil Creek.
Leaving Taft Point, the terrain changes somewhat from dense forest and dirt trails to more open expanses, Lodge Pole Pine, lush ferns and footing more like sandy decomposed granite. Be sure to take the short side trails, as they usually lead to spectacular viewpoints. The next landmark, so to speak, is the trail below Sentinel Dome. As we all know, most trails have their "hold your breath" areas and this trail is no exception. On the right side of the trail is Sentinel Dome, which is uphill terrain. The left hand side of the trail, although not a drop-off, is equally as steep all the way to the valley floor, approximately 3000 feet below. It is short distance and the trail is fairly narrow. We don't want to scare anybody away from this ride, but there is always an automatic exhale when reaching the end. The reward, just a little farther up the trail, is a magnificent view of Half Dome. With just one mile to go, the trail heads downhill to Glacier Point.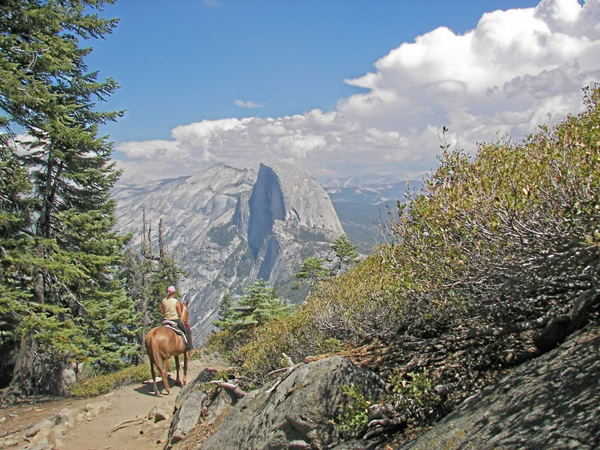 Pohono Trail after Sentinel Dome, one mile from Glacier Point.
When you reach Glacier Point, there is a sign directing you to the horse tie-up area. From this area, it seems like you can almost touch Half Dome. The views of Vernal and Nevada Falls are breathtaking, even at the end of summer. Be sure to send someone into the gift shop for ice cream bars. Be prepared to have a lot of pictures taken of you and your equine buddy.

Although you return the way you came, the views from this direction are quite different. As you take it all in, never forget what an enormous privilege we have to be able to ride our own horses in this incredibly beautiful treasure, Yosemite National Park.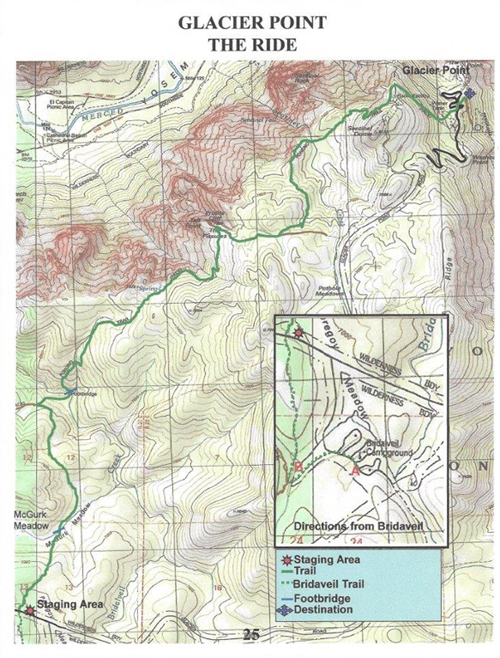 About the Authors: In North Fork, CA, a small town nestled in the foothills of the Sierras and just south of Yosemite National Park, two women have located, ridden and mapped over 40 equestrian trails. Sherry Antill and Ann Bates were not satisfied with the dozen or so trails known to the riders in the area, so in 2007 they set out on a quest to locate trails and paths, mainly within a 50-mile radius, that could be day rides for local horse owners. From picking the brains of the old timer's and cattle ranchers who would summer their cattle at the higher elevations, to following caravans of trucks hauling horse trailers, Sherry and Ann were able to add 20 unique trails to their expanding folder. Over the next couple of years they added more than 20 additional day rides without any repeats! The trails range in mileage from 6 to 20 miles round trip. This resulted in the printing of two trail books, "Central Sierra Nevada Horse Trails", volumes one and two. Learn more at CSNhorsetrails.com.