Horseback Riding In Yellowstone National Park
Horseback riding adventures in a dream place to ride, Yellowstone National Park, while at Lone Mountain Guest Ranch in Montana.
by Martha Crocker
When I was a kid one of my favorite books was Little Britches, so I was pretty excited about the opportunity to ride in the NW corner of Yellowstone National Park during my stay at Lone Mountain Guest Ranch in Montana. I had not been on a horse for a while and I began wondering and dreaming how it would feel to be in the saddle again. My anticipation was sky rocketing through the roof as I found my old boots, comfy jeans, and hat.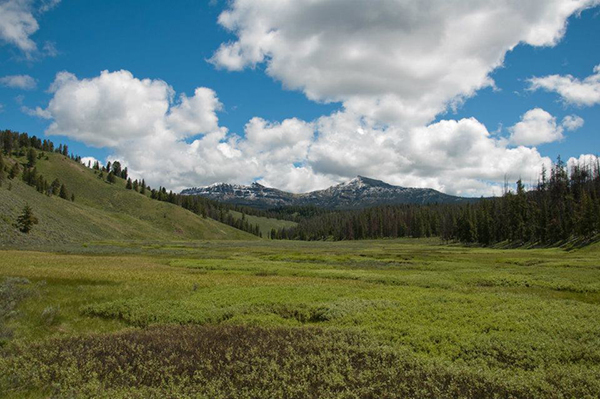 Views of the Northwest Corner of Yellowstone National Park.
Soon enough we were on our way, at the trailhead with our mounts ready to go. A deep breath, heave ho, and a little help from the wrangler put me in the saddle. As we start down a gentle trail I instantly feel and recognize the solid motion of the horse underneath me. The pace and sway of his stride while walking is gently mesmerizing.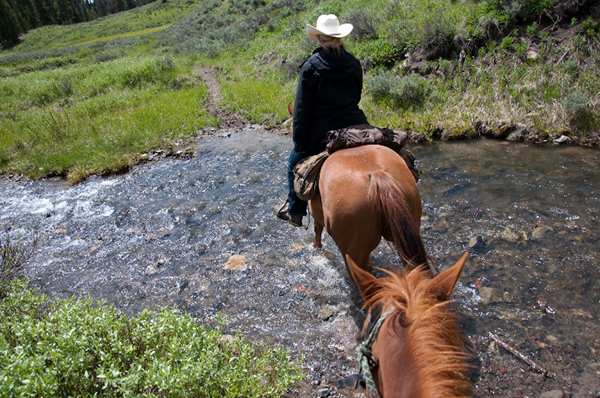 Whether you are horseback riding at Lone Mountain Ranch, in the bordering Lee Metcalf Wilderness or Gallatin National Forest, all rides happen in the Greater Yellowstone Ecosystem
On a blue sky day, the air is clear and crisp. I see a thousand shades of green as springtime unfolds in the landscape. Willow, sagebrush, and quaking aspen flutter in the breeze. In the distance, a larger canvas of evergreens, pine, spruce, and fir provide the mountain backdrop to complete my view. I am entranced with the day and the experience and soak it all up. I close my eyes and feel the warm sun on my back, tug on the reins and ask my horse to get back to walking rather than browsing, and we both know this is the best place to be.
Wildlife abounds in Yellowstone.
Eventually we ride through two small stream crossings where the willows are already shoulder height and start a gradual climb. Further upstream, we see a cow moose with spindly legged twins. They are small and anxious to stay with their mother. We continue riding uphill through the sage meadows which offer up purple larkspur and lupine and splashes of yellow balsamroot. Later on, as the season turns to summer new flowers will create another palette of colors. The horses seem content, knowing this trail and ready for a break anytime.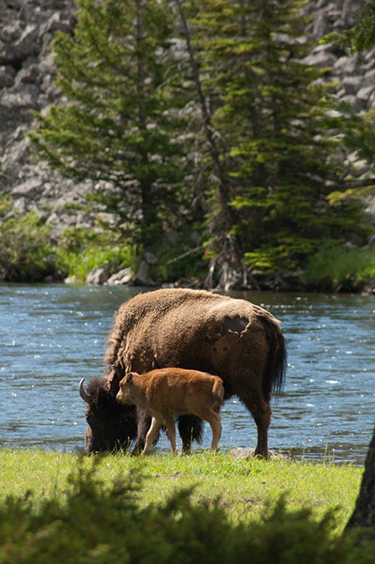 Baby Bison and its Mama.
At the top of the rise we stop and dismount. The horses are grazing close by as we take in the views and chow down for lunch. I'm not yet saddle sore but it feels good to stretch and walk. A couple of Canada geese are honking down by the river, maybe we'll see some goslings on our ride down. The ravens entertain us with their aerial play, swooping and diving with the currents. After a pleasant rest we mount up again and ride down the hillside, the horses pay attention to the bony trail careful not to stumble. It levels out when we reach the river, and we break into an easy lope. The river meanders and bends with crystal clear water which is calm and inviting, evidence that the raucous spring runoff is slowing down.
Moose on patrol in Yellowstone.
In another couple of miles we are back at the trailhead. I've saved an apple from lunch and feed it to my horse, and give him a rub as he asks for more. It's the least way I can say thank you for a steady ride and beautiful sights. The notion of a trail ride is inviting, summer is short and sweet so it's time to get back in the saddle again.
Learn more about this Montana summer and winter guest ranch near Yellowstone on Lone Mountain Ranch's website, and other great ranches on Top20Ranches and the Equitrekking Vacation Guide.