Horseback Riding in Little Missouri State Park
Take a tour on horseback through some of North Dakota's most awe-inspiring terrain at Little Missouri State Park.
One of the best places to experience North Dakota's famous badlands is Little Missouri State Park and the best way to see it is from the saddle. This wild and rugged country was once called "Mako Shika" or "where the land breaks" by its original inhabitants, the Sioux. Located near Killdeer, North Dakota, this 4,600-acre state park offers over 47 miles of trails for horseback riding and hiking.
Breathtaking scenery abounds in the Badlands of North Dakota. Photo courtesy North Dakota Tourism.
Numerous wildlife species frequent the park, including mule deer, coyote, fox, bobcat and golden eagle. Horse corrals are available for groups bringing in their own horses and artesian wells are located within the park for horse watering purposes. Use of certified weed-free hay is required and is available for sale at the park. Nearby attractions include Theodore Roosevelt National Park (North Unit), Lake Sakakawea, Killdeer Mountains, Little Missouri State Scenic River, scenic byway.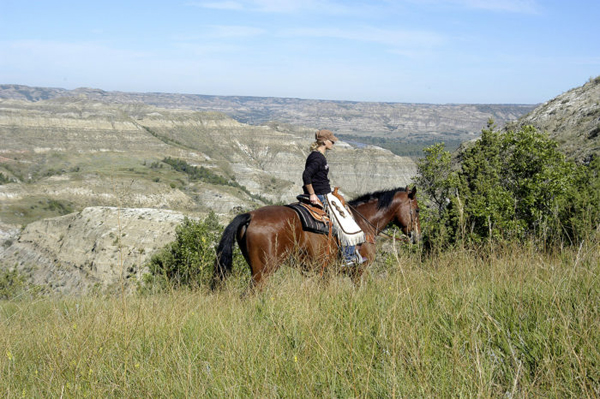 Most of Little Missouri State Park is accessible only by foot or on horseback. Photo courtesy North Dakota Tourism.
Trail guide:
Trail maps are available at camp headquarters when you check in. The park's trail map is conveniently color-coded to help both equestrians and hikers determine which trail best fits their experience level.
Green Trails: Trails marked in green are the easiest trails, in terms of difficulty. Green trails are the first trails out of the campground/corral area. These trails follow more gradual inclines, are generally wider than Blue and Black trails, yet still offer panoramic views of the Little Missouri badlands. Riders looking for a gentle ride or those on inexperienced horses should use these trails as a first choice.
Blue Trails: Blue trails follow steeper terrain or extend further into the park or leased lands. Trail users will find narrower trails, a slight increase in the terrain's steepness, and more difficult terrain than Green trails.

Black Trails: Black trails follow the most difficult riding or hiking terrain. Longer, steep inclines and travel on narrow, high ridges will be encounters. Only experienced riders on horses accustomed to the badlands terrain should use these trails.
For more info, visit the park website.