Horseback Riding Chateau de Versailles in France
An equestrian explores the beautiful gardens, grounds and palace at Chateau de Versailles outside of Paris.
By Karen France
In September 2013 to celebrate my 50th birthday, I was fortunate to go horseback riding through the royal hunting and palace park grounds of the magnificent Chateau de Versailles, just outside of Paris. It was the highlight of my entire trip! It was beyond my wildest expectations and a very intimate and unique experience that I will treasure forever.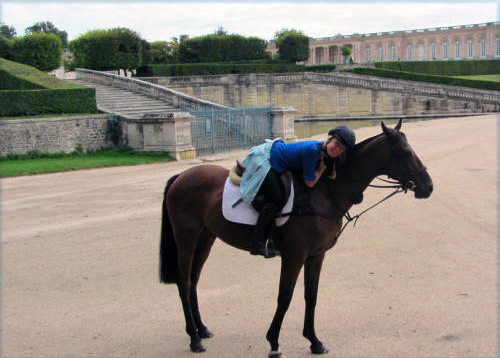 The French host Baptiste (who speaks a little English) was able to provide a wonderful interpreter to come along for the ride. It was an intimate, private ride with just the three of us. Their company and interesting, informative (and often funny) stories about the palace, royal family, royal court and magnificent grounds were just fantastic.
Baptiste has a prestigious history with horses and has access to a huge variety of mounts. He is able to select the appropriate horse for any level of rider. He even told me about a couple who recently went out with him. The woman said she could ride but her husband never had. Apparently at the end of the ride, the husband was riding better than the wife!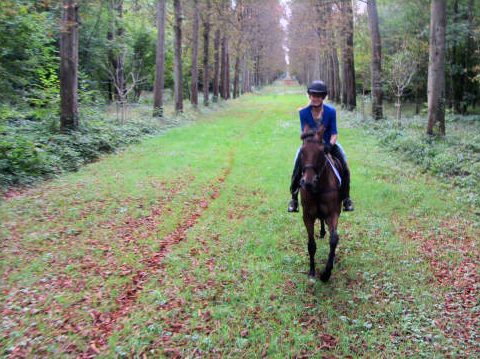 It was very professionally run, and they chose my horse well. I asked for a long striding horse, and they were able to give me a very good Thoroughbred. We had plenty of opportunities to gallop. My helmet was, of course, supplied. Upon request in advance, they were also able to lend me a lovely pair of French leather riding boots and gloves, which not only made the ride comfortable but also left me feeling very appropriately attired for the occasion! The quieter times of our over two-hour ride were wonderful opportunities to chat and learn more about the fantastic history of Versailles and France.
The experience of horseback riding through such historical grounds was a once in a lifetime opportunity to experience something unique in an amazing way. The 815 acres of beautiful grounds were just made to be ridden through and to experience the gardens, Marie Antoinette's farm, lakes and more from such a different viewpoint was very special. This is the best way to explore these magnificent gardens and palace from a vantage point that the average person never gets to see.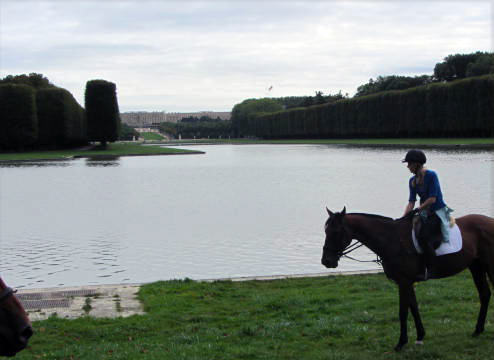 Baptiste was able to demonstrate his considerable riding prowess by kindly using my camera to take photos of me riding, even while he was facing backwards in full gallop! Now I have memories to hold forever.
The aperitif of coffee, French pastries and traditional French lunch (some made by Baptistes mother) and scrumptious French wine supplied just added to the magical experience. Upon request, Baptiste also booked a fascinating, intimate private tour for me through the less explored private rooms of the Palace for after the ride, and there was plenty of time left for me to explore the main Palace later. It was the most amazing and gratifying day ever!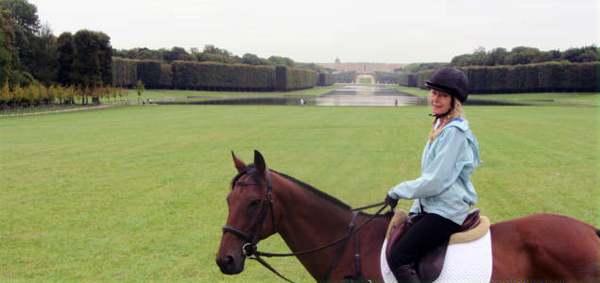 Baptiste also offers a variety of horseback riding adventure experiences in other amazing places around Paris. I highly recommend this organization to everyone. Life is too short–– just do it!

How you can go: Learn about riding Versailles and around Paris with Baptiste, who has recently updated his website at www.horseinthecity.fr, or by info@equitrekking.com?subject=Equitrekking%20article-%20Horse%20riding%20Versailles">emailing Baptiste.