Horse Riding in Oaxaca, Mexico
Riding the Land of the Criollo, Color and Culture
by Heidi Longaberger

Riding horseback across the countryside of Oaxaca in Southwestern Mexico is like touring through a Diego Rivera mural. The color comes at you in bursts of purple and ochre and music echoes throughout the valleys. The open nature of the people, many of whom invite you into their small courtyards to rest and water your horse, is so humbling that it makes you think hard of who you were before.
I rode as a guest of Mary Jane Gagnier, who at the time had a ranch and riding operation in Teotitlán del Valle, a small village just outside of the capital city Oaxaca de Juárez, or Oaxaca city for short. Mary Jane has since moved to Rancho Pitaya, in the eastern valley of Oaxaca at Rojas de Cuauhtémoc, where she continues to provide horseback riding adventures.
A Musical Feast

My first morning in Oaxaca was greeted by the faraway sound of children's voices winding up the hillside in song as they started their morning in the village school. This was just the beginning of the musical portion of my trip, as every day there were parades and brass bands. My hostess explained to me that the tiny village of Teotitlán had several brass bands, which can be called up for any type of occasion, from birthdays to funerals. There were many of these occasions daily and once at 3 AM, complete with fireworks.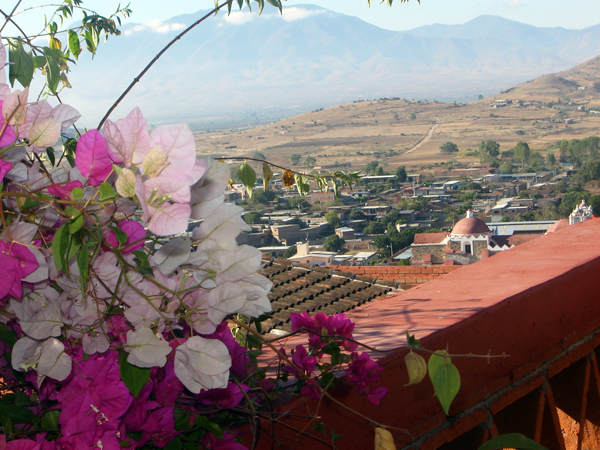 Looking over the valley.

The music left its imprint on my soul, and the food left an indelible stamp on my tongue. Oaxaca is known for its variety of mole sauces. These are true, hand-crafted moles that take all day to prepare, not the thick chocolate-peanut concoction that so many restaurants serve in the U.S. and call authentic.

It is a meticulous undertaking involving the blending and cajoling of several varieties of roasted chilies and other delectables such as tomatoes, plantains, raisins, cinnamon, almonds, oregano, onion, and chocolate. Julia Childs eat your heart out.

Imagine a day of riding through canyons and forests, followed by simmering mole sauce poured over gently roasted beef accompanied by queso stuffed squash blossoms, a margarita or three, a band coaxing out a melody in the distance and the sun setting on the Sierra Juarez mountains. Welcome to Oaxaca.

Dances with Horses

The herd was well loved and trained. She had rescued three from certain death after the Mexican Army dispersed of them after years of military use. She gave the trio the Latin groove names of Mambo, Bossa Nova and Samba. They were tall and strong, and looked like Thoroughbred or Quarter horse appendix. I got to ride the dark bay Bossa Nova, who was a straight forward hard worker. I also had some nice rides on the loveable gentle giant Mambo. The hostess also let me try her Mexican Paint Criollo stallion, Chocolate.
I was intimidated, as it was only the second time I'd ever ridden a stallion. But Chocolate was smooth, smart and tractable, with wonderful manners. We ended up being a great team. Chocolate, though a stallion, lived like a horse should, in the larger gelding group, and he was actively ridden. Perhaps this is why he was so well adjusted.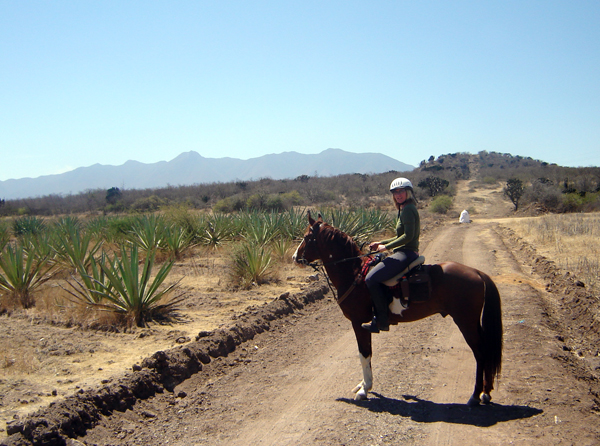 The author and Chocolate.

There were also a good variety of saddles to try, including English, Australian, Western and my favorite, the Vaquero saddle. At first glance, I thought I may be indulging in a bit of self-torture when I decided to try the Vaquero saddle for an all day ride. It looked like a cross between a baroque wooden throne and a high-chair, with the high cantle and large pommel. But, no pain no gain, and up I went. It ended up to be my favorite saddle of the trip. It was deceivingly comfortable and that imposing pommel ended up coming in handy when going up and down steep canyons. The working Vaqueros and charros who live all day in the saddle shouldn't be second-guessed.
Horse Riding Canyons and Culture
We rode out daily to new adventures, traveling up to 25 miles a day round trip. Our travels took us trotting around a clear blue lake and cantering down lanes of green-silver agave, budding salvia and giant cactus whose long entwined branches reached for the sky. I named them Medusa. We also rode to Aztec ruins dotted throughout the landscape and even happened upon a cilantro farmer. While Mary Jane spoke with him in Spanish, he turned to me in perfectly fluent English to let me know that his brother works for Wahoo's Fish Taco in Colorado. The world grows ever smaller, even miles into the southern Mexico countryside on the back of a horse.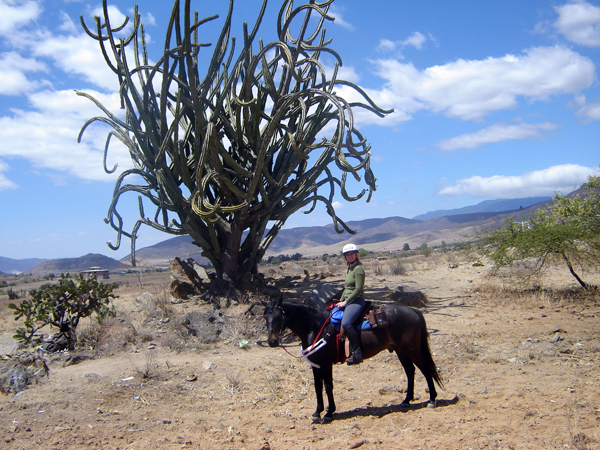 On Bossa Nova with Medusa

Many villages in the area specialize in a particular craft or service. We rode through one village that makes all the adobe like tiles and bricks for the area. Teotitlán is world renowned for its textiles. One weaver invited me into her home to show me the natural pigments she uses from local plants and minerals – colors from burnt orange to azure blue rested in separate cups waiting to undergo the centuries old dye process. There is even a crimson color called carmine which comes from a beetle like bug called the cochineal.
What struck me about many of the Oaxacans is that they may live without what we in the Western world consider the basic comforts, yet they surround themselves with the stuff that keeps the soul alive: extended families, naturally grown food, art and craft, and music.
Oaxaca is not Shangri-La. Along with its vibrancy you will see many homeless dogs and cats roaming about looking for food, trash dumped randomly in the countryside, and a bevy of social issues inherent with long-term unemployment and economic issues. But I couldn't help but wonder at the dichotomy. It is not uncommon to see a dirt floor with a beautiful large loom resting on it, or a barefoot child cradling her well shined brass horn, ready to give a serenade.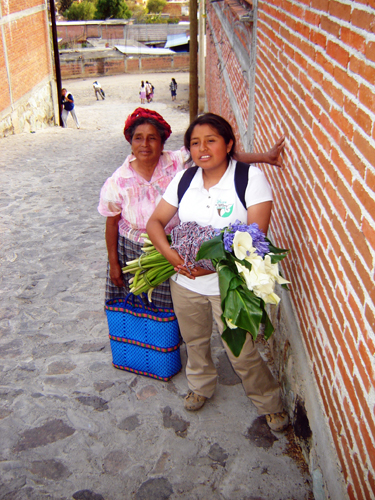 Teotitlán Friends
The Bravery of the Escaramuza
On my final day at the ranch, Mary Jane took me along to an Escaramuza. This is a competition which includes teams of girls and women riding side-saddle in choreographed patterns. These patterns are not slow or for the faint of heart. I was treated to the thrill of horsewomen in traditional costumes weaving their horses in, out and around each other at the gallop and canter. The horses were grace in motion, and I was in awe of the level of horsemanship, even from girls as young as nine or ten.
An Escaramuza is sometimes a part of La Charreada, a rodeo tradition highlighting ranching skills, crafts and family. With all the families milling about in this county-fair like atmosphere, obviously enjoying each other's company, I was once again reminded of the importance the Mexican people place on family and being together. They don't just talk about it, they live it.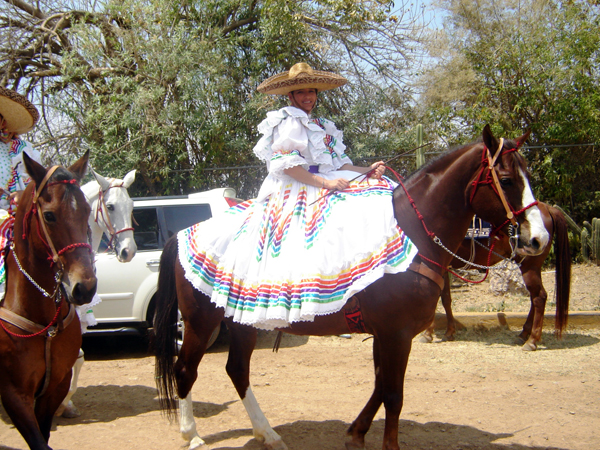 The Pageantry of the Escaramuza.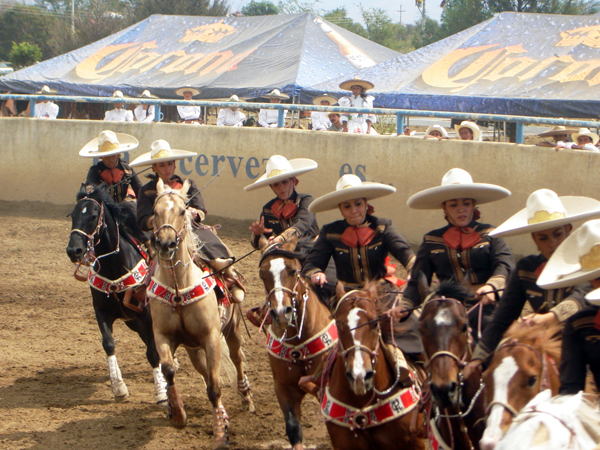 An Escaramuza Team in Action.
Zapotecs, Spanish Revolutions and Grasshoppers
I spent my last couple of days in Oaxaca city, a monument to old Spanish architecture and influence. The indigenous cultures that have inhabited the Oaxaca region, such as Mixtec and Zapotec, are also a large cultural presence.
I spent much longer than I intended in The Centro Cultural de Santo Domingo. Adjacent to the grand Santo Domingo Church, this museum is in what used to be the monastery. It offers room after stately room of Oaxacan history and artifacts, from pre-historic through The Spanish Revolution to current times.
Once you've spent the day in the museum, your stomach will guide you to the Mercado Benito Juárez. This covered market is almost an assault of smells, sounds and color. I actually did have to go outside to clear my head a couple of times. Any kind of meat, fruit, spice, vegetable or other edible is hanging, stewing, or displayed. The chapulines, or chocolate covered grasshoppers, land firmly in the other edible category. This is a well known snack in the area. Since I get my fair share of insect nutrients when riding with my mouth open, I opted for just the chocolate, which is akin to a baker's chocolate, but a bit saltier and surprisingly addictive. The main square, or zocalo, is the place to be at night. Ringed by eateries and cool patios, it is teeming with concerts, dancing and orchestras.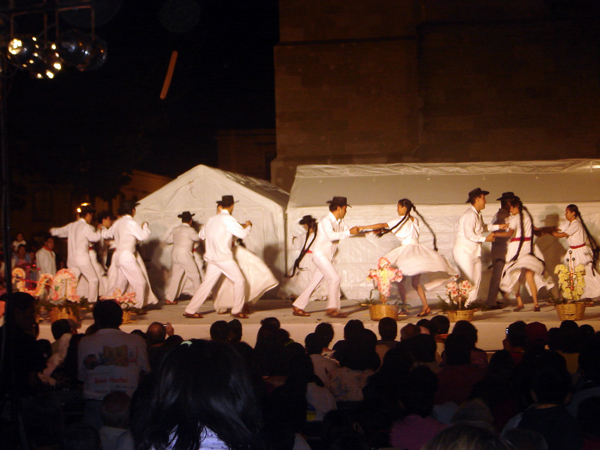 Dancing in the Zocalo – Oaxaca de Juárez.




Oaxaca de Juárez.
"Hasta Que Volvamos a Encontrarnos"
My trip to Oaxaca left me with so much more than just memories of good riding, delectable food, and expansive vistas. The good nature of its citizens, in treating me like a long lost friend, truly made the trip. I've been to grand cities where I ticked monuments off of my list, but can remember no special interaction with the people–– perhaps that was my fault. But it is just the opposite in Oaxaca and that is why I travel. So to the horses that carried me, the culture that educated me, and the people that offered me a smile and hospitality, I'll always be grateful.

About the author: Heidi Longaberger is an information professional, researcher, and writer who happens to be owned by a horse.