Horse Riding Bussey Point Recreation Area in Lincolnton, Georgia
Learn about Bussey Point horse trails, which were created by horseback riders, for horseback riders, and are a hidden gem in Georgia, part of the Equitrekking 50 State Trail Riding Project.
by Linda Antopolsky
Located between Augusta and Lincolnton, Georgia, is a hidden gem of horse trails on the shore of J. Strom Thurmond Lake (still Clarks Hill to many native Georgians). Bussey Point Recreation Area is a peninsula with 32 miles of shoreline on this very large pristine lake nestled between Georgia and South Carolina.
The area consists of over 2500-forested acres with an abundance of wildlife, making it ideal for outdoor enthusiasts. Closed to vehicular traffic, there are over 20 miles of well-marked wooded equestrian trails and natural surfaced roads, perfect for hours of riding enjoyment. Shoes for horses are optional. The roads and trails can be somewhat rocky in places so some riders prefer at least front shoes. Others, whose horses are more accustomed to the barefoot trim, find that their horses have no difficulty with the natural surfaces.
The main wood trail is marked with yellow diamonds and is 12 miles long. At the furthest point within the peninsula and out past the 6 mile point on this trail, riders will find a favorite resting spot, complete with picnic tables, fire rings, highline, and beautiful views of the lake. In the summer, boaters also find this area of the peninsula to be a favorite stopping point.
The entire yellow trail and out to the point will provide riders with about a 15-mile ride. There is a shorter 6.5-mile loop for those wanting a little less saddle time. Maintained entirely by volunteers of a local riding club, the trails are used primarily by equestrians and maybe an occasional hiker. Bicyclists are allowed in the area but are only occasionally encountered on the roads.

Thanks to a 2013 partnership project between local equestrian volunteers and the U.S. Army Corps of Engineers, there is now an enlarged day parking (free) area, as well as 14 primitive campsites large enough for living quarter horse trailers. Highlines for tethering horses have been erected at each campsite, and there is a new well with a hand pump. Ten sites, many of which are pull through, are immediately adjacent to the day parking area, and four others are located approximately a quarter mile away in close proximity to the boat ramp.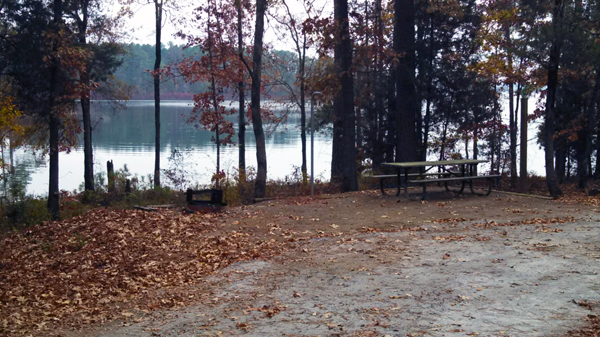 There is a trail between the two camp areas so riders can avoid the road to access the trailhead. Camping is only $6 per night; or, a mere $3, with the Golden Age or America the Beautiful Senior Pass–– what a deal! The campsites cannot be reserved in advance, but, as of yet, that has not presented a problem for individual campers.
For those riders with family members that do not ride, opportunities for other activities are numerous. Swimming, fishing, boating, canoeing, geocaching, bicycling, hiking, and bird watching are just a few. All of the campsites are situated along the shoreline so just simply sitting and enjoying the beauty of the water could be the best entertainment of all.
It is important to note that Bussey Point is closed three or four weekends a year for managed hunts. The dates of the hunts vary, usually with two or three deer hunts prior to Christmas and one turkey hunt in early spring, and those dates are posted well in advance on the Lake Thurmond website.
Visitors to the area should check for any closures, either by the Internet or by calling the Thurmond Visitor Center at 1-800-533-3478, prior to their planned arrival.
Maps are available either online or at the new information kiosk (another volunteer contribution) located about 500 feet within the gated area. Additional information and link for the map of trails can be found at the volunteers' website.
Accommodations and stabling for riders not wishing to camp is not presently available but may become a possibility in the coming year by nearby landowners. Links to area facilities offering such accommodations will be provided on the above site if they become available.
The equestrians in the surrounding counties of Lincoln, Columbia, McDuffie, and Burke feel very fortunate to have access to such a wonderful riding area as Bussey Point Recreation Area with so many miles of trails and at so little cost. It is hoped that readers of this article will be inclined to visit and enjoy its beauty also. See you on the trails!

About the Author: Linda Antopolsky is a member of the Backcountry Horsemen of Middle and South Georgia and a founding member of CSRA Equestrian Club in Augusta, Georgia, and is a strong advocate for trail volunteerism. Having ridden her entire life from early teens, she was a longtime member of the Belle Meade Fox Hunt, enjoyed competing in many endurance rides, has taught riding lessons, and now just enjoys camping and trail riding with her horse. Her camping trips with friends have included the trails of Georgia, South Carolina, Tennessee, Virginia, North Carolina, and Missouri. Linda welcomes email from readers about riding at Bussey Point and the activities of the CSRA Equestrian Club can be followed on Facebook.