Five Cowgirls Who Changed History
Remarkable women from my visit to the National Cowgirl Museum and Hall of Fame in Fort Worth, Texas.
by Karen Braschayko
At the National Cowgirl Museum and Hall of Fame, you can learn about cowgirls who were famous and those who were not so famous. Even if you know their names, it's a chance to discover more and see how their story fits into the chronicle of history.
Here are five cowgirls who captured my imagination and made me want to learn more about the West from a female point of view.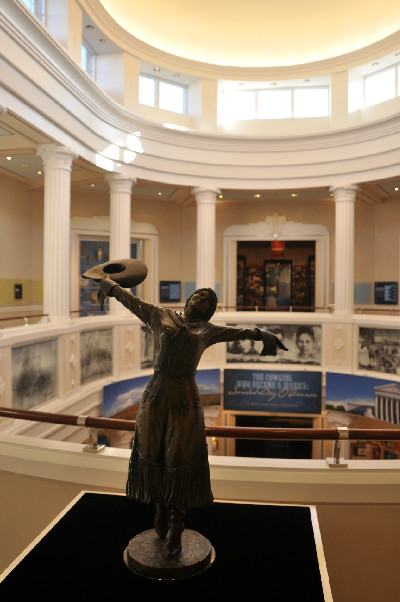 "Moment of Glory" by Wes Smith, 1995, in the rotunda of the National Cowgirl Museum and Hall of Fame.
Dale Evans, 1912-2001
1995 Cowgirl Honoree

"Cowgirl" is an attitude really. A pioneer spirit, a special American brand of courage. The cowgirl faces life head-on, lives by her own lights, and makes no excuses. Cowgirls take stands; they speak up. They defend things they hold dear.

Frances Octavia Smith, also known as Dale Evans and the "Queen of the West," inspired many future cowgirls, including the Dixie Chicks. Hardworking and prolific, she was a multi-genre singer, a writer of more than two dozen books, and an actress in over 30 films and television shows. She wrote 200 songs, including "Happy Trails." She married Roy Rogers, and they were partners on and off screen for 50 years as they raised several children.
Roy Rogers and Dale Evans at 61st Academy Awards. Photo by Alan Light.

She lived in an era when being a divorcee carried a stigma that may have stalled her developing career, so Evans found a way to keep her son from a teenage marriage with her, calling him her younger brother Tommy. Evans tackled topics head-on that were not commonly accepted at the time. She wrote a book about having a daughter with Down's syndrome and became a role model for altering societal perceptions about developmental disabilities. She wanted young girls to learn confidence and bravery from the roles she played, and she hoped her cowgirl image would portray wholesome values and an energetic spirit.

Sacagewea, 1788-1812
1976 Cowgirl Honoree
Everything I do is for my people.
The story of Lewis, Clark, and the expedition that charted America's future cannot be told without Sacagawea. Working as an interpreter and guide, Sacagawea of the Lemhi-Shoshone was merely a teenager when she helped the group explore the Louisiana Purchase territory. Having her along was like a white flag of peace to Native Americans they encountered, since a female would not have been permitted on a war party. She also secured supplies such as horses from the Shoshone and taught the team about edible plants.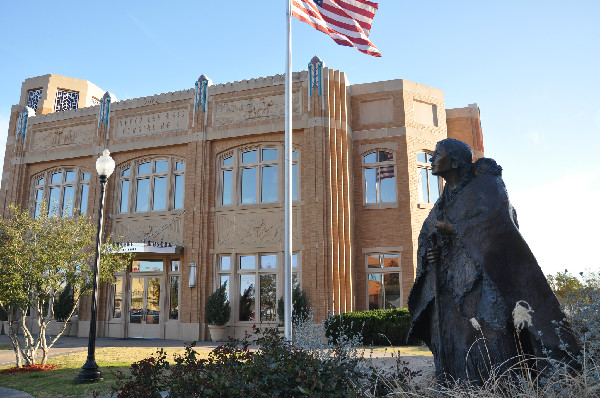 "Sacagawea and Jean Baptiste" by Glenna Goodacre.
Standing in the museum's courtyard is a statue of this cowgirl who lived many years ago. She was kidnapped into slavery and sold as a wife at age 13. Her husband, Quebec trapper Toussaint Charbonneau, was the team's official guide. She gave birth to son Jean Baptiste during the expedition. They traveled thousands of miles and reached the Pacific Ocean. Besides history books, Sacagawea's story is remembered today in movies, novels, songs and monuments as an icon of woman's contributions and independence.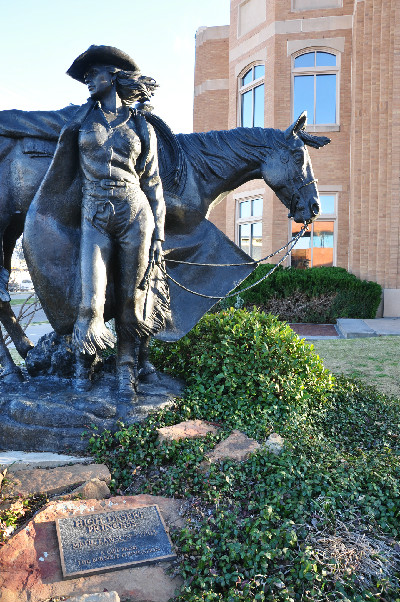 "High Desert Princess" by Mehl Lawson, 2003, outside of the National Cowgirl Museum in Fort Worth, celebrates women trailblazers.
Annie Oakley, 1860-1926
1984 Honoree

Aim at a high mark, and you will hit it.
Phoebe Ann Moses Butler became known as legendary sharpshooter Annie Oakley. She was born to a poor family in Ohio, and she took over the hunting duties to feed and clothe her family once her father passed away. After developing her skills as a legendary sharpshooter, she became the first woman in Buffalo Bill Cody's Wild West Show and traveled the world. While showcasing a traditionally male skill, she emphasized her femininity with fashionable dresses and a stylish parlor in her tented living quarters.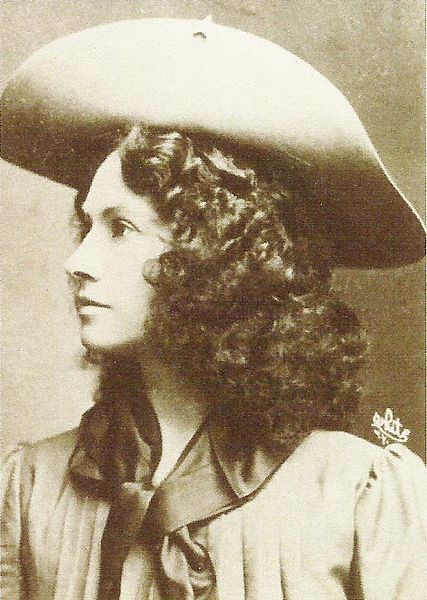 Annie Oakley circa 1880's.

At a time when shooting skills could help provide for a family, Oakley taught an estimated 15,000 women to use a gun throughout her career. She saw gun sports as a way women could protect themselves, as well as healthy exercise for the body and mind. She was an international star in her time, and her story lives on through numerous characterizations in television shows, books, movies and musicals such as "Annie Get Your Gun."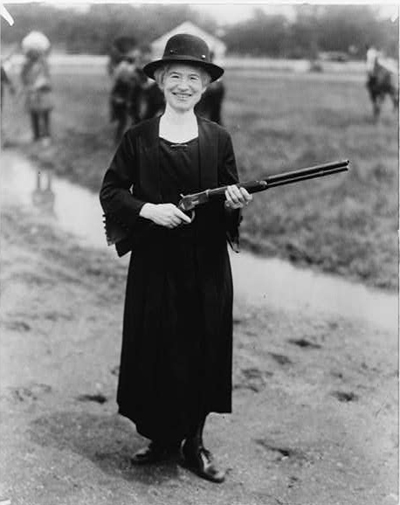 Annie Oakley in 1922 with a gun Buffalo Bill gave her. From Library of Congress.
Velma Bronn Johnston, 1912-1977
2008 honoree
I have given a great deal of thought to the matter in order to not appear hysterically oversympathetic and just another "do-gooder."
More famously known as "Wild Horse Annie," Velma Johnston spent decades of her life fighting to protect wild horses. After enduring a childhood battle with polio that left her disfigured and permanently in pain, she experienced a moment on her way to her secretary job one morning that changed her course. A trailer of half-dead, injured wild horses were on their way to a pet food factory, and the sight of the poor creatures inspired her vow to help Mustangs. As she learned about the harsh roundups and cruel treatment, she began her legendary battle to preserve them from possible extinction. Johnston approached the issue with facts and realism, containing her passionate outrage so her message would be more effective. She created a sensitivity and space in the nation's conscience for the issue.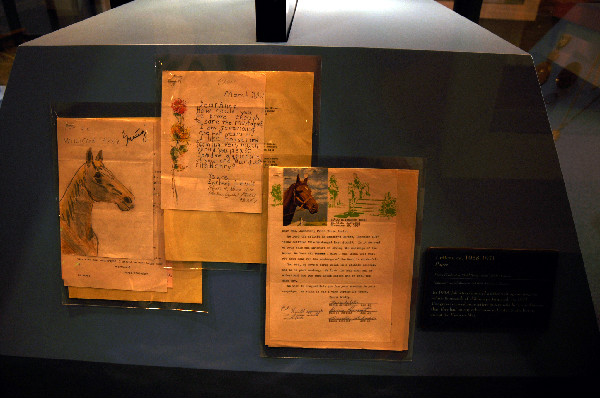 Children wrote letters to Velma Bronn Johnston, known as Wild Horse Annie, thanking her for her work on behalf of Mustangs at the National Cowgirl Museum and Hall of Fame in Fort Worth.

While society expected her to be a quiet housewife, Johnston took on Congress, fought powerful ranchers, and performed perilous vigilante missions to free wild horses. She encouraged children to write to Congress, and this campaign flooded the government with more mail than any issue besides the Vietnam War. The Wild Free-Roaming Horse and Burro Act passed in 1971, largely due to her dedication and as an example of what one person can achieve in the political process. Her friend Marguerite Henry fictionalized the crusade in Mustang: Wild Spirit of the West. Johnston's devotion made her a national hero and pioneered the movement to save American Mustangs that wages on today.

Sandra Day O'Connor, b. 1930
2002 Cowgirl Honoree
It was not until I grew up and moved away from the Lazy B that I learned just how unusual my early life was…
Before she became the first female Supreme Court justice, Sandra Day O'Connor was a little girl who rode horses, shot guns and grew up on her family's generational Lazy B Ranch in Arizona. Living in near isolation, she worked with the ranch hands, worried primarily about rain, and learned a simple value system that was about desert survival and making the best use of what they had. O'Connor's father expected her to contribute and learn the skills necessary to keep the ranch profitable.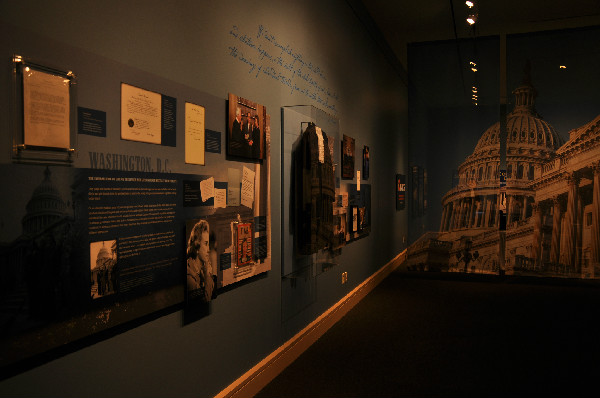 Sandra Day O'Connor's Supreme Court robe was on display at the National Cowgirl Museum and Hall of Fame in Fort Worth.
As she attended Stanford Law School and established herself as a judge, O'Connor combated anti-female comments and widened the path for women in government. When the New York Times called the Supreme Court the "9 Men," she wrote to the paper and corrected the omission of her female presence. O'Connor missed only two weeks of work as she successfully battled breast cancer. She raised three sons with her husband of more than 50 years, John O'Connor. She retired in order to spend more time with him before he died of Alzheimer's disease, and O'Connor has worked to raise awareness for the struggle patients and their families face. After decades of dedication to fairness and a career of exceptional tenacity, O'Connor has said that she wants her legacy to be simply that she was a good judge, regardless of any other factors.


How you can go: The National Cowgirl Museum and Hall of Fame is located in the Fort Worth Cultural District at 1720 Gendy Street, Fort Worth, Texas 76107. For more information, visit www.cowgirl.net, or call (817) 336-4475 or (800) 476-FAME.

Who's your favorite historical cowgirl? Comment below or let us know on Facebook.

Karen Braschayko is a freelance writer and horse lover who lives in Michigan.