Exploring Half Moon Resort in Jamaica
Caroline and her daugther continue their adventures in Jamaica, including visiting the spa, golf and cuisine.
by Caroline Maffry
Between swimming with the horses and dolphin swim encounter, we spent our time exploring everything else the resort had to offer. The paths were exclusive to foot traffic, golf carts, and bikes as we peddled around the resort, stopping at local stands selling handmade baskets made from dried palm tree leaves, peaking over the high walls of the resort villas and cottages and enjoying the various pools on the property. Our favorite was the hibiscus pool located just behind our suites, which sported a swim up bar allowing for cold refreshments, mostly made with local Jamaican rums and fruit.
View from our Hibiscus Suite; biking on the resort property; seagrape trees at the Fern Tree Spa; local shopping and hair braiding
Local Flavor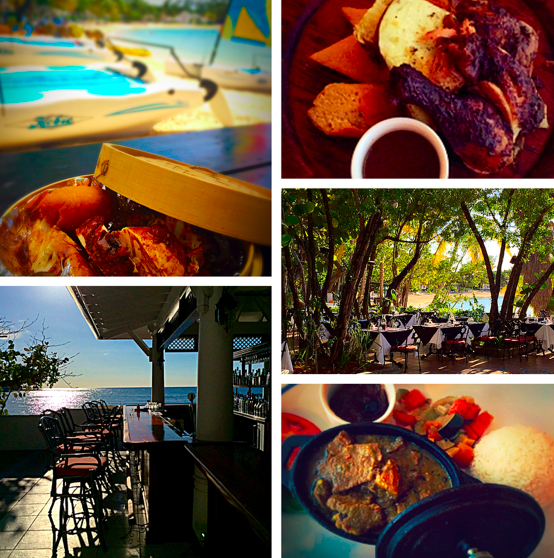 Jamaican cuisine is abundant at The Half Moon Resort and with six main restaurants to choose from, your options to explore the local flavor is guaranteed. We chose to have our lunches by the beach or pool and opted for the carry-out style bamboo bowls from the beach grill, offering jerk chicken, pork, or lamb cooked right on the grill in front of us. (Jerk is a style of smoked grilling and can be applied to any type of meat being cooked.)
We dined on all sorts of delicious seafood at the main restaurant Seagrape including snapper fillets, crispy skin salmon, and butterfish fillets and ended with desserts of pudding scorched bananas and rum soaked cake with vanilla ice cream. Our favorite restaurant though was Pepperpot, near Sunrise Beach. Offering only authentic Jamaican Cuisine, our favorites included the curried goat, braised oxtail and of course more jerk chicken. After dinner drinks and dessert at the Oleander bar just off the main foyer was the perfect end to the day.
Golfing at the Half Moon Golf Club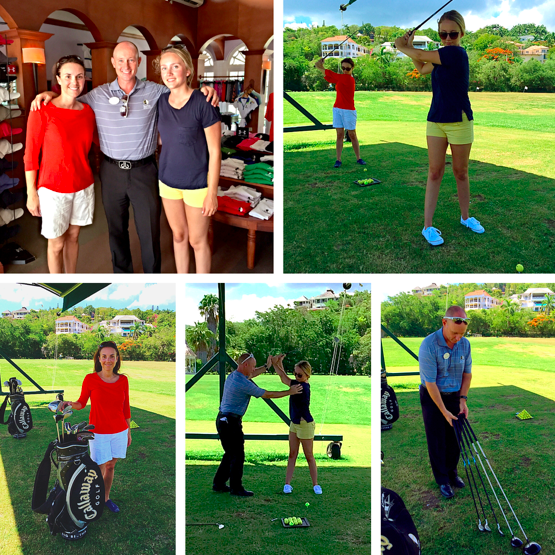 Originally we did not plan on playing any golf while at Half Moon, mainly because we are not golfers and spend our free time at home horseback riding and traveling to horse shows, which leaves little time for anything else. When the suggestion was made at our arrival to try out the 18 hole championship Robert Trent Jones Sr.- designed golf course and take a lesson, my daughter and I looked at each other and said why not!
Mr. Edwards couldn't have been more welcoming upon our arrival at the course. Former Player on the PGA European Tour and now Director of Golf at Half Moon Resort in Jamaica, Spencer Edwards, has coached amateurs to rising young players including Maxwell Martin, whose first golf lessons were had with Spencer Edwards at the age of 4, went on to be the British under 7's champion and the World under 6 champion. He's now in his mid-teens and one of Britain's best potentials in golf. We quickly disclosed that we were absolute beginners, with me never having had a lesson and my daughter only having one. He quickly put us at ease saying that we were the best kind of lesson to teach, since we come to him with no bad golfing habits to undo.
So we started at the beginning, listening keenly as Mr. Edwards explained the different size clubs and their purpose and then after having us try a few practice swings at the tee, we were ready to swing at some golf balls. Throughout the lesson, side by side with my daughter, Mr. Edwards helped place us in the best position to achieve our goal. Interestingly enough, I quickly discovered that the correct putting position was not only similar to the "two-point" jumping position when on a horse but it WAS the two-point position he had just put me in. I was eager to share this news with Mr. Edwards and we all had a laugh. I had hoped that this discovery would catapult me directly into the next level as a golf student but much like horseback riding, mastering this skill was going to take a lot more practice. At the end of the lesson we chatted about golf on the island and Mr. Edwards showed us Jamaica Golf Magazine, which he co-partnered in producing. In a recent article interviewing Edwards, he states, " Jamaica is a dream golf destination and not enough golfers know it." Edwards continues his efforts to change that.

For more information, learn about The Golf Club at Half Moon and info@equitrekking.com?subject=Equitrekking%20website-Half%20Moon%20Bay">email Spencer Edwards.

Fern Tree Spa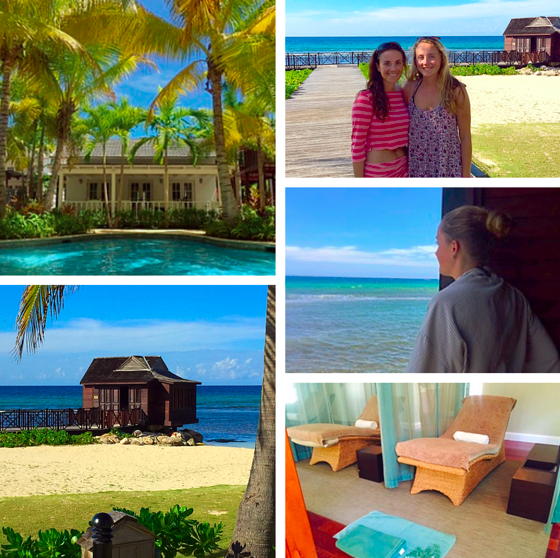 Fern Tree Spa pool; views of the overwater bungalow; relaxation room at the Spa.
The sheet covering me billowed in a rippling motion as I lay still in my spa bungalow jutting out over the water. The open louvered windows of the cabana invited in a soft breeze that carried the smell of the Caribbean Sea through the bungalow. I listened to the the sound of the waves breaking on the rock below, as I entered a state of pure relaxation. My personalized massage treatment began with a ritual foot bath of Jamaican Cerasee. Using both Eastern and Western techniques, Sanica and Shelian massaged my muscles delicately, while using essential-oil blends of allspice, ginger and orange. oils in a circular motion. A sense of time was lost as the rhythm of the sea and massage became one rhythm.
The largest of its kind in Jamaica, the Fern Tree Spa is a little oasis in a world of its own. Between the steam rooms, lagoon pools, waterfalls, beautiful gardens, Meditation Labyrinth, Outdoor Yoga Pavilion, relaxation lounge and more, I could have spent a week here alone
Thank you to the entire staff of Half Moon Resort, who all equally made our stay a memorable one and Laura Redpath for making these experiences possible and to the many animals with whom we shared the week.
Read Part I- Horseback Riding in the Ocean at Jamaica's Half Moon Resort
Read Part II- A Caribbean Equestrian Vacation in Jamaica