Experience Nevada's Diversity Riding The American Discovery Trail
From wildflower meadows and craggy mountain canyons to crisp blue lakes and deep sand dunes, Samantha Szesciorka and her horse cross the state of Nevada on the ADT Equestrian Trail and describe the experience for Equitrekking's 50 State Trail Riding Project.
by Samantha Szesciorka
Nevada is often presented as one of two extremes: the neon lights of the Las Vegas Strip or a bleak desert wasteland... neither of which sound like ideal horseback riding environments! But, nearly 90% of the state is actually public land, and adventurous riders will find an inexhaustible amount of backcountry trails to explore. One of the newest trails spans the width of the state, exposing riders to the hidden beauty of the Silver State.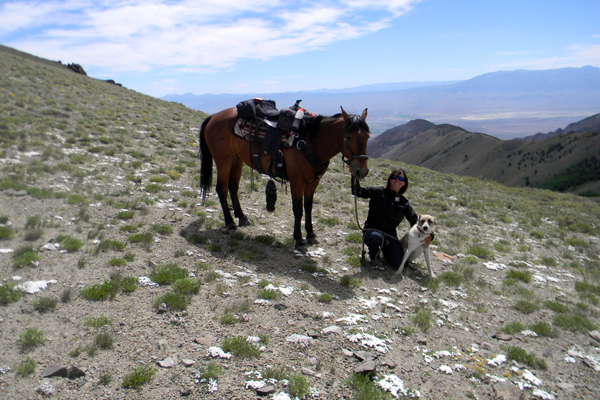 The highest point of the trail is Ophir Creek Summit in the Toiyabe Range at 10,100 feet.
The American Discovery Trail is the nation's only coast-to-coast non-motorized trail. Built in 1977 for hikers, bikers, and equestrians, the trail runs 6,800 miles through 15 states, including Nevada. Though it is actively used by runners and cyclists, the Nevada portion of the ADT has become precarious for horseback riders, with overgrown brush and dangerous road crossings. In 2013, a safer, alternate ADT equestrian trail debuted. My formerly-wild mustang Sage and I were the first to cross the entirety of the new route. We headed out in May 2013 and reached the other side of the state in June 2013, having ridden the entire distance solo.
The route begins on the Utah-Nevada border, southeast of the tiny town of Ely. It extends 500 miles west across central Nevada to Lake Tahoe where the trail crosses into California. Along the way, it stretches over 14 mountain ranges and across every valley in between. The trail runs primarily through Bureau of Land Management and Forest Service lands. No permits are needed, but certified weed-free requirements exist in some areas.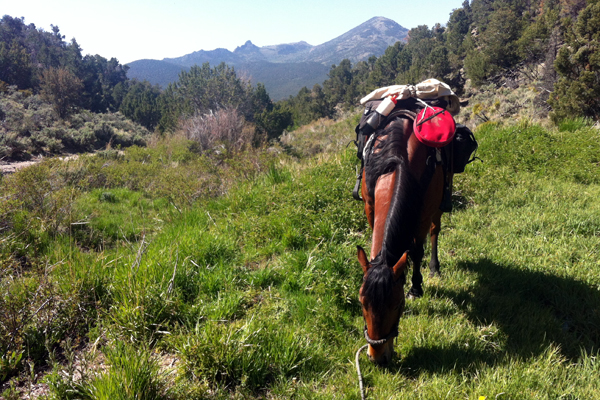 The eastern portions of the ADT in Nevada offer the best grazing options, along with stunning views.
The ADT equestrian trail is not for the novice rider – it stays consistently between a class 1 (primitive) and class 3 (semi-primitive) rating. Water and feed are unreliable; riders need to pack in what they need or rely on a support crew, caches, or help from nearby ranchers. No portion of the trail is marked, so up-to-date topographical maps are crucial.
But, riders who want to "rough it" and plan accordingly will experience a little bit of everything that Nevada has to offer – from lush wildflower meadows and craggy mountain canyons to crisp blue lakes and deep sand dunes. The trail winds through ghost towns, Pony Express stage stop ruins, forgotten cemeteries, mines (both abandoned and active!), Native American tribal lands, and several state parks.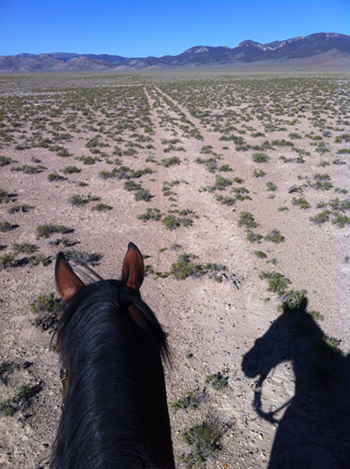 Often the equestrian trail is minimal at best, which only adds to the pioneer experience.
Depending on the time of year, weather on the trail can vary wildly. Sage and I experienced freezing temperatures, stifling heat, extreme wind, dust storms, rain, and thunderstorms. Snow remains on the tall peaks late into the spring, so advance planning and research is critical before attempting any mountain segments of the trail. No matter what time of year, you'll want to pack something for every weather scenario.
The terrain can change from soft dirt to large rocks to deep sand to gravel in just a few miles, so proper hoof protection is a must. If your horse is barefoot, you'll want to invest in quality hoof boots. Sage wore hoof boots every day of our ride and his feet were in great condition at the end.
No formal campsites exist on the trail – simply pick a spot that looks good! Large trees are rare, so don't expect to high line often. A portable electric corral or a hobble and picket line are suitable for all sections of the trail. One of the unexpected joys is the number of old sheep and cattle corrals that still stand, encircled by beautifully weathered wood. A few are in disrepair, but most are still secure. Riders can use the corrals at their discretion, but should check for debris before turning stock loose; rural ranchers still use the corrals too.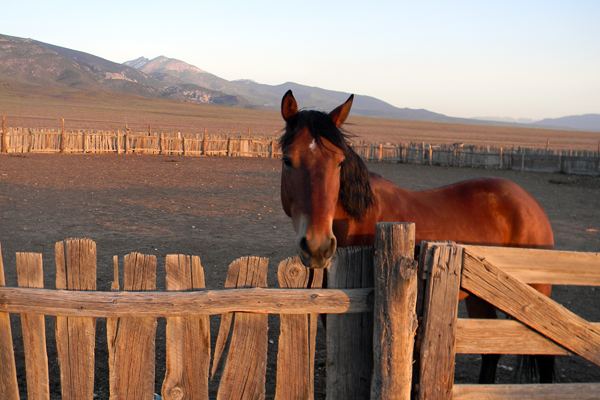 Old wooden corrals are found throughout the trail and provide a great camping option in the evening.
Watch out for animals! Most of Nevada's public land is open range for cattle grazing. Sage and I rode through dozens of cattle herds ambling along the range. Most are of little concern, but keep an eye open for ornery bulls during breeding season! Riders will also see an abundance of coyotes, deer, antelope, and even the occasional elk. Wild horse herds can be seen regularly – but don't expect to get too close to them. The herds are extremely wary and will usually run off when they spot you miles away. However, rogue bachelor stallions can be a bit eager to prove their worth. I had several try to entice my horse into a fight and only the shaking of a plastic bag could scare them off. Rattlesnakes appear occasionally as well, but will cause no trouble if given a wide berth.
Towns are few and far between. Civilization consists only of the small towns of Baker, Preston, Dayton, and Virginia City. (Preston and Dayton are 340 miles apart!) Though sparse, most riders will probably want to avoid the towns as much as possible, which require navigating surprisingly busy roads, loose dogs, and other obstacles. And, after any amount of time in the tranquility of the backcountry, civilization just isn't much fun!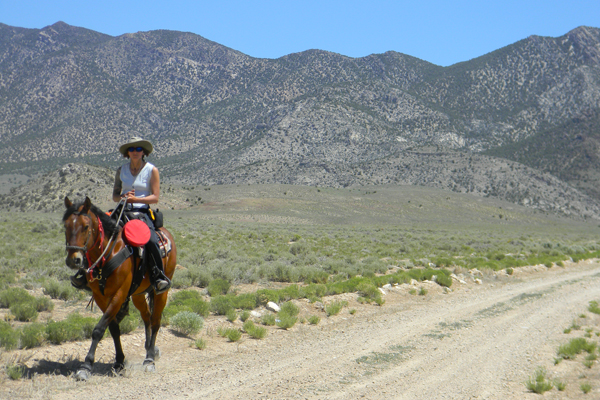 Samantha Szesciorka and Sage framed by the White Pine Range.
Don't expect to share the trail with many other people. During our month of travel across the state, Sage and I only ran into a handful of ranchers checking on their cattle and a few people having their own backcountry adventure on ATVs. For the most part, riders will have uninterrupted solitude and limitless landscapes.
Of course, most riders aren't looking to conquer the whole trail! Riders can also use the ADT trail as a starting point or base camp; it crisscrosses and intersects an almost infinite number of other trails ripe for exploring. Some regions are more accommodating than others; weekend riders can find several sections with flowing streams and grassy pastures. But, whether you're aiming for 20 miles or 500 miles, anyone who is looking to experience some of the pioneer spirit or Nevada's diversity will find just about any segment of the trail to be an adventure.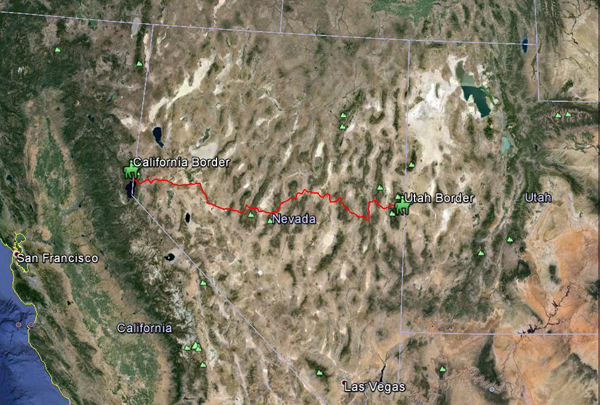 Map of the trail across the state of Nevada.
How you can go: Highway 50 provides multiple access points for trailering into the ADT. Before you go, be sure to read up on directions, descriptions of trail segments, and current conditions at the American Discovery Trail website. You can also contact the state coordinator for the Nevada-portion of the trail for assistance and guidance. Be sure to check with park rangers before riding a horse into a state park – not all are open to horses.

About the Author: Samantha Szesciorka has been an avid equestrian for nearly 20 years and is an associate member of the Long Riders' Guild. She is currently planning her next long ride – aiming for 1,000 miles around Nevada in 2015. Email Samantha or visit www.NevadaDiscoveryRide.com for more information on short or long distance riding in Northern Nevada.