Equestrian Skijoring
Love riding? Love skiing? Skijoring may be for you! Learn more about this daring and competitive sport popping up around the U.S. and abroad.
by Jocelyn Pierce
It was only a matter of time before cowboys in snowy mountain towns grew bored in the off-season and wondered what might happen when you hook a skier up to a galloping horse. It makes sense that skijoring has quickly become popular in western states where both cowboy and ski cultures are prevalent.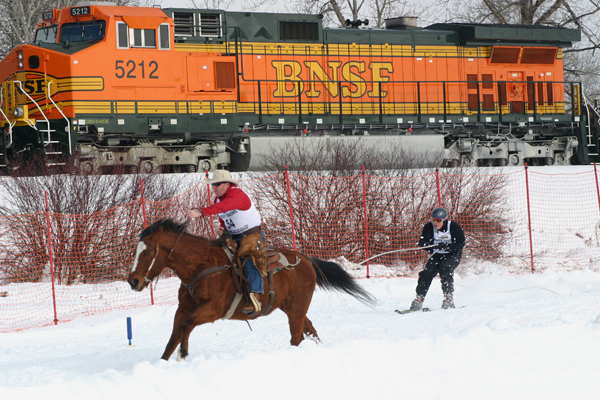 Skijoring at the Whitefish Winter Carnival in Whitefish, Montana. Photo by Brian Schott
In reality, skijoring has been around for hundreds of years, dating back to the 14th century in Scandinavian countries. Skijoring was originally a method of transportation in wintertime. People on Nordic skis attached reins to a reindeer and drove them across the snow. The word "skijoring" comes from the Norwegian word skikjøring, which literally translates to ski driving. This deep-rooted way of travel has morphed into a contemporary competitive sport both in the United States and abroad.
Today, there are several varieties of skijoring. Dogs, mules, and motorized vehicles can be used in this fast paced sport. Even equestrian skijoring has several different styles and types of races depending on the organization. Generally, horse and rider gallop while towing a skier who attempts to clear a series of obstacles.
Skijoring in North America
It wasn't until the 1950s that skijoring was developed up in North America. Ranchers attached a long rope to the saddle horn of a horse that was being ridden at high speeds down a long straight away.
The North American Ski Joring Association (NASJA) based out of Whitefish, Montana was developed in 1999, and equestrian skijoring became a sanctioned sport. Currently, skijoring competitions are in over 5 states in the U.S. and in several countries worldwide.
Most commonly, a team of a horse, rider, and skier navigate a course of jumps, gates, and sometimes spear rings on a snowy track. The team is timed and penalties are accrued by missing obstacles and by missing or dropping rings. Courses vary from event to event and can be a straight run, U-shaped course, or a single turn L-shaped course. Typically course length will be approximately 600-1000 feet from start gate to finish line.
In the straight course, the horse gallops down the middle of the track while the skier navigates slalom gates and jumps from 3-9 ft. high. The skier may also be required to grab rings as they ski past stations. On the horseshoe shaped course, the horse runs on the inside of the track while the skier navigates slalom racing gates and jumps ranging from 4-6 ft.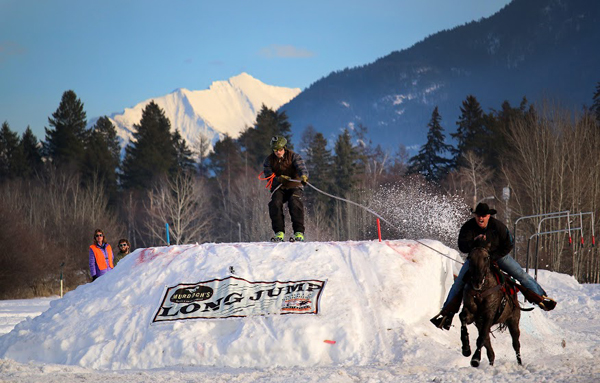 Photo by Brian Schott
Skiers usually use short skis and modified water skiing towing equipment. The towrope can be looped around the saddle horn, attached to the back of the saddle, or may have two lines attached to the horse's breastplate.
Skijoring in Europe
There is one very big difference between skijoring in Europe and the U.S. In European skijoring, horses are not guided by a rider in the saddle, but are instead piloted by the skier. Skijoring in Europe gets the most exposure during White Turf in St. Moritz, Switzerland, an annual event that began in 1907.
When skijoring began in St. Moritz, participants set off at one-minute intervals over a 10-kilometer stretch. Today, it is run like a traditional race, with skiers and horses starting all at once from a start gate, adding to the difficulty. Competitors race two laps covering a distance of 2,700 meters.
Along with skijoring, White Turf features horse racing and chariot racing and draws over 35,000 spectators a day.
Forms of skijoring also take place in Russia, France, Poland, Latvia, Norway, Sweden, Finland, and Ukraine.
Where to Watch
The World Skijoring Championships have been held in Whitefish, Montana since 2009, as a part of the annual Whitefish Winter Carnival. This year it is taking place Jan. 30-31. Other popular competitions include the North American Championships in Jackson Hole, Wyoming on Feb. 6-7, Leadville, Colorado's skijoring competition on Mar. 5-6, and The Bozeman Event in Bozeman, Montana Jan. 23-24. White Turf in St. Mortiz is taking place Feb. 7, 14, and 21. For a listing of 2016 skijoring competitions across the United States click here.
Whether you want to try your hand at this exciting sport, or watch safely from the sidelines, skijoring is a good excuse to get outside, have some wild fun, and enjoy the winter in beautiful mountain towns.