Foggy Horse Ride through Devon's Dartmoor
Interested in riding in the British Isles? Read a traveler's experience horse riding through Devon's foggy Dartmoor National Park.
The fog, sitting heavily on Haytor Down has, if anything, intensified. Not only can't I see my hand in front of my face-- I can't see the tor in front of my horse. A tor is a gigantic pile of compellingly mysterious rocks which are not uncommon throughout the British Isles but are most notably part of the terrain in Devon's Dartmoor, a bleakly gorgeous national park pocked with bogs, rocks and tors high above the far off sea.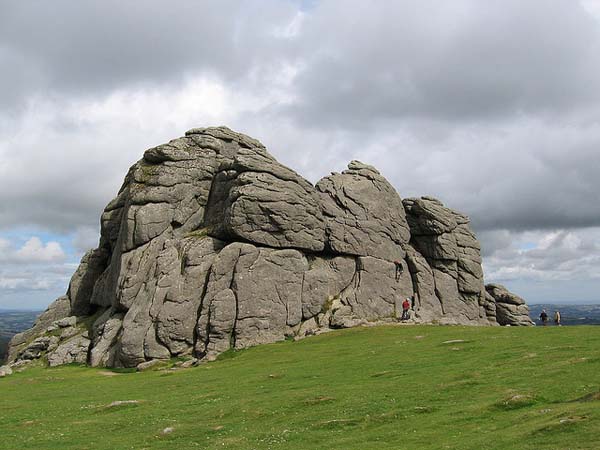 Zana, who leads riders on horse holidays in England, suggested we box two ponies to Dartmoor to explore possible trails for her trekking program at West Steart Farm. A good trekking route is circular, not too strenuous and the route is clear. Although the weather was iffy in Stoodleigh, an hour's drive should find us above the fog according to the British weather channel Metcheck, which tends to be conservative in its forecast. So we drove.
Two motorways, several roundabouts and one hour later, we seemed to have the fog glued to us as we rose higher and higher above the Exe River valley far away and far below. By the time we reached the Haytor car park, the fog was so dense that the only users of this perpetually popular spot were ourselves, the two horses, one dog and the Molly Macs Ice Creams Van. We thought for about one minute whether this was a good idea or a dumb idea, unboxed the ponies, saddled up, whistled along the sheepdog Alfie and headed out to find the trail to Hound Tor via Becka Brook.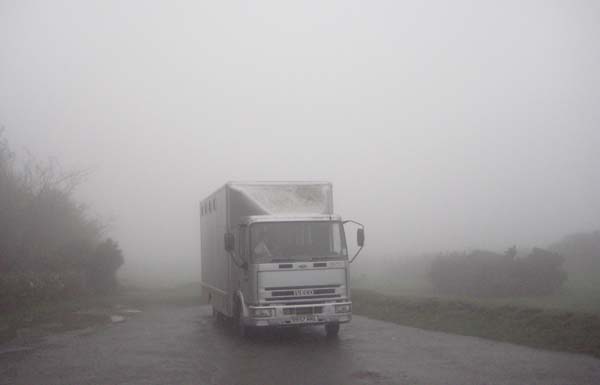 I actually like fog. Well, maybe I don't like it when I'm driving, but it's soft and friendly and okay when you're walking or riding a nice solid Dales pony. Even so, there are pony-eating bogs on Dartmoor, many tales of those who never return and some more about huge dogs and monster cats who stalk the misty moors. I am as susceptible as the next person to imagining what I cannot see.
The Dartmoor Walking Association advises those exploring the moor to:
Treat the Moor as the unspoilt wilderness it is.
Wear proper clothing and footwear.
Take waterproofs, a map and a compass.
Tell someone you can trust your route,
and expected return time before you set out.
Check the weather forecast. Close gates behind you.
The nice man in the Molly Macs Ice Creams Van waved at us as we rode off so I suppose he is our "last-seen" contact. We are both wearing our new wind and wave-proof Devon Riding Holidays jackets and as our feet are clad in jodphur boots, our heads encased in approved safety helmets and we both sport high visibility safety vests, we are properly clothed.
Zana, who has a high sense of adventure but thoroughly assesses all activities and rides for risk, has her requisite emergency medical kit around her waist. I have the emergency chocolate bar tucked into a zipper bag along with my mobile, camera and bandana around mine. Zana is a highly experienced having ridden in almost all situations and wouldn't put riders or her horses at unnecessary risk, so we head out. The ponies wear head collars under their bridles. Leadropes attached to our saddle dees are tidily secured in their pony club knots.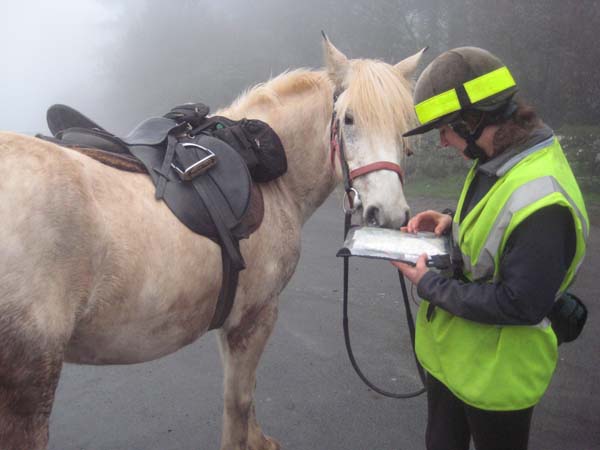 Zana is an enthusiast in the art of Le Trec, a French- originated equine sport which involves reading maps (orienteering), having a fit horse at all gaits and negotiating obstacles which might be found in normal (and sticky) situations when riding cross country. This is the kind of thing you want the person who is leading you through dense fog on an open moor to be good at. She wears her OS map (Explorer OL28) in a waterproof see-through case around her neck along with a small plastic combo magnifying glass and compass and consults it closely before we trot along the road for a very short time before we cross and head up the moor on what we hope will be just a three hour tour.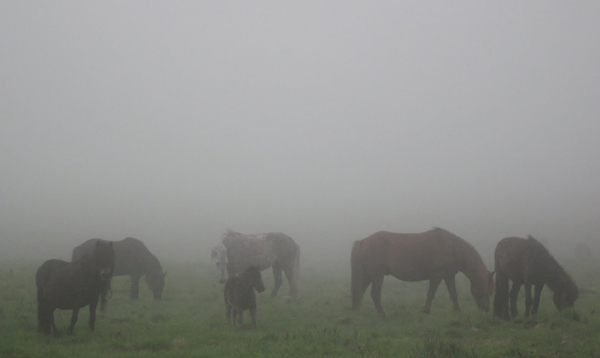 Crossing the narrow B3387 may be the most dangerous part of our ride. Motorists, who are implored by the National Park authorities to "Take Moor Care", have great difficulty noticing the backside of a horse, which sadly causes Dartmoor pony fatalities far too often. Even now we see small groups of ponies grabbing mouthfuls of grass by the verge of the road, easy prey for mindless motorists.
The pleasant part of riding in the fog is just that. You get to ride in a fog. Your world shrinks to one of mist, muffled sound and nebulous shape. Objects appear in muted clarity only when they are directly near you. We ride by two tors knowing them only by the vague cloudy shape they present in the fog, although on a clear day we would be able to see their enormous rocky pile from miles away. The dim light helps me to focus on small details I might not normally notice: the peculiar shape of certain rocks, the variety of muds and slick grass.
My pony Trooper is particularly focused on the grass which he samples every time Zana stops with her pony Donna to check the map. This happens often enough to keep both ponies happy. I start thinking about the emergency chocolate bar about 38 minutes into the ride.
Our route is designed to take us to the old quarry tramway circling the quarry pit past Smallacombe Rocks and down through the woods to Becka Brook. While we can make out the Smallacombe Rocks when we are right on it. We cannot see the wood enclosing the brook, nor can we find the tramway bridle path leading towards it.
We are aiming for the path which leads us past the Medieval village of Hundatora (long abandoned due apparently to climate change and Black Death) to the inviting jumps course the South Devon Moorland Hunt have put up around Hound Tor. We won't, on a day like this of of course be jumping any of the fences, but we would like to sort of sidle up to a few.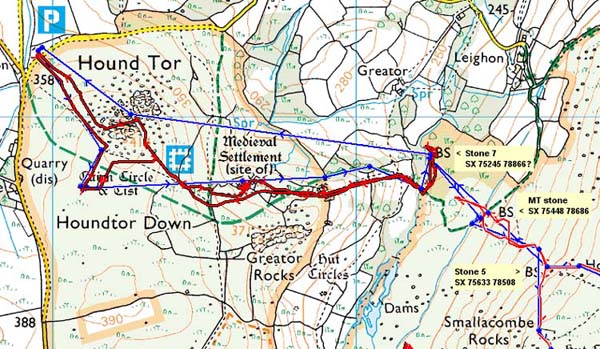 Tom and I have walked this path a couple of times in other years on clear sunny days where the landmarks shout the direction to take. Being able to see Hound Tor off in the distance, or head for the woods shrouding Becka Brook, the walk is a pleasurable snap in clear weather when even Tom can't get us lost. We once had a lovely picnic in a glade near the brook and waded its chilly waters.
Trooper is getting impatient with the frequent stops. By our second circuit past Smallacombe Rocks, a rocky outcrop below Haytor Down in the eastern section of Dartmoor National Park, we start to realize that we won't be finding our way today. We finally decide to bag the ride when we find ourselves peering through the murkiness to determine if we are retracing our steps by examining the hoof prints going in the opposite direction. Are those our ponies' prints or those of some other unseen horse and rider? The hoof prints' outline have melded with the muddy moor. Unsure, we give the ponies their heads. Clever Dales ponies will nearly always find the most direct route back and ours determinedly aim us towards the distant horse box.
Once we are back in our zone and find ourselves easily on the map, Zana as she always does, finds us a gallop. This one is straight up the long rise to Haytor itself with the two fastest ponies in the herd. The sound of hooves muffles in the fog and we have the odd sensation of galloping through clouds. It is not until we have nearly crashed into it that we find ourselves at the Tor, its giant boulders stretching ghostly above and before us.
Catching our breath and laughing at the pure fun of being wild, we pick our way back down the long grassy slope to the car park. The Merry Mac Ice Creams van sits stolidly unseen in fog in the empty car park. After we put the ponies away with a grooming, tail and leg wraps and bulging hay nets, we wander over hoping he has warm drinks as well as cold ices.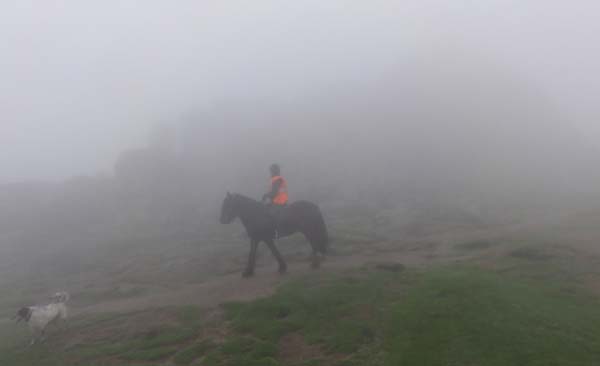 Finishing our hot chocolates and cheese sandwiches in the cab with Alfie gulping down our crusts, we happily head back down the narrow lanes to the motorway towards Stoodleigh, Zana expertly guiding the horse box through fog-mad traffic. I fish out the emergency chocolate bar. When we arrive at the farm, the sun is shining.
About the Author: Meg Robbins, a freelance writer and educational consultant, avidly enjoys riding wherever she travels, but most especially with her nearly seven year old quarter horse Archie at home in western Massachusetts. She blogs about traveling on two feet and four at Up the Ben and Down the Boozer (UK Travel) and Life with Archie (midlife with horse).
Book this Devon horse riding vacation and other horse riding holidays UK through our sister company, EquitrekkingTravel.com, which features exceptional equestrian vacations for beginning and advanced riders and their non-riding companions.