Cowboy Mounted Shooting
Have you ever watched an old Western movie and marveled as the hero galloped his horse across the screen with reins in one hand, firing off shots left and right? Ever wished you could try it?
By Alan Eggleston, owner of Double E Ranch

If the romance and excitement of the Old West are calling, then Cowboy Mounted Shooting might be just the sport for you.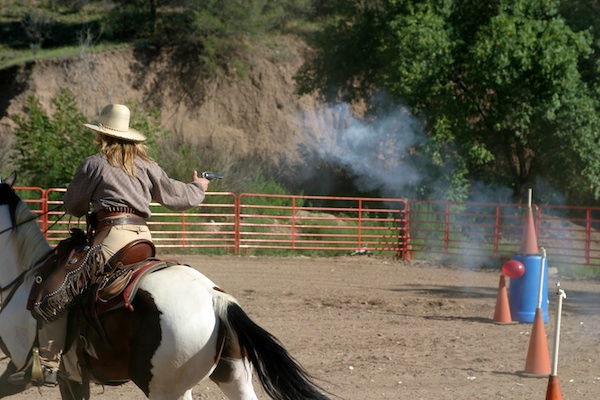 Cowboy Mounted Shooting has become one of the fastest growing family equestrian sports in the country. Blending such disciplines as reining, barrel racing, and horsemanship, the fast-paced sport of mounted shooting requires teamwork between rider and horse.

Using two .45 caliber revolvers and five rounds of specially prepared blank ammunition , the rider must be able to accurately shoot 10 balloon targets set in one of 75 different patterns, while controlling his horses' speed and direction. The rider's score is based on accuracy and time. Participants must dress in clothing replicating the 1880's, making this a thrilling sport for spectators, as well.

Classes are divided into Youth, Mens and Ladies. Courses are chosen from nearly 75 patterns. The first half (5 targets) of a course will vary with each go and requires the horse and rider to stop, turn, change leads and accelerate rapidly. The second half (5 targets), called the "run down", is a straight course with targets set at 36 foot intervals.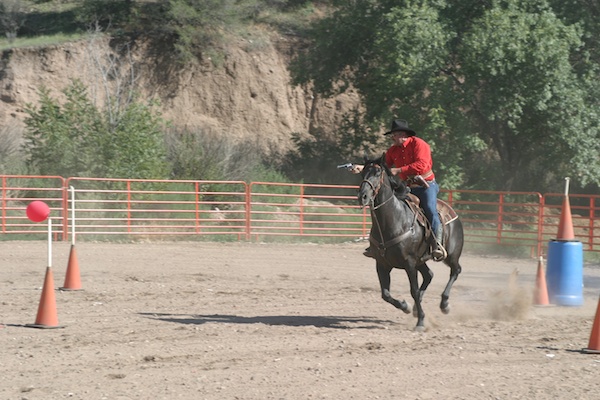 Typically, a competitor crosses the timing beam at a full gallop and engages the first pattern of five targets. After a shooter fires the fifth shot, he or she returns the empty revolver to a holster and proceeds to and turns around a barrel and then races to the far end of the arena while drawing a second revolver. At the far end the horse and rider turn another barrel and then engage the five remaining targets of the run down at full speed.
Scoring is based on elapsed time plus a five second penalty for each target missed or barrel knocked over. An average course of fire normally takes a contestant between 15 and 25 seconds to complete. Whew!

In New Mexico , we are proud to be the home of the Hugh Bishop Family - comprised of 5 generations of shooters, as young as 6 and as old as 70, who participate regularly in this exciting sport. Interested shooters from all over the State of New Mexico find matches scheduled in locations like: Belen, Silver City, Artesia, Ruidoso, Gila, Deming, Las Cruces, Alamogordo, and El Paso, TX. With seven active mounted shooting clubs, it's easy to find a shoot or join a practice just a short drive from home!

Learn more about this New Mexico guest ranch on the Double E Ranch website and on the Double E Ranch Equitrekking Vacation Guide page. The Equitrekking Vacation Guide is a top guide to great dude ranches, working ranch vacations, cattle drives and worldwide riding holidays.