Colorado: Cutting Horse Dream Week
Learning to ride championship cutting horses at the Colorado Cattle Company, a working ranch vacation destination.
by Equitrekking host Darley Newman, Originally published in True West magazine.

If you've ever been on a roller coaster, then you have a small inkling of what it feels like to ride a cutting horse. It was my first time and I was holding onto the horn of my saddle for dear life as Leana with Style an eight-year-old championship cutter, threw me around the area while she chased a black cow. Leana with Style is trained to go after that cow, and I was trying to stay on her back while not getting in her way.

I was participating in Dream Week at the Colorado Cattle Company, a week of intense clinics where participants can live out their cowboy dreams at this Colorado working ranch. People from all over the world had gathered at this working ranch to be schooled by cutting horse trainers Tena and Eddie Johnson and critiqued by cutting horse champion and judge Teddy Johnson. We would all have the chance to ride a superb, award-winning cutting horse by the end of the week.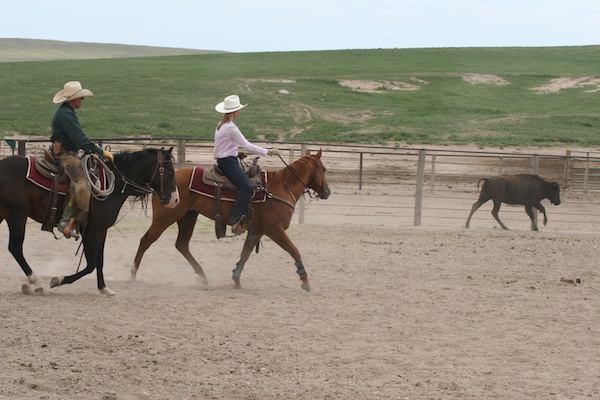 I was at a bit of a disadvantage coming into the Colorado Cattle Company clinic, because we were filming only part of the Dream Week for our Equitrekking Colorado show. That meant that I would come in a little late in the lessons and in turn get sort of thrown into the mix. It would turn out to be one of the most exciting rides that I have ever taken.

Cutting horses are usually Quarter Horses, but can be other breeds. They are used to separate out a calf away from the herd. To do this, cutting horses have to be quick, agile and intelligent. Riders have to have pretty good balance to stay in the saddle on these high performance horses. Cutting horses were originally developed on ranches. Cowboys would need to get one calf away from the herd in order to vaccinate it, castrate it or for other reasons.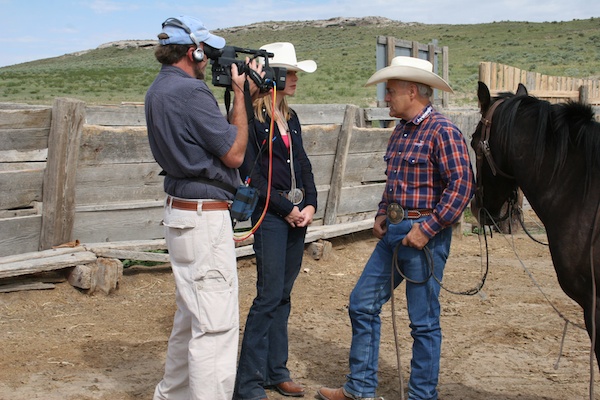 "Over a period of time they found that after doing so many of these, theses horses would actually get to reacting on their own, so they got to breeding and crossing these horses that had that natural ability," says cutting horse expert Teddy Johnson. "You get horses with a lot of cow, a lot of style. Sometimes they'll get so intent they nearly want to lay down in front of that cow and that's all just special benefits that come with different horses."

Riding a cutting horse and actually working to separate out a cow is tricky. In my lessons, I was told to watch the head of the cow, drop my hand and use my legs more to direct the horse. Many of these horses are so well trained that the cow begins to dictate where the horse goes. It's like, when you drop your hand and give the horse your reins, you are saying sick'em. And they do.

Leana with Style moved in ways that I had never felt a horse move before, lunging from side to side, hurtling forward. I was like a rag doll, but I did stay on. Watching the more experienced riders cut was like watching a tango. The riders could read the horse's next move and had learned to move as if at one with the horse.

Cutting competitions are events in which the horse and rider must separate a cow from the herd and keep it separated for a certain amount of time. It's a lot harder than it sounds. Those who want to move into the cutting world need a versatile horse with an aptitude for this type of work and need patience, because like any equestrian discipline there is a lot of training involved for the horse and rider.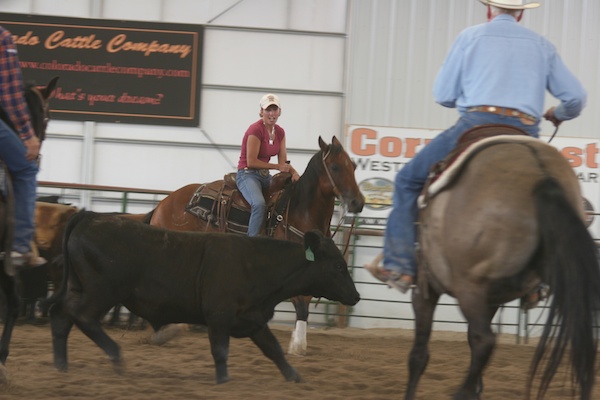 Trainer Eddie Johnson has some advice for riders who are looking at cutting more seriously. ""Find the most reputable cutting horse pro in your area to ask about shows, training, lessons, etc. Above all, buy the best horse you can afford. Pre purchase exams are essential. Your trainer should be able to help you determine the right horse for your ability and budget. Be willing to work hard and most of all, have fun!"

If you want to explore the world of cutting with your horse, are looking for a suitable mount or just want explore riding these amazing horses, there are many options. Good resources are the National Cutting Horse Association and the American Quarter Horse Association, who may be able to suggest upcoming clinics, trainers and other ways to get involved.

Learn more about the Colorado Cattle Company and great ranch vacations in the Equitrekking Vacation Guide, a searchable guide to great dude ranches, guest ranches and working ranch holidays.