Challenge Yourself: The AQHA Trail Challenge Program
AQHA's Trail Challenge program is designed to engage American Quarter Horse owners and trail riding enthusiasts to test their horsemanship skills in a safe environment.
If you love spending time with your American Quarter Horse and enjoy working on improving your horsemanship skills, then American Quarter Horse Association Trail Challenges are for you. AQHA Trail Challenge coordinator Larry Voecks of Norfolk, Nebraska, shares his thoughts on why this program is important.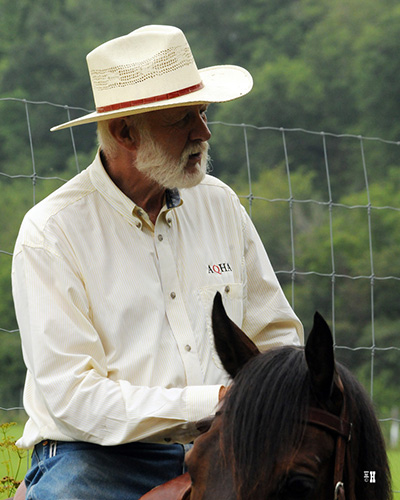 Larry Voecks
"I'm involved for the opportunity to help develop that horse and rider partnership, and because I like seeing those smiling faces," said Voecks.

Voecks helps host Trail Challenges in Nebraska in addition to serving as chairman of the AQHA Recreational Activities Committee. He believes in the program because of the emphasis in safety and relevance.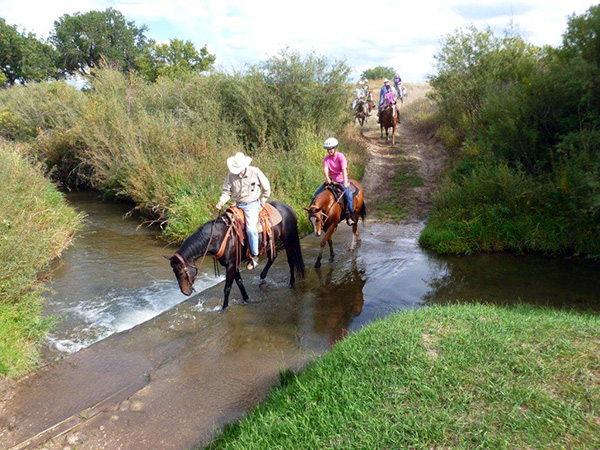 "Although noodles and strips of shower curtain make good desensitizing tools at home and in the round pen, you don't run into many of them while out riding," he said. "Tarps are another issue, many times I have ridden through a horse camp and gone by a campsite where they have covered their hay with a tarp and it's flopping in the breeze, or maybe you are working on the scenario of putting on a rain slicker. Again, remember the safety issues of working with flopping plastic."

Trail Challenge obstacles are designed to mimic natural obstacles. This is so horse and rider are prepared to experience ahead of time what they might encounter on the trail. Being in an arena is exceptionally different than riding through the trees on a trail or through a campsite. Safety can be an issue if a rider is mounted on an unprepared horse that isn't experienced on the trail. AQHA Trail Challenges are a way to remedy that problem.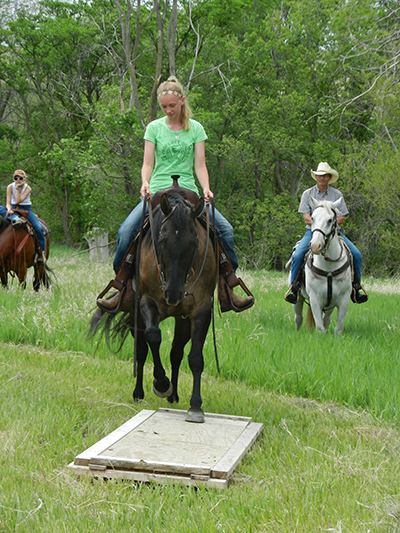 Building a Trail Challenge course requires creativity from course designers.

"Brush piles, crossing logs, water, bridges, ground tying, loading/unloading or dragging a log. There are a number of obstacles that will make for a good event," Voecks shared.
These are used to make the course engaging to participants and prepare them for any number of possibilities and combinations that could occur outside of the Challenge.

This AQHA event is not timed. Voecks said, "Timed events have a tendency to sacrifice safety, it's more important that the participant can accomplish an obstacle safely and build on the trust factor with the horse."

When riders and their horses are on a trail, they aren't worried about their timing and are able to focus on each task so it's completed safely. It also allows for riders to be more precise in their cues and the horse is able to demonstrate maneuvers properly, potentially allowing for a higher score.
The Trail Challenge program offers an educational component for horsemanship, trust and teamwork between horse and rider. Voecks helps facilitate Trail Challenge clinics through the summer and enjoys seeing the riders he coaches succeed with their horse. Difficult obstacles can make riding challenging and there isn't anything more rewarding than working past the difficult maneuver and successfully moving forward.

Voecks added, "Building on the trust factor between the horse and rider and seeing positive results is rewarding."

In Nebraska, there are approximately 4,400 4-H youth participants with horses who don't participate in an organized equine activity. The University of Nebraska Cooperative Extension Service believes that the Trail Challenge program could change those numbers and increase involvement in organized equine activities. Three years ago, representatives with the Extension Service asked Voecks to help them adopt the Trail Challenge program. Voecks is assisting with workshops, clinics and events to introduce the program to Nebraska youth. An added benefit of the program is that it is receptive to youth who own all breeds of horses so everyone can learn and grow in horsemanship skills.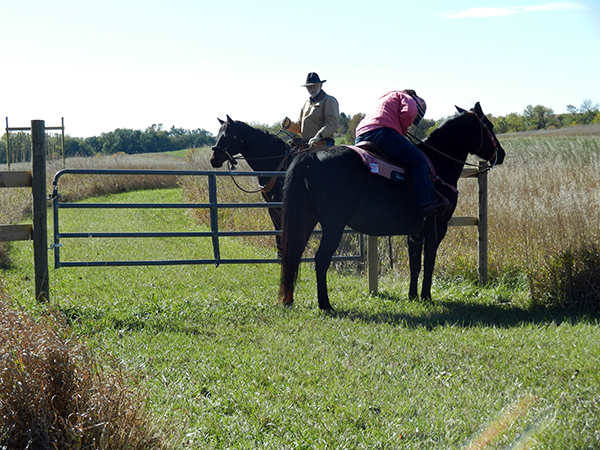 This summer, the Extension Service anticipates close to 300 youth, parents and leaders to attend Trail Challenge and trail ride programs within Nebraska this summer.

"Now think what those numbers might be like if we had a similar program in 34 states. We could be talking more than 10,000 participants," Voecks said.

The AQHA Trail Challenge program is a prime opportunity to involve American Quarter Horse members and horse enthusiasts from all breeds. Volunteers like Voecks, who facilitates trail challenges and clinics, make this program successful and encourage growth for the program as a whole.

About AQHA Trail Challenges
AQHA Trail Challenges were established to test a horse and rider's ability to work as a team and navigate through natural obstacles they might experience on a trail. By competing in a Trail Challenge, riders enhance their horsemanship skills while learning about safety and fun on the trail.

Courses generally have six to 16 obstacles on any given Trail Challenge. The land and terrain of the host location determines the number and placement of each obstacle. A judge or judges are located throughout the course to evaluate a rider's skill to maneuver the horse through an obstacle. Points are given and taken away according to a horse and rider's ability to navigate the course. The scoring system begins with the base score of 70. The horse-and-rider team with the best overall score is declared the Trail Challenge winner in each division.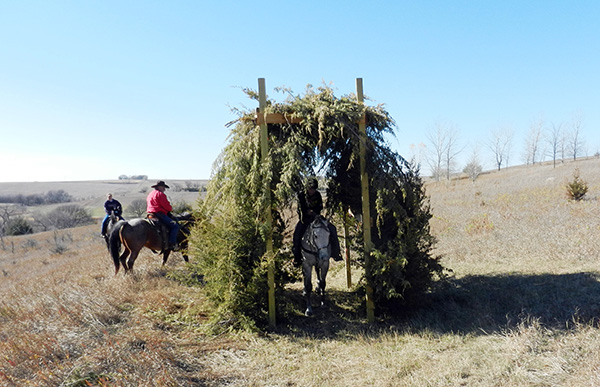 AQHA offers two divisions for Trail Challenges, an all-breed division, as well as an American Quarter Horse division. Each division also includes youth and adult categories so the entire family can take part. Within each division there are three levels;
o Training level – new horse-and-rider partnerships
o Intermediate level – established horse-and-rider partnerships
o Master level – partnerships ready for a more demanding course

Riders compete for a first- through fifth-placing and must be an AQHA or AQHYA member to participate. Those aboard American Quarter Horses will have the chance to earn Trail Challenge merits to be put on the horse's permanent AQHA record. (Note: At this time, Trail Challenge merits do not show up on a horse's competition record. When the technology is available, these merits will be uploaded into the database.)

Riders can also earn great prizes while participating in Trail Challenges by enrolling in the AQHA Horseback Riding Program. Not only will you be recognized for each Trail Challenge you attend, you'll also earn double the hours you spend on your horse during an AQHA Trail Challenge.

Those aboard American Quarter Horses will have the chance to earn Trail Challenge Merits to be put on the horse's permanent AQHA record. (Note: At this time TC merits do not show up on a horse's competition record. When the technology is available these merits will be uploaded into the database.)

Not only will you be recognized for each trail challenge you attend, but you will also be earning rewards for the hours you spend in the saddle practicing and competing. These hours will count as double for the Horseback Riding Program.

Download the AQHA Recreational Activities Guidebook to learn all the AQHA Trail Challenge rules.

AQHA Trail Challenges are available across the United States. To learn more about Trail Challenges or to view the 2017 schedule, visit www.aqha.com/riding.