Caribbean Beach Horseback Riding- Warm Winter Equestrian Escapes
Horseback riding in dreamy Caribbean locations... our guide to where to escape the cold and ride on the beach in the islands!
Beach riding is an awesome experience and, for many, it's a bucket list item. In the Caribbean, there are a variety of places to saddle up to explore sandy beaches, tropical forests and even take a dip in the ocean on horseback. Here's a round-up of a few that you might want to discover.
by Darley Newman
Puerto Rico- Tropical Trail Rides
Ride gaited Paso Fino horses on the beach in Puerto Rico! Tropical Trail Rides, located northwest Coast of Puerto Rico about 80 miles from San Juan in the town of Isabella, offers two rides each day, including their four o'clock sunset tour. Each two-hour ride takes you onto a beach lined with cool cliff caves. Here, travelers can take a dip in the ocean, spot whales, explore the caves or hike up to a point with stunning beach views. Next, riders trek into a tropical forest, where birds, iguanas and other wildlife may be spotted. This stable of around 30 horses is owned by a couple from California, who came to Puerto Rico and decided to take a permanent vacation in the islands. Not a bad idea!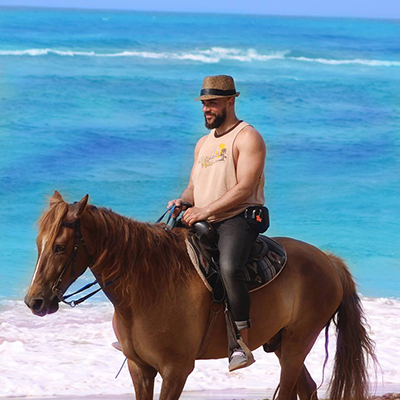 Riding on Survival Beach with Tropical Trail Rides.
Nevis- Nevis Equestrian Centre
The island of Nevis is located in the West Indies east-southeast of Puerto Rico and west of Antigua. It is the smaller of two Caribbean islands comprising the country of Saint Kitts and Nevis. Twenty year old Nevis Equestrian Centre, located on the west coast near the Four Seasons Resort, invites travelers to ride twice daily on an hour and a half sunset beach ride or beach and trail adventure. More advanced riders can also book longer private rides. Rides pass through shaded coconut and cashew nut groves, through villages and by forts, churches, old estates and sugar mills, as well as natural surroundings like Nelson's Spring.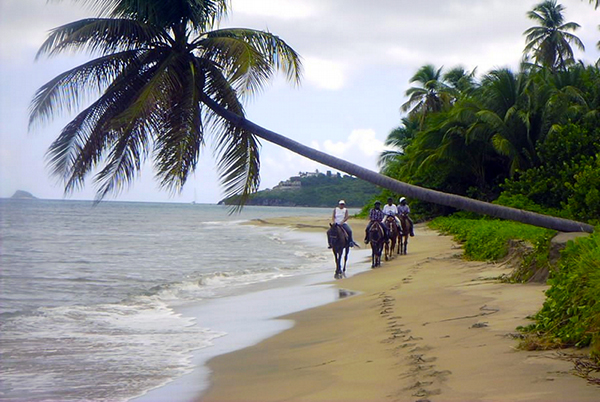 The Nevis equestrian centre has taken many celebrity guests out on horseback, including Tracey Ullman, NFL player Dan Marino, and NBA player Charles Smith.
Bermuda- Riding with Spicelands Equestrian Centre
Ride the beaches of Bermuda with their turquoise waters and pink sands with Spicelands Equestrian Centre, located in Warwick. This riding school offers a variety of trail riding adventures for all levels, including beginners. Trek along the Railway Trail, Warwick Long Bay, Jobsons Cove and Stone Hole Beach. Spicelands also offers lessons and boarding for those who decide to stay in Bermuda for a while. Dressage, Hunter Jumper and Equitation are offered at the riding school.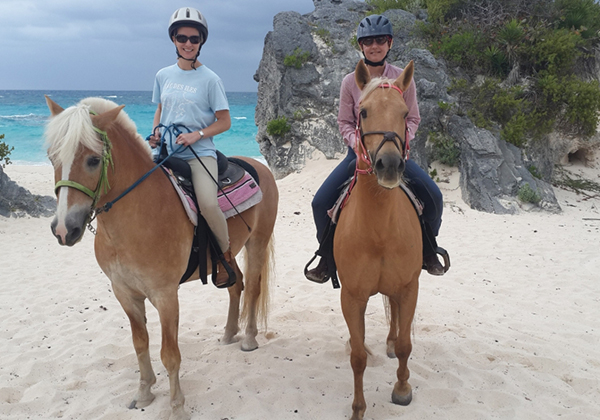 On some rides, travelers can take a dip in the water on horseback!
Read about a Washington, DC rider that rode at Spicelands Equestrian Centre!
Jamaica- Half Moon Resort
Saddle up at a Caribbean equestrian resort in Montego Bay, Jamaica. For 28 years, Half Moon Resort has welcomed riders to enjoy beach and swim rides, but also more advanced jumping and polo lessons. This is a family-friendly resort with pony rides for kids and the popular equestrian surfing adventure. Riders ten years and over can actually swim in the ocean on horseback! You'll need to be prepared to ride bareback and be ready for some wave action, but this is an experience not to be missed.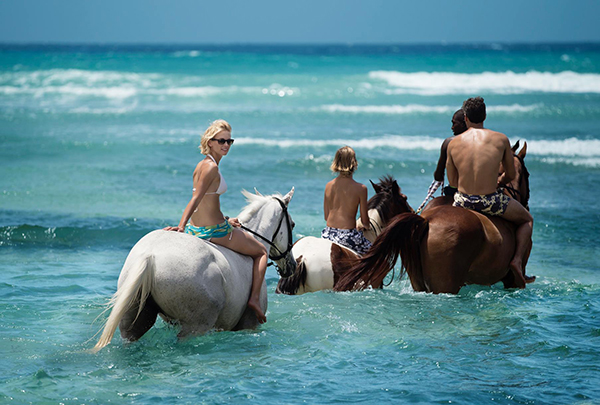 Enjoy the ocean on horseback in Jamaica.
Read about Caroline Maffry's mother-daughter ride in Jamaica!