Big Rock Falls, Blancaneaux Lodge & Basil Mojitos in Belize
If you're traveling to Western Belize, here's a not-to-miss a trip to Big Rock Falls and a special recipe that you can make at home for your own little taste of Belize.
Located on the Caribbean Coast of Central America and bordered by Mexico and Guatemala, Belize is a travel destination that I've visited twice and both times, I've traveled away from the popular coast and into Western Belize to stay at eco-friendly lodges and hang out with the locals.
From hiking, to horseback riding to viewing wildlife, Belize is a diverse destination. Below is one of my top picks for things to do on your vacation in Belize, including the recipe for the best Basil Mojito I've ever tasted--- straight from Belize.
To see these adventures first-hand, watch the "Best of Western Belize" episode in my new, original series Travel Like the Locals with Darley for ulive.com, the new online video channel from Scripps Networks Interactive.
Horseback Riding to Big Rock Falls in Belize from Blancaneaux Lodge
One of the coolest adventures that I experienced in Belize was a horseback ride from luxurious Blancaneaux Lodge to a "secret" waterfall, deep within the Mountain Pine Ridge Forest Reserve. Blancaneaux Lodge is owned by famous director Francis Ford Coppola. It's an eco-friendly Hollywood-esque resort in the Mountain Pine Ridge Reserve in Western Belize.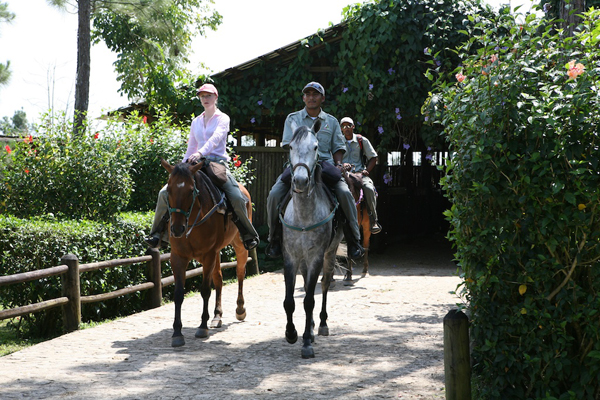 Riding out from the stables at Blancaneaux Lodge, Belize.
From the stables, adorned by colorful flowers, my riding guide Eddie led me out through the forest on a ride to a natural swimming hole and waterfall, Big Rock Falls, a 150-foot waterfall. After riding quite some time through the wooded trails, we tied up our horses and hiked down a steep trail.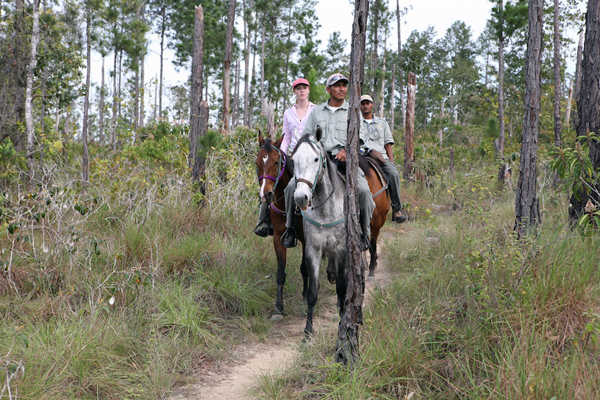 The horse trails leading through the forest to the falls.
If you're venturing to these waterfalls, you can hike, horse ride or drive, but if you are driving, 4WD is recommended. I also recommend wearing hiking boots and if you're horseback riding–– all terrain boots, which double as hiking and riding boots. I actually wore my paddock boots, as my all terrains were wet and slid a bit on my way down to the entrance to the falls.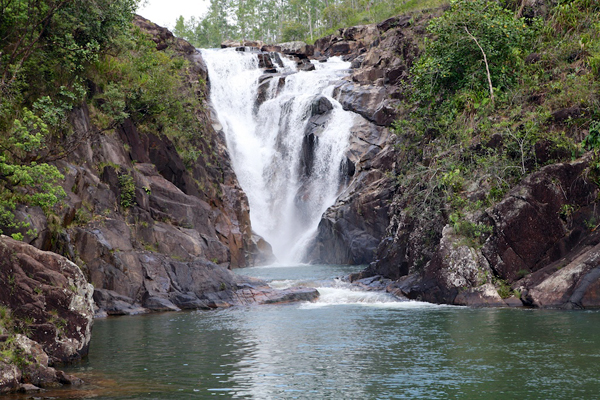 This photo was taken from the end of the hiking trail. From there, you can slide into the water. As you'll see from the next photo, you can also do some climbing and high-diving!
These waterfalls are beautiful and secluded. We stripped down to our bathing suits and jumped into the water, swimming out to the falls. The water was refreshing and swimming under the falls was a thrill. It was like we were in our own little paradise.
The adventurous way to get into the falls.
Blancaneaux Lodge
Back at the lodge, I got changed in my thatched roofed cabana and explored more of the boutique lodge. The Privassion River runs through the well-landscaped property, providing hydroelectric power to the resort. Fruits, vegetables and flowers are grown in a beautiful organic garden. In fact, many of your meals will include fresh ingredients grown right at the lodge.
There are two restaurants located at Blancaneaux lodge, where you can indulge in Italian or Guatemalan food. Before dinner, my crew and I took a break at the Jaguar Bar, where in true-Coppola style, we sat under ceiling fans from the set of Apocalypse Now.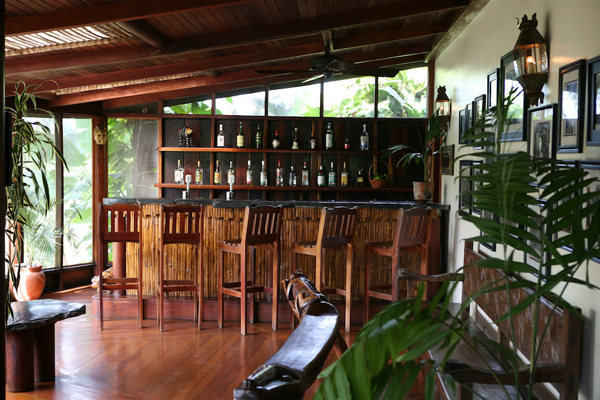 The Jaguar Bar at Blancaneaux Lodge.
One of the highlights of traveling somewhere new is tasting something new. I decided to try the Basil Mojito, which the bartender made using fresh basil picked straight from the herb garden. I was not disappointed, so much so, that at a recent party that I threw, the Belize Basil Mojito was the specialty cocktail and also a success.
Basil Mojito Recipe
2 oz white rum
1/2 cup fresh basil leaves
1 oz fresh lime juice
3 tbs simple syrup
Club soda
In a glass, muddle the basil leaves, lime, and simple syrup until the basil. Pour in the rum. Fill the glass most of the way with ice (crushed is best). Pour in the club soda to the top of the glass. Garnish with a basil leaf. Serves one. Multiply as needed.

Watch the adventures in the "Best of Western Belize" episode of Travel Like the Locals with Darley, where I show you how to have the most authentic experiences on your travel adventures.
How you can go:
Blancaneaux Lodge is located 85 Burns Avenue, San Ignacio, Cayo District, Belize. You'll want to make reservations well in advance. This resort is definitely off the beaten path, located in the northwest corner of the 107,000-acre Mountain Pine Ridge Forest Reserve in western Belize's Cayo District. It's a bumpy ride to get there!