Beach Riding at Its Best in Mozambique
Sun, sea, sand and steady steeds. All of life's necessities on one beach. Jan Norman pricks her ears in anticipation.
The rhythmic splat of hooves striking wet sand on an endless beach peppered with colorful wooden boats, flocks of herons, waving fisherfolk, two haughty camels and absolutely nothing else. Our guide, Pat Retzlaff indicated a boat and a peninsula almost too far away for my myopic sight to focus upon, "canter until there or until you are tired." It is this sense of freedom that makes Mozambique Horse Safaris a unique experience. Gorgeous, fit horses in superb condition that are perfectly schooled, at once ready to go but easy to stop. You can canter alone or in groups or slow to an amble and drink in the view, the choices are all yours. And you will want to gulp and sigh and fill your senses with the dreamy, unspoiled beauty.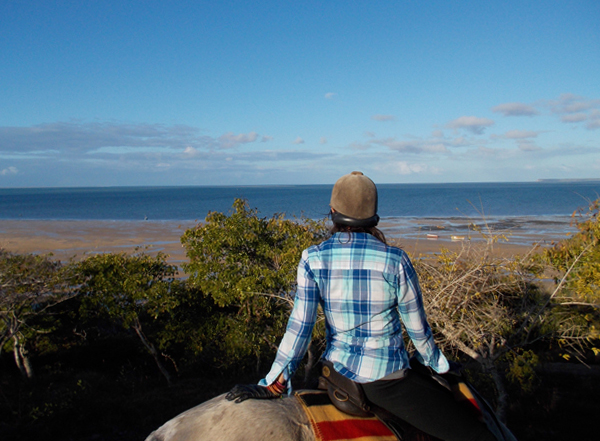 Gazing across the Indian Ocean. Photo courtesy Jan Norman.
We were on one of Mandy & Pat's famous Vilankulo beach rides. A half day ride with the midpoint climax being the ascent of the massive red dune and the endpoint highlight being a seafood feast. Beach riding with other peoples' horses can be heart-stopping for all the wrong reasons. Fortunately not so with Mozambique Horse Safari as coastlines are their turf. To these equines, beach does not equal bolt. I asked Pat how he keeps his herd so well-behaved. He explained that he rotationally rides each of his 30 horses and schools them on the sand even while leading a ride. In this way, their responsiveness is constantly reinforced and the beach is like a huge dressage arena rather than an endless racetrack.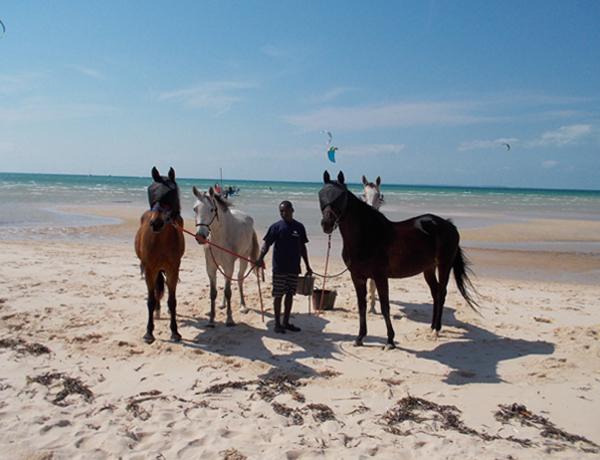 Lunchtime for horses and humans while kite-surfers shoot the breeze. Photo courtesy Jan Norman.
Pat's wife and co-guide Mandy Retzlaff is the author of 104 Horses, A Memoir of Farm and Family, Africa and Exile, a book detailing the true story of losing their farm in Zimbabwe and ultimately making the journey to Mozambique with 104 horses. It is an emotional and remarkable story full of bravery, hardship, love, and resilience. Having read the book, it was a unique experience to then meet the real-life protagonists-- both human and equine. I fell deeply in love with every horse I rode and had to revisit the book and remind myself of their stories. Pat had an excellent knack of matching horse and rider, possibly a true tinder of the equine world.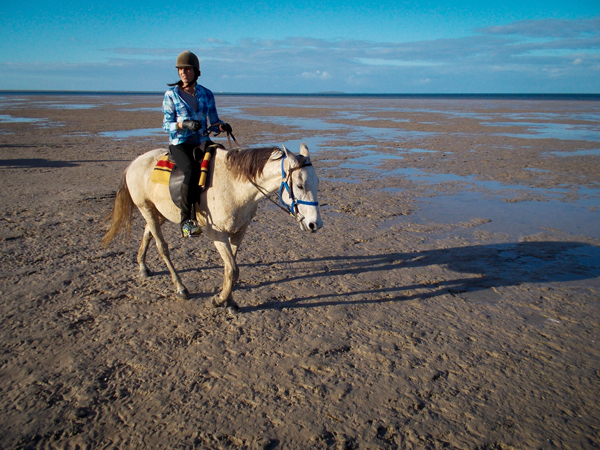 The endless, unspoiled beaches of Mozambique. Photo courtesy Jan Norman.
Here at the edge of the Indian ocean, it seemed as if shades of shallow waters, cloudless skies, and pearlized sand delivered a play on color that is way beyond the possibilities of Pantone and Photoshop. Pat was relaxed and easy-going, but as the looming Red Dune came into clearer focus, we regrouped for the lowdown on the heights of this singular dune. After a quick discussion as to what to expect - the pathway to ascend the dune is narrow at first, the horses will canter to conserve energy, head off one by one - then suddenly our horses are sand ploughing through deep powder sand the color of saffron. That amazing feeling where all six hundred kilograms of horseflesh is working at full power yet you move as if in slow motion. In a few exhilarating minutes, you have summited the mighty Red Dune of Vilankulo Bay.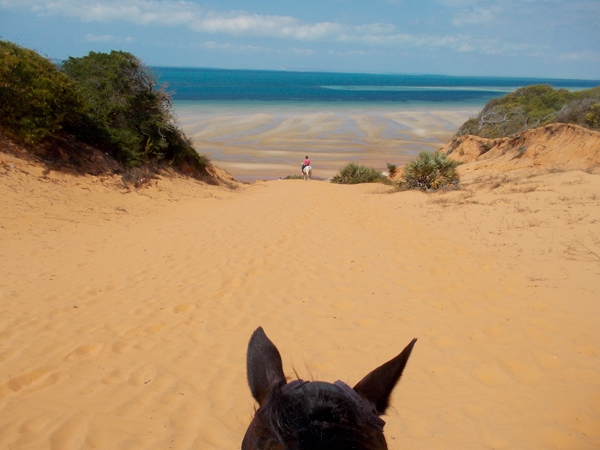 Descending the famous Red Dune of Vilankulo. Photo courtesy Jan Norman.
Now is the time to dismount, give your (barely puffing) mount a rest, and bounce around the top of the dune in an adrenalin-high (delivered compliments of this remarkable ride and the astounding vistas). Those crazy shades of blue are now offset by the reds of the sand and the dizzying height allows even more far-reaching panoramas. Selfies, sand angels, and star jumps became the cheesy poses of choice--filling flash drives of happy memories, securing Facebook FOMO's and serial Insta likes.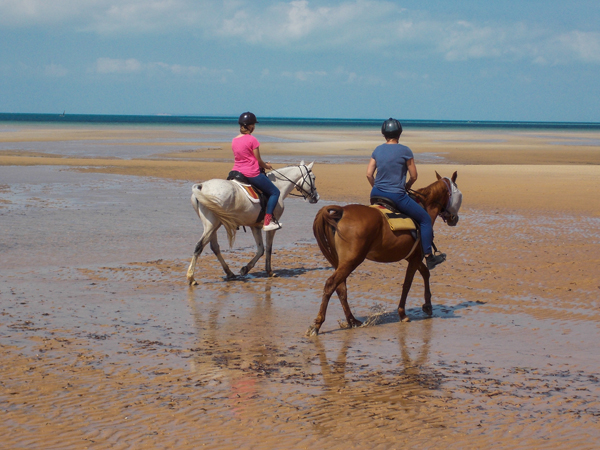 Riding through the shallow waters. Photo courtesy Jan Norman.
Afterwards, the dune descent is taken slowly and so easily that I felt as if my horse had balance wheels like one of those beginner's bicycles. As we touched down on the shoreline, the tide had changed--creating puddles to splash through at a canter. The group went along at varying paces allowing time to chat or move at quicker gaits.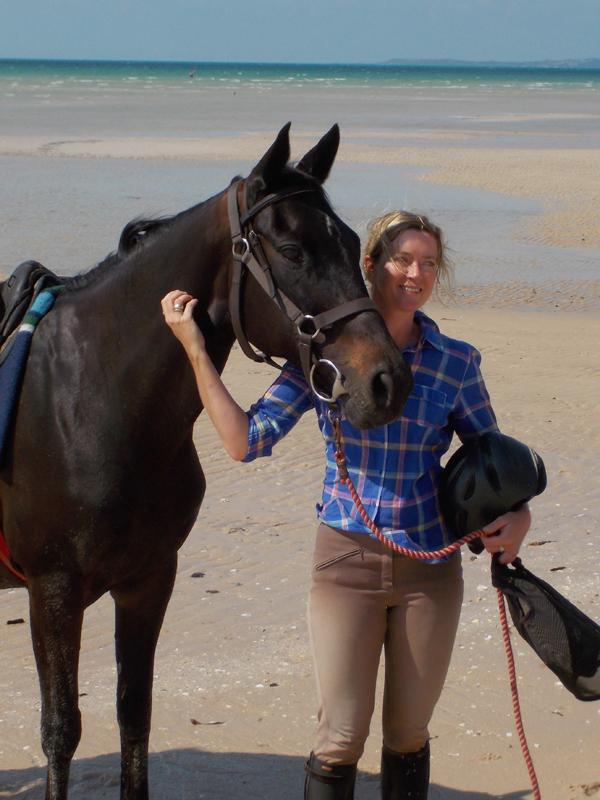 The author poses for a quick photo with her horse. Photo courtesy Jan Norman.
An afternoon wind had shown up and our end point was alive with colorful kite surfers shooting the breeze. Amazingly, our horses barely turned an ear at the billowing sails that were starting to fly. After nearly four hours, our expedition to the Dune was over too quickly and it was time for lunch for both horses and humans.
Huge hugs and thanks were given to our new equine friends who had their ears pricked in anticipation of tasty nosebags of treats. Very soon, we were nose down in the trough too--gulping 2M, the delicious local beer, quaffing vino verde and being treated to a seafood spread. These cowboys and girls had cantered up a hunger that was well satisfied by the team at Samara Beach Restaurant.
Top tips:
1. Book through Mozambique Horse Safaris who can help book a dedicated one-week horse safari or a family holiday with accommodation and day rides.
2. Read Mandy Retzlaff's book, 104 Horses, A Memoir of Farm and Family, Africa and Exile. At Mozambique Horse Safaris, you will meet the horse and human heroes of this incredible story.
3. The Red Dune Ride is just one of many possible rides. The beach rides are usually two hours and cover a variety of routes depending on the tides.
4. For your non-riding companions, a beginners beach ride is an experience of a lifetime. Splashing through the shallows at dreamy sunset time, grooms lead the horses to make sure everyone is happy, safe and smiling.
About the Author: Jan Norman is a freelance writer, part-time traveler, and full-time horse-lover. She uses her previous experience as a trend-forecaster to sleuth out the best of every destination visited. Equestrian holiday articles and equine profiles are some of her very favorite subjects. Read her blog at www.alwaysjumpingneverlanding.com. Follow her on Facebook and Instagram.