Baby Budweiser Clydesdales at Warm Springs Ranch
Warm Springs Ranch in the rolling hills of the Missouri River Valley has welcomed 28 baby Budweiser Clydesdales. Here's how you can go meet them.
As a follow up to Karen Braschayko's Dream Jobs: Handling the Budweiser Clydesdales story, we thought you'd be interested in seeing these cute photos of foals born at Warm Springs Ranch, the breeding facility for the Budweiser Clydesdales. Located near Boonville, MO, Warm Springs Ranch is home to more than 70 Clydesdales ranging from foals to stallions.
It's a busy operation, not only welcoming new foals, but also feeding and caring for these special horses. Each hitch horse eats up to 20 to 25 quarts of whole grains, minerals, and vitamins, 50 to 60 pounds of hay and drinks 30 gallons of water per day.
"One night we had three foals born in an hour," said John Soto, supervisor of Warm Springs Ranch. "We had two foals born within 15 minutes of each other."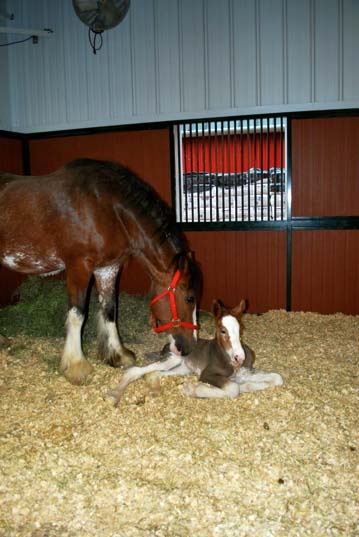 Warm Springs Ranch has a 25,000-square-foot breeding barn with a veterinary lab and 10 pastures, each with a customized, walk-in shelter and free-flowing water dispensers. The farm sits on 300-plus acres of land.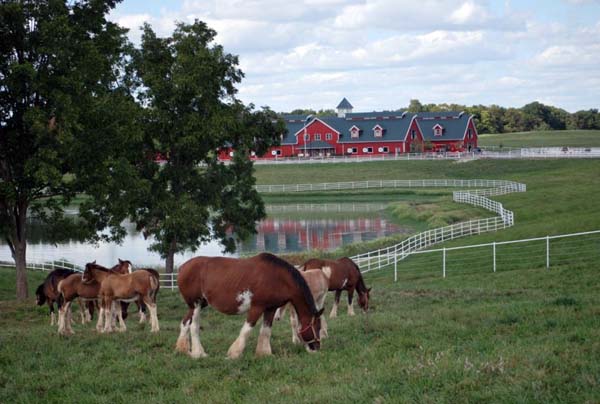 Anheuser-Busch has about 200 Clydesdales in its herd, with about half of them at Warm Springs Ranch in Cooper County.

How you can go visit the baby Clydesdales: Tours of Warm Springs Ranch last approximately an hour and a half and are by reservation only. You can opt for a walking tour or a VIP tour. Tours are offered March 26th – November 6th, Monday - Sunday at 10 a.m. and 2 p.m. (Closed Wednesday) and by reservation only, as space is limited. Admission price for the walking tour is $12. Children under the age of 2 are admitted free.

Visit www.warmspringsranch.com for more information.