Arizona Dude Ranch History- Fun Facts About Historic Ranches
Dude ranch history abounds throughout the state of Arizona. Learn about it with these fun facts about Arizona dude ranches.
by Darley Newman
If you're traveling to a dude ranch in Arizona, chances are that you will be visiting a ranch with an intersting past. For instance, Rancho de la Osa has had a slew of famous guests, including Western film star John Wayne, author Margaret Mitchell, President Franklin Roosevelt and more. While filming for our travel TV show Equitrekking in Arizona and again on a dude ranch vacation in Arizona, I was able to soak in some of that great history while horse riding at various ranches throughout the state and even more after coming home through research from the ranches themselves and the Arizona Dude Ranch Association, whose ranch members are committed to preserving the tradition of Western hospitality.
Below are some fun historic facts that may make for good dinner party fodder and may inspire you to relive history on an Arizona dude ranch vacation.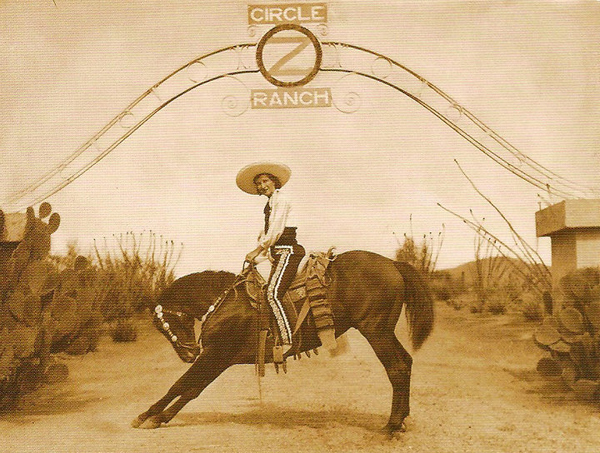 The Circle Z Ranch is the oldest continuously operating dude ranch in Arizona. Photo credit Circle Z Ranch.
White Stallion Ranch
Location: Tucson
Fun Dude Ranch Fact: In 1958, Drew and Marge Towne purchased what today is White Stallion Ranch. They decided to rename it The Black Stallion after their favorite horse book. After they realized that the initials "BS" would be unacceptable, they renamed it again to White Stallion Ranch.
Circle Z Ranch
Location: Patagonia, Arizona. 60 miles south of Tucson.
Fun Dude Ranch Fact: Continuously operated since 1926, this Arizona dude ranch opened with a capacity of 24 guests, many of whom spent an average length of one month and some families vacationed at the ranch for the entire season! Sure beats the length of the modern day American vacation. According to the Travel Industry Association of America, almost 70 percent of American vacations this year will last less than three nights away, making some of us want to truly step back in time.
Rancho de la Osa
Location: Sasabe, Arizona. Southwest of Tucson at the base of the sacred Baboquivari Mountains.
Fun Dude Ranch Fact: Rancho de la Osa lies close to the US/ Mexico border, but it is in the United States. It wasn't always so. The ranch property is part of the original three million acre land grant given by the King of Spain to the Ortiz brothers of Mexico in 1812. When the Gadsden Purchase was signed in 1854 settling the border dispute between Mexico and the United States, the ranch fell within US boundaries where it's remained until today.
During the Mexican Revolution Pancho Villa fired on the Hacienda, and a cannonball embedded in the adobe walls now sits on a fireplace mantle for all to see at Rancho de la Osa.
Rancho de los Caballeros
Location: Wickenburg
Fun Dude Ranch Fact: In 1941, Dallas Gant and his wife partnered with former guests to create Rancho de los Caballeros. Today the ranch is run by the second generation of the Gant family and is listed as a Historic Hotel of America.
Flying E Ranch
Location: 4 miles west of Wickenburg, Arizona, near the famous Vulture Peak rock formation
Fun Dude Ranch Fact: Ever dream of buying the ranch that you visit? George and Vi Wellik came to the Flying E Ranch in their private plane as guests in 1948. They were quite taken with this Arizona dude ranch, becoming frequent visitors and investing funds for a ranch pool and new guest and employee quarters. By 1952 they were full owners and remained so for over 55 years!
Elkhorn Ranch
Location: 50 miles southwest of Tucson in secluded Sabino Canyon
Fun Dude Ranch Fact: Elkhorn Ranch dates back to 1946, when Grace and Ernest Miller, founding members of the Dude Ranchers' Association, built a winter operation to complement their summer Elkhorn Ranch operation that began in 1922 in the Gallatin Valley of Montana. Elkhorn is still a working ranch that raises and trains cross bred horses.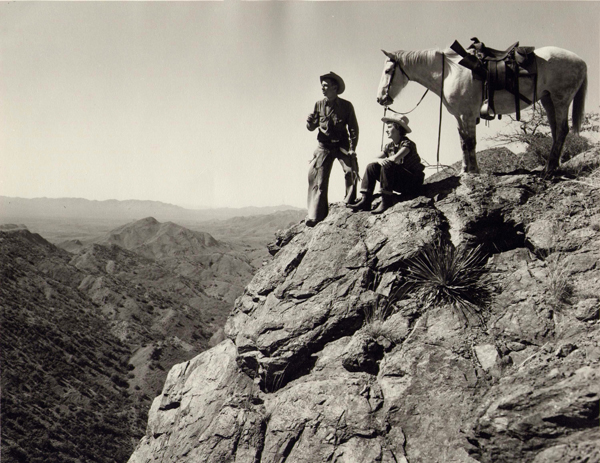 Since 1995, the Miller family at Elkhorn Ranch have been proud to work with neighboring ranchers on management of the 600,000 plus acre Altar Valley watershed via the Altar Valley Conservation Alliance, a not-for-profit collaborative conservation organization.
Sprucedale Ranch
Location: Alpine in the White Mountains of eastern Arizona
Fun Dude Ranch Fact: The land where Sprucedale Ranch rests today was homesteaded by Hiram & Maryette Thompson of Springerville, Arizona. Upon homesteading, the Thompsons built a cabin, which you can still stay in today. It's a guest favorite. The ranch also once served as the post office for the surrounding ranches and homesteads.
Hideout Ranch
Location: Rodeo, New Mexico on the border of Arizona and New Mexico
Fun Dude Ranch Fact: Hideout Ranch is just a few miles from where Chiricahua Geronimo surrendered to the US Army after years of fighting to remain free on his homeland. Guests can ride to historic Fort Bowie, where the campaign against Cochise's war chief began. From there, riders can visit Camp Rucker, the outpost for Bowie on that campaign. Skeleton Canyon, where the great Apache surrendered in the United States, is nearby. The ranch is currently negotiating permission to ride in that mysterious, historic canyon.
Tanque Verde Ranch
Location: Tucson
Fun Dude Ranch Fact: People have seen the area around Tanque Verde Ranch as a lush respite from the surrounding desert for quite some time. Tanque Verde means "green tank." Water on the property drew cavalrymen from the 1873 outpost Fort Lowell so they could water their horses. Most men probably watched their backs as they let their steeds rest for a drink. The men had to constantly be on guard as they protected area settlers and their cattle from Apache raids.

Learn more about Arizona dude ranches from the Arizona Dude Ranch Association and check out upcoming Arizona Dude Ranch Specials. Check out great ranches in the Equitrekking Vacation Guide and at Top20Ranches.com.