The American Quarter Horse Breed Profile
Equitrekking Interviews Jim Bret Campbell, AQHA Senior Director of Marketing and Publications, examining the history and legacy of the American Quarter Horse.
Founded in 1940, the American Quarter Horse Association is the largest equine breed organization in the world. With headquarters in Amarillo, Texas, AQHA has a membership of more than 280,000 people in 86 countries and has registered more than 5 million horses in 95 countries. Find out if this is the right breed for you.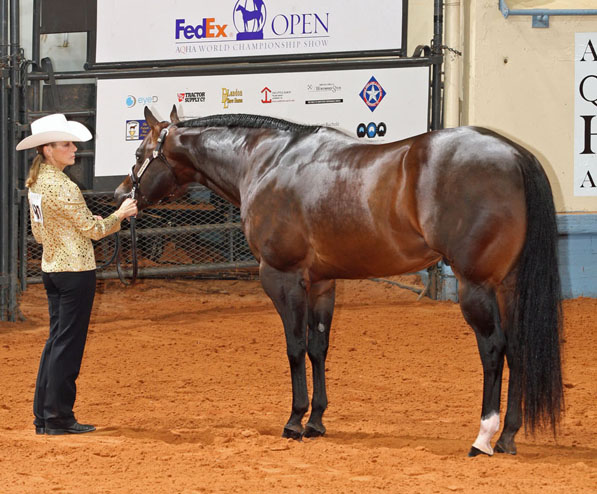 The American Quarter Horse Journal
by Raina Paucar
Raina for Equitrekking: What are the origins of the American Quarter Horse?
AQHA: The origins of the breed can be traced to Colonial America. Our forefathers enjoyed horse racing. In the beginning, they ran the English horses that they rode and plowed with every day.
Soon after, Colonial farmers in Virginia and the Carolinas began to trade with the Chickasaw Indians for a much faster horse. These quick Indian ponies were Spanish Barbs, brought into Florida by early Spanish explorers and colonists. There is evidence that Spanish Barbs obtained from the Chickasaws were crossed with the Colonists' English stock as early as 1611.
Over the next 150 years, the product of this breeding would come to be known as the "Celebrated American Quarter Running Horse." By the middle of the 18th century, it was apparent that the Colonists were in America to stay.
Back in England, horse racing was being revolutionized by a stallion known as The Godolphin Arabian. In 1752, John Randolph of Virginia imported a grandson of The Godolphin Arabian, called Janus. When Janus was bred to Colonial mares bearing the blood of the Chickasaw horse, the result was the prototype of the American Quarter Horse. While it cannot be said that Janus founded the breed, it can be argued that he shaped and formed it significantly. "Compactness of form, strength and power" were the traits associated with the get and progeny of Janus.
At the same time Janus' blood was improving the "short horses," those which ran the quarter mile, other Colonial horsemen were adopting the English fashion for long-course racing of distance up to four miles.
One other great stallion to put his stamp on the Quarter Horse during this period was Sir Archy, sired by the imported stallion Diomed, and foaled in 1805. Sir Archy's sons and daughters would be the most important influences in the development of Quarter Horses during the next half century. Steel Dust and Shiloh, foundation stallions of the modern Quarter Horse, trace back to Sir Archy. Two other stallions which would contribute to the short-horse bloodlines around this same time were Printer and Tiger.
The final ingredient to the genetic formula that produced the Quarter Horse was found west of the Mississippi River: the Mustang. A free-roaming, far-ranging wild descendent of the Barb, introduced into the American Southwest by Spanish explorers, missionaries and settlers.
When crossed with the descendants of Janus, Sir Archy, Printer and Tiger, the western Mustang added the last important shot of hybrid vigor to complete the creation of a horse unique to America, the American Quarter Horse.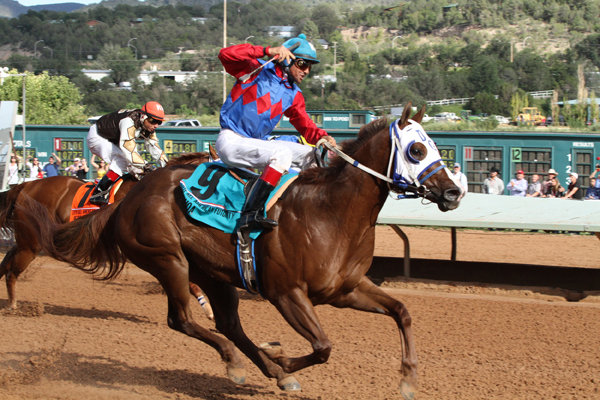 The American Quarter Horse Racing Journal

Equitrekking: What are the conformation characteristics of the American Quarter Horse?
AQHA: The American Quarter Horse has unique features that make it specially suited for a variety of tasks. If you have ever seen a horse in one of rodeo's timed events, been along for work on a ranch or watched a Western movie, 9 times out of 10 you have witnessed an American Quarter Horse.
These heavily muscled, compact horses could run a short distance over a straightaway faster than any other horse and the fastest were called Celebrated American Quarter Running Horses by English colonists in the 1600s. In 1940 a registry was formed to preserve the breed, which officially became the American Quarter Horse.
There are 17 recognized colors of American Quarter Horses. This list includes: sorrel, bay, black, brown, buckskin, chestnut, dun, red dun, gray, grullo, palomino, red roan, blue roan, bay roan, white, perlino, and cremello.
Equitrekking: How has the American Quarter Horse been used throughout history? Has this had an influence on the breed today?
"From Colonial sprint horse to open range cow horse, these race and ranch roots provided the foundations upon which the American Quarter Horse stands." -They Rode Good Horses: The First Fifty Years of the American Quarter Horse Association.
While still a very versatile breed, specialized American Quarter Horses have been bred, such as bloodlines that excel in jumping, racing, western pleasure or reining.
Equitrekking: What are some fun facts people may not know about American Quarter Horses?
AQHA: It's interesting to note that the quarter-mile is still the most popular distance for racing American Quarter Horse, and the best blaze the 440 yards in 21 seconds or less.
Also, even though America lays claim to the breed, enthusiasts around the world, from Australia to China to Germany, raise and show American Quarter Horses.
Equitrekking: What kind of temperament is this breed best known? What style of rider best suits the American Quarter Horse?
AQHA: Their intelligence, gentle nature and even temperament make them a great horse for new riders learning about horses in addition to experienced riders. The breed is strong, responsive and versatile.
Known for its versatility, the American Quarter Horse breed is enjoyed around the world in nearly every equestrian discipline.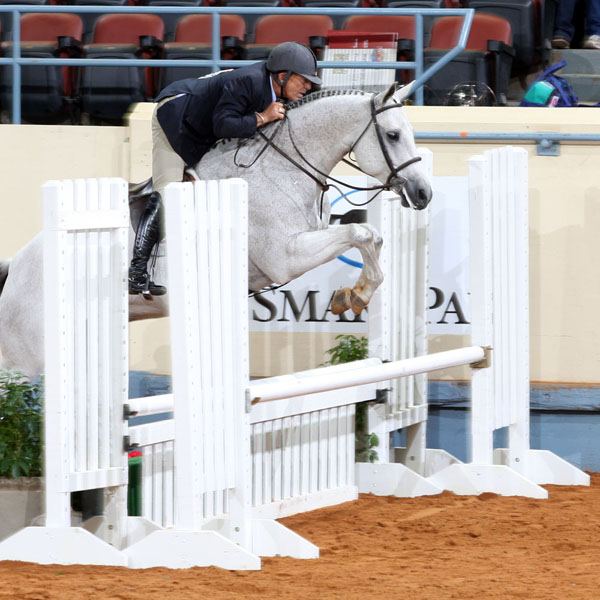 The American Quarter Horse Journal
Equitrekking: What rider best suits the American Quarter Horse?
American Quarter Horses suit any type of rider - from professionals to beginners. American Quarter Horses are enjoyed by all ages and offer a wide variety of activities including: shows, rodeos, races or even recreational rides.
Different goals require different types of American Quarter Horses and different skill levels of the rider. If you plan to show competitively, the type of American Quarter Horse will differ greatly – in level of training, and subsequently, price – than a recreational riding American Quarter Horse.
Equitrekking: Has the American Quarter Horse evolved over time?
AQHA: American Quarter Horse breeding has become more specialized over the centuries. Today, horses are bred for specific events. However, many horses are still bred for ranch work and will also compete in the arena on the weekends. Due to the specialized breeding, you will see American Quarter Horses that range in stature from long and leggy to short and stocky.
Equitrekking: Can you tell us some famous historical Quarter Horses?
AQHA: Wimpy P-1, sired by Solis and out of Panda, was born on the King Ranch in South Texas. Wimpy was a grandson of Old Sorrel on both the top and bottom. Old Sorrel was the foundation sire for the famous ranch, and was bred by noted breeder George Clegg.
In 1941, Bob Kleberg decided to show Wimpy in the 1941 Fort Worth Southwestern Exposition & Fat Stock Show. The winner of the stallion class would receive the No. P-1 in AQHA's first stud book. After winning the class, Wimpy went back to the King Ranch where he sired 174 registered foals.
The chestnut stallion sired sons and daughters that went onto produce AQHA Champions. A few of Wimpy's better known progeny were Lauro, Silver Wimpy, Wimpy II and Bill Cody. Wimpy was inducted into the American Quarter Horse Hall of Fame in 1989.
Rugged Lark was sired by Really Rugged (TB) and was out of Alisa Lark. Carol Harris of Bo-Bett Farms in Ocala, Florida, bought Rugged Lark as a yearling. The bay stallion's list of accomplishments include:
Champion 3-year-old hunter under saddle at the 1984 All American Quarter Horse Congress
Two Sooner Trailer Superhorse titles at the AQHA World Championship Show, one in 1985 and the second in 1987
World championships in pleasure driving and senior hunter under saddle
Reserve world championships in pleasure driving and senior western riding.
Rugged Lark also sired two Superhorses, The Lark Ascending, who won the title in 1991, and Look Whos Larkin, the 1999 Superhorse.
In 1989, Rugged Lark became a model for an extremely popular Breyer collectible horse. Lark was asked to perform at the Volvo World Cup Competition in Tampa, Florida, and at the 1989 Festival of Champions for the United States Equestrian Team. In 1995, Lark performed at the Festival of Champions again and was AQHA's ambassador to the 1996 Olympics in Atlanta.
The stallion received AQHA's Silver Spur award in recognition of his efforts as an ambassador and entertainer.
Dash For Cash was foaled April 17, 1973, on the Phillips Ranch near Frisco, Texas. By Rocket Wrangler, a paternal grandson of Three Bars (TB) and maternal grandson of Go Man Go, Dash For Cash was out of the King Ranch Thoroughbred mare Find A Buyer.
The stallion ran 25 races in three years, crossing the finish line – usually with plenty of daylight to spare – in 21 of them. He finished second three times and did worse than that only once. All this fast footwork earned him $507,688 during his career – years before Quarter Horses were earning million-dollar purses.
He was the first horse to have consecutive victories in the Champion of Champions (1976 and 1977). Dash For Cash sired 751 winners, 135 stakes winners, 880 earners of AQHA Registers of Merit, 112 earners of AQHA Superiors and 16 world champions. Together, they earned $37,386,838.
Dash For Cash horses also made great cow horses such as National Cutting Horse Association world champion Miss N Cash. Dash For Cash sired 15 point-earners, one AQHA Champion and one reserve world champion. His offspring have earned $128,959 in NCHA events.

A life-size bronze statue of Dash For Cash's likeness is located in front of the American Quarter Horse Hall of Fame & Museum. He was inducted into the American Quarter Horse Hall of Fame in 1997.
You can find more American Quarter horses in the Hall of Fame Inductees.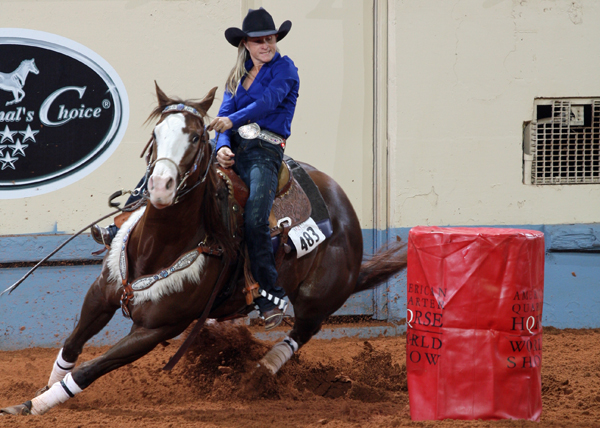 The American Quarter Horse Journal
Equitrekking: What makes the American Quarter Horse unique as a breed?
AQHA: The American Quarter Horse's distinctive features and versatility make it unique as a breed. From dressage, roping, racing, cutting and jumping, American Quarter Horses excel in all arenas. These traits allow the American Quarter Horse Association to continue to be the largest equine breed registry in the world.
For more information about The American Quarter Horse, visit AQHA
AQHA is on Twitter and Facebook
Publications:

America's Horse Daily
The American Quarter Horse Journal