Alberta- Calgary Stampede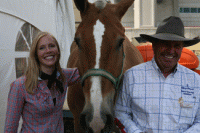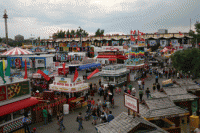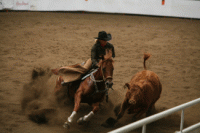 We saw a lot at the Calgary Stampede. There is a lot going on at this 10-day summer event that around 120,000 people attend each day. I walked all over the Stampede, interviewing folks about their horses and passions. I ate a lot of fried goodness, including fried jelly beans and soft serve chocolate ice cream. They have everything from Greek food to bagels to BBQ. There is live music, rodeo competitions, amusement park rides, a Western art fair with some beautiful work, and of course you can just walk around and admire all of the pretty horses, which I enjoyed doing. I met Paints, Percherons, Clydesdales, Quarter horses, Canadian horses, Curly horses, miniature horses and more.

I was able to see the working cow horse classic, where the horse and rider must do a sort of combination before the cow is brought into play, including lead changes, figure eights and sliding stops. I watched the younger horses, who wore only a hackamore, and interviewed a rider named Rose, whose four-year-old mount was competing for the first time. When the cow is brought out, the horse and rider must control the cow. They are running after the steer, leading it along the fence and to the middle of the arena. Men and women compete in this event, as they do in many events at the Stampede. It will get your heart moving just watching.

One event that I got to meet the very large horses for but didn't get to see is the Heavy Horse Pull. This year, a horse named Jim pulled over 13,100 pounds!
Darley Newman is the host of the Emmy Award-winning Public Television series Equitrekking®, which takes viewers on horseback riding vacations around the world. Equitrekking is broadcast on PBS stations and on international networks in over 30 countries.

Watch the Equitrekking video promos and purchase Equitrekking DVDs in our Store. Learn about Alberta ranch vacations, travel to the Calgary stampede and book an equestrian vacation at EquitrekkingTravel.com