Alberta- Anchor D's Sheep River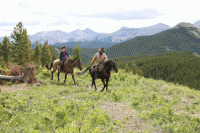 We are in the car driving to Banff, after taking the day to ride over 20 miles with Dewey and Jan Matthews of Anchor D Outfitting, an equestrian outfitter booked through Equitrekking Travel. 20 miles may not seem like a lot to you, but when you're doing it through varied elevations, rain, wind, hail and sun, while filming in high definition with a film crew on horseback, it's quite a feat. It was certainly worth it, as the scenery was spectacular.

We left this morning well fueled for the trip. Beverly, at Idle Spurs B & B cooked us homemade Eggs Benedict, berry muffins, fresh fruit and piping hot coffee. We packed layers, which are vital for a ride into the foothills of the Canadian Rockies. Over the course of the day, we had sun and then once we got up high, a storm rolled in with fierce winds and cold rain. You know those long waxed duster coats you see in Western movies. They come in handy up here.

Dewey's been guiding riders for over 25 years. He has over 100 horses and takes riders on one day to seven-day rides. He does something unique on his longer rides. Instead of just pack horses, he uses horse drawn wagons to carry supplies, so if you get tired no worries, you can ride.

We rode into the Sheep River Gorge area in southwestern Alberta. The trails were beautiful. We passed through meadows filled with wild flowers including the fragrant wild rose, Alberta's flower, forests of aspen and pine, steep mountain passes leading to vast expanses of rugged mountains covered in pockets of snow. When I say steep, I mean it. You need a good mountain horse to ride through this area, and you yourself can't be afraid of heights.

We didn't encounter any grizzlies, which I thought was good. Just some harmless ground squirrels, who popped in and out of the earth amid the colorful flowers—so cute.
Darley Newman is the host of the Emmy Award-winning Public Television series Equitrekking®, which takes viewers on horseback riding vacations around the world. Equitrekking is broadcast on PBS stations and on international networks in over 30 countries.

Watch the Equitrekking video promos and purchase Equitrekking DVDs in our Store. Learn about Alberta riding vacations with Anchor D, travel to the Calgary stampede and book an equestrian vacation at EquitrekkingTravel.com