A Return to Riding After 40
Using the wisdom and patience of age to discover a new way to ride and work with horses
by Juliette Ober
My husband is a competitive masters runner. We have a family friend who is one of the fastest runners in the world for men over 40. I've heard people laugh at this accomplishment - "ooooh, you are the fastest old guy in the world" but the fact is that this friend's current 4:09 mile time rivals most collegiate times. Yet, by his own admission, he never could have run that fast in college because he lacked the mental maturity to train for such a feat.
The cruel truth is that when our bodies are young and agile, our minds are often immature and scattered. Then, when we finally get the insight, patience, and wisdom that comes with age, our bodies and courage can betray us.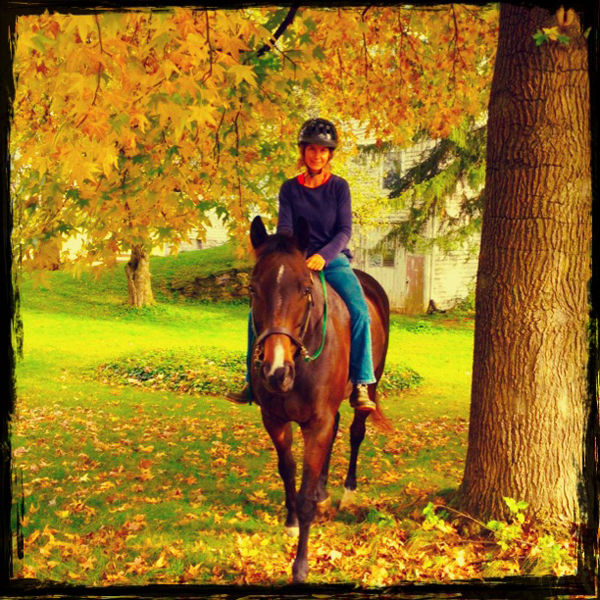 Me, age 45, on Sovereign, off-track-Thoroughbred, Suave Lord, bareback and in just his halter, riding around our farm, October 2012. Photo credit: Maizie Ober
Nowhere do I see this more evident than in the horse world. Young riders, agile and courageous, confidently compete in all disciplines on any mount. Sometimes, though, it seems like they are not fully able to appreciate the wonder of what they are doing. The magical experience of riding a horse is lost in the shuffle of other goals - a ribbon, a medal, an official standing on a circuit.
Older equestrians, new to the sport or returning after many years without horses, are seeking something else. They are looking for the magic. They long to savor the sweet horsey breath, to curry and tack up slowly, to effortlessly mount and ride as one with a horse through the fields and trails of their youth.
But sadly, the insidious process of aging can rob us all of agility and balance - or worse, courage.
Unexpectedly though, when I turned 40 years old, I discovered that by embracing the positive attributes of aging, a new confidence emerged - a confidence that allows me to ride horses daily in a style that surpasses all my former expectations as an equestrian.


Me on Pie, OTTB Sly Pioneer, and my friend Kathy Savory on Sovereign, OTTB Suave Lord, on a brisk autumn day, November, 2010. Photo credit: Maizie Ober
My daughter, Maizie, was a toddler when my 32 year old mare, Penny Lane, passed away. I decided not to buy another horse, but the next seven years without horses were hard on me. I missed the smell of their breath. I remembered what it was like to groom and ride and how good those activities used to make me feel. I started to appreciate the horse filled existence I had known from birth and now was absent. But horses require tons of time and it was important to me to spend quality time with my daughter as she grew.
When Maizie was happily settled into third grade, I felt the time was right for me to start again with horses. As a long distance runner, my body was fit, but I wondered, would I still have the courage necessary to handle the inevitable dicey situations that arise when working with horses? Would I view the whole activity as unsafe now that I was a mother? Would riding ever be effortless again?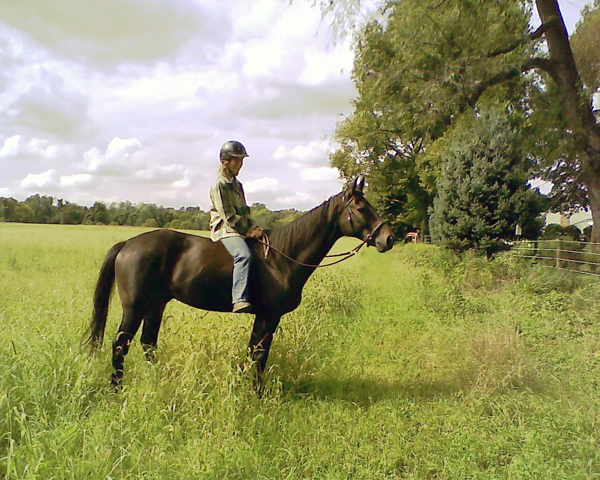 Me on OTTB Suave Lord, September 2011.
Photo credit: Bill Keet
Surprisingly, it was actually my age that gave me the necessary confidence to ride again safely in a manner and style that felt right to me. Yes, I was now 40 years old and maybe a little stiff and rusty, but after a seven year hiatus my mature brain had formulated clear ideas about how I wanted to ride and work on the ground with horses. It was important to me to...
ride everyday
never use a bit - only ride in a halter or bitless bridle
be able to ride bareback anytime of the year
keep the horses barefoot if my farrier said it was ok
never lunge or use a round pen. Ever. Not even in the beginning
ride at the walk, and when I wanted to trot, canter, or jump, I could add that in later
not have to "work a horse down" in any way before heading out on the trail
ride outside of the ring primarily
not die attempting the above!
My riding goals were unusual, so they were never uttered to anyone. They were my "perfect" riding experience; a grand synthesis of my favorite parts of riding and my philosophy about what I believe horses enjoy. I spent many years, under the well-intentioned guidance of various trainers, asking horses to do things they didn't seem too keen on doing. If I had formulated these unorthodox goals as a young rider, I lacked the poise, patience, and determination to follow through with them.
But it was my age that gave me the confidence to trust my intuition, ignore my ego, and never worry what people thought about my riding or training ideas. So, on August 29, 2007, after putting Maizie on the school bus, I drove, without hesitating to phone ahead or double think myself one more second, directly to a local boarding barn and asked if anyone needed to be exercised. I was given the charge of an off-the-track-Thoroughbred (OTTB) whose owner was a frightened beginner. I could help by riding the gelding every weekday morning. A new journey had started for me that day - one of unparalleled horse joy that eluded me as a younger rider.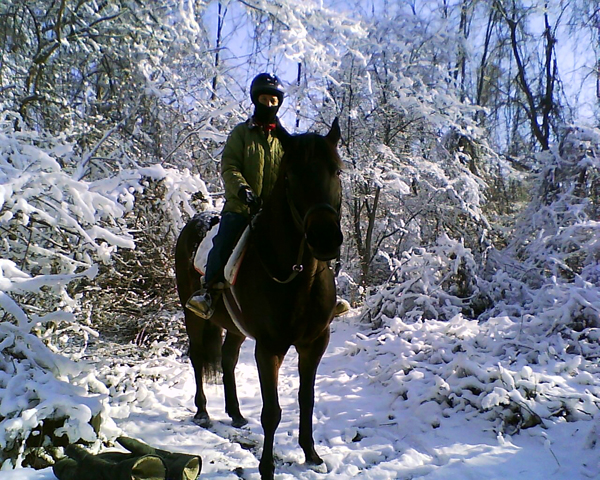 Giant snow bunny Pie, OTTB Sly Pioneer, kindly sharing a snowy ride with me in the woods, February 2012.
Photo credit: Sandra Renninger
I am 46 years old now and, unbelievably, I found a way to achieve my dream goals with horses. In fact I had so much success with that first OTTB gelding that I ended up rescuing, retraining, and adopting three of my own. I am able to ride every day in all weather, without a bit, without lunging, outside of the ring on our paths and through the fields. We see bluebirds and deer and smell honeysuckle together. My horses are barefoot and have healthy feet and are sound. I ride bareback anytime, including in winter and in wind - although with so many clothes it doesn't seem like I am bareback or in wind!

Throw Out the Clock

I am certain that the primary ingredient in this successful recipe has been my age - the very thing I thought would be a stumbling block! When I was young, I believed everything had to be done yesterday. But the mature me realized that deadlines and horses do not mix. Therefore, I retrained my Thoroughbreds without a clock or calendar. There was no reason to hurry these horses - or any horse. Ever. No one was using a stopwatch and no goal was dictated by a calendar date. I purposely did not schedule a clinic, a show, a deadline of any kind. If, for some reason I felt that I had to hurry, I would stop and quit for the day. Horses do not react well to being hurried for any reason. Would I have realized this if I had been younger?
The forty-something me knew instinctively that as soon as you throw out the clock, throw out the calendar, horses respond quickly and efficiently. For example, when my first two off-track-Thoroughbreds arrived, I allowed their responses to guide me in our retraining. I didn't know how long it would be until I could ride them and honestly, I didn't care. I just worked with them each day and "listened" to their behavior. I made sure that any request by me was fully accepted by them. If a new ask was met with a relaxed body and calm, happy snorting then we were good and ready to move forward. If they were worried or nervous, then we remained at that level.
I chronicled everything I did on my blog for future reference. It amazes me now to see that I was riding them around the pastures in three short weeks, riding all over our farm in a month and riding through neighborhoods in our town in two months. That seems too soon to be thorough or safe but I know it must have been both. As an older rider, I don't do anything unless I am safe and my horses are completely at ease. When I was young, I allowed adult instructors, farriers, veterinarians and other well-meaning horsepeople to force my horses forward on a human timetable.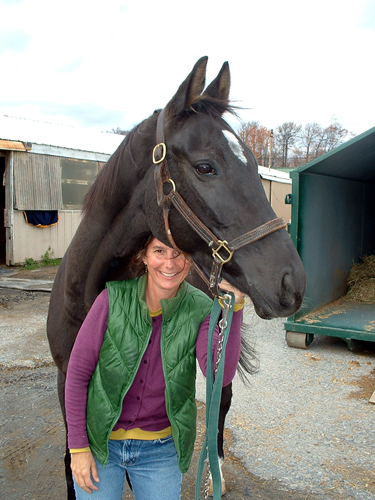 Me with my sweet OTTB, Found in the Fog, on November 17, 2010, the first day we met.
Photo credit: Brian Ober
Our third off-track-Thoroughbred, Found in the Fog, arrived in January of 2011, and I didn't ride him until May. Again, no calendar, no clock, no rushing - and more importantly - no comparison. Every horse is different, but would my younger self have understood this? A younger me might have been fretting because it was "taking so long" if I compared the third horse to the other two. The Internet offers us fabulous information about horses, but it can be a huge comparison trap to a young, immature mind. Age helped me understand that the world is a big place and other systems and timetables of working with horses may not work for my horses.

Lingering

My older self is also acutely aware of focus. It is one thing to be slow and methodical. It is another to actually be present mentally. In the seven years I was away from horses raising Maizie, I learned to truly pay attention to what I am doing while I am doing it. I learned to act with quality. I believe that you can do anything in life two ways - with quality or without. It is possible to run, drive, clean the house, read, talk, write, cook, teach, do homework, ride horses-- all on auto-pilot and not really be there. The activity is "completed" but it was done without quality, without focus, and without true meaning and true success.
The opposite is to be present; you can linger and complete each act with intention. It is tough to hold focus for a long time, especially when you are young. It takes years of practice to keep quiet attention in our hurried, cell-phone-interrupted society, but if you can do it, the payback with horses is great.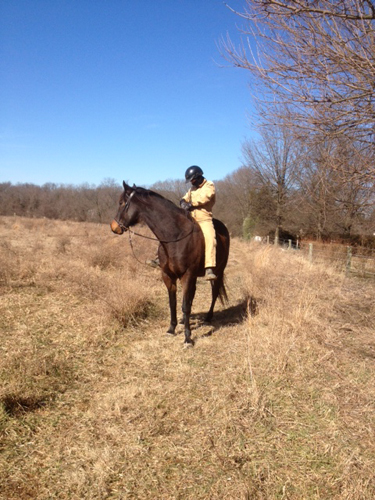 Me, age 46, on adorable Pie, OTTB Sly Pioneer. Pie patiently waits for me to fiddle in my pocket, bitless and bareback out on the trail on a frigid February day, 2013. Photo credit: Sandra Renninger
Without exception, I notice that the adult riders who have the most success and safe rides are the ones who are slow and quiet at haltering, leading, grooming, and tacking up. Often these are adults who did not ride as children or ones who spent years away from horses. They are the riders who are awe-struck that they are working with a horse. They do not take anything about riding for granted - including the time in the stall. They are meticulous and gentle and grateful. They linger.
There is no way to quantitatively compare the goals I've accomplished as an older rider. I don't actually "compete" now, but I do know that all the nemeses of my youth that prevented daily riding have vanished. Never do I worry about weather, chronic lameness, fear, horse attitude, or any other issue that seemed so prevalent in the horse world when I was younger. I ride without a bit, usually bareback, without lunging first, every single day on young Thoroughbreds. That seems like a masters world record to me!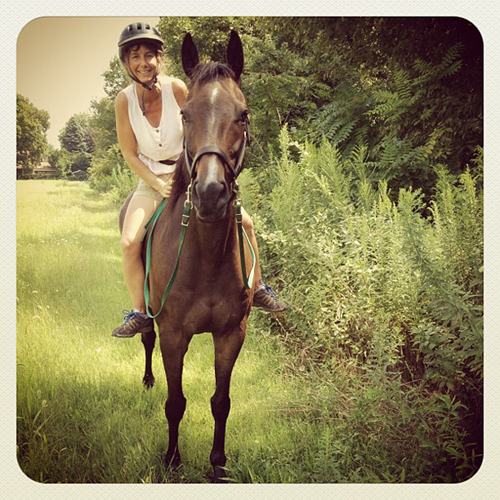 Sovereign, off-track-Thoroughbred Suave Lord, and me out on the trail, bareback and in just his halter, August 2012.
Photo credit: Sandra Renninger


About the Author: Juliette Ober retrains off-track-Thoroughbreds (OTTB) to be safe riding horses on her Pennsylvania farm. She rides her three rescued Thoroughbred geldings daily in a bitless bridle and usually bareback. When not at the barn, Juliette enjoys long distance running with husband, Brian, and daughter, Maizie. Her Thoroughbred retraining blog www.honeysucklefaire.com chronicles her bitless adventures. More stories about Juliette's style of riding can be read at www.foundinthefog.com.