A Vermont Equestrian Vacation at The Mountain Top Inn & Resort
Mother and daughter equestrians enjoy a summertime horseback riding vacation in Vermont's Green Mountains.
by Caroline Maffry
Known as a premiere four-season destination, The Mountain Top Inn & Resort is nestled in Vermont's Green Mountains and surrounded by breathtaking views of the nearby peaks just beyond the Chittenden Reservoir. This is the quintessential New England vacation for all seasons!
I decided to see what they had to offer for summer and fall activities and after a weekend retreat with my daughter, Mountain Top Inn & Resort certainly lived up to all it boasts. We had a weekend full of fun and relaxation.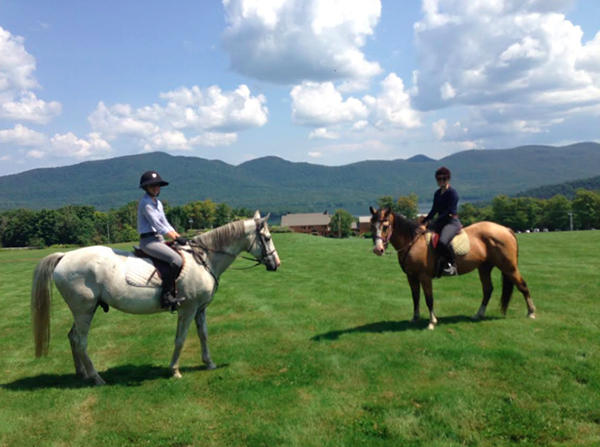 The author, Caroline Maffry, and her daugter riding at The Mountain Top Inn.
Exploring The Mountain Top Inn's History

While enjoying this beautiful morning scenery, I wanted to learn a little about the area and it's history, so I set off exploring the lodge. Started as a turnip farm in 1871, the property evolved from a barn to a tavern and then an exclusive summer resort in 1940, when purchased by the Barstow family, associates of Thomas Edison.
Changing hands again in 1946, the Wolfe's gave it its current name of Mountain Top Inn in 1947. The Wolfe's hosted President Eisenhower at the Inn in 1955 for a fishing expedition, making this "the place" to retreat. With nearby ski areas growing through the 50's, the Inn became a premiere ski center in 1964 with its vast trails for cross-country skiing. Although nearly destroyed by a fire in 1977, the Inn was rebuilt and changed hands one last time in 2002, allowing the present day resort to flourish into the Inn & Resort it is today.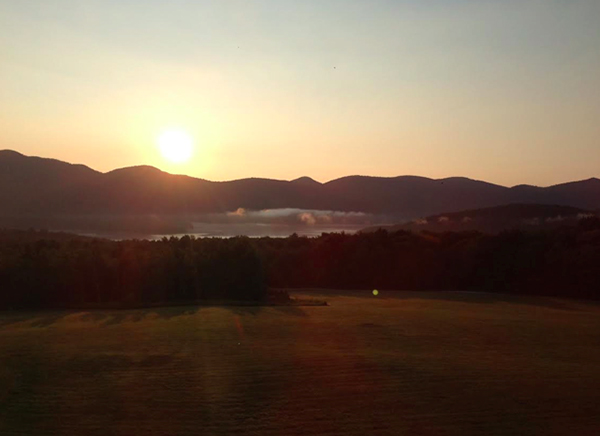 Sunrise view from the "Pheasant Ridge" room at the Mountain Top Inn & Resort, Vermont.
A Morning Horseback Ride

With both of us being avid equestrians, our stay had to start with a morning ride. The equestrian facilities at The Mountain Top Inn & Resort are open from May to October and have quite a selection of options from which to choose. Guided trails allow you to explore 40 plus miles of trails through thousands of acres of National Forrest that surround the Resort. Riding lessons are available in two different arena as well as on the cross-country course. Clinics are scheduled monthly and a children's horsemanship camp and pony rides are options for the younger horse lovers in the family.
As we prepared for our trail ride, the activities center bustled with families, couples and groups of friends coming in to schedule their day. Calls were endlessly answered for reservations from guests still in their rooms. The friendly staff explained different trail options for hikers, and a children's camp was taking place in the nearby barn, with eager kids looking to meet their horses.
Louise, the activities center manager introduced us to Kyra, our guide for our morning ride. As we discussed the various options for our morning ride out, we chose to take a more advanced ride that skirted the lake with trails through the National Forrest next to the lake. We met our horses, Tonka and Casper, and opted for English saddles that we are most accustomed with, (western saddles are available too), and headed on our way down the wooded trail.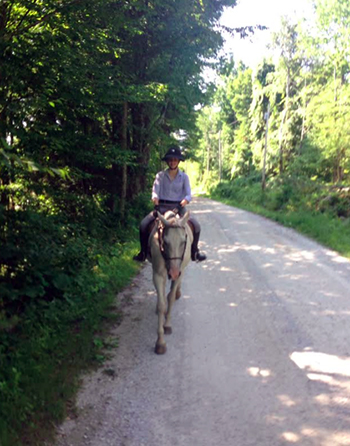 Riding shaded Vermont trails.
The National Forest was a summer delight as we enjoyed a canopy of green above our heads that shaded us from the summer sun. We crossed over streams and ponds on wooden bridges, picked up long trots on the flat trails, climbed steep banks and listened to the wildlife hiding out of sight.
As we came to one bridge crossing, our guide's horse paused and perked its ears. The other horses followed suit, and we asked our guide if there was something ahead. Although there was nothing any of us could see, we were told that the horses were likely smelling the young bear that had been recently sighted in the area. My daughter and I looked at each other and immediately knew what the other was thinking!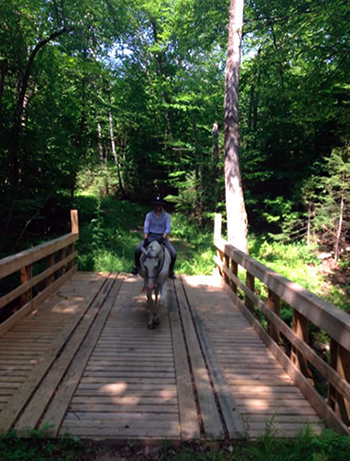 In addition to trail rides, riders can also take advantage of Jumping and Introduction to Cross Country Jumping instruction and clinics.
Our guide dismounted and coaxed her horse on foot over the bridge, which comforted our horses to follow. Fairly comfortable off the ground and on horseback with a bear likely nearby, we did proceed forward with a keener eye on the thick forest surrounding us. As much as we were secretly curious to encounter a bear or a moose, also not uncommon in Vermont, we were happy we only saw a deer, which briefly startled us. All a part of the fun and experience!
Activities Beyond the Stables

Beyond the stables, the Resort has so much to offer with an array of options for couples, friends or families to enjoy together! We sampled as many as we could during our stay and yet still did not get to try everything.
Starting with the pontoon boat ride around the lake, we cruised along with a picnic prepared by the Inn's kitchen. Our captain for the hour was named Joe, and he shared with us his own story of how he came to Mountain Top. Initially a guest of the Inn for many years, he and his wife eventually decided that they loved this spot so much that they bought property of their own about a mile from the Inn to retreat to during the summer. They grew to love the area more and more and eventually chose to move here permanently, leaving NYC behind for this idyllic spot in Vermont.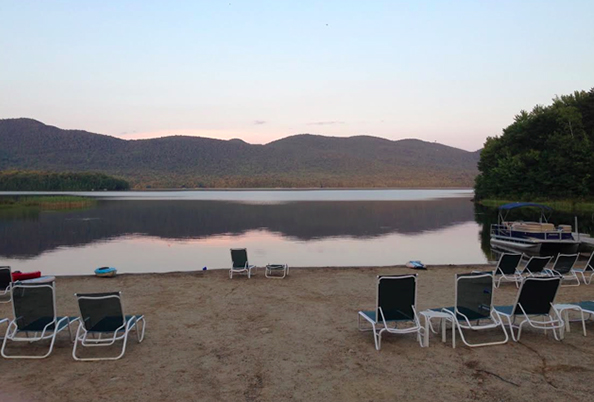 The Mountain Top Inn's Private Beach is located less than a mile from the Main Lodge.
Sunbathing or swimming can be enjoyed at the Lake's "beach". Mountain Top guests can also use the complimentary paddleboards, canoes, or kayaks and explore the lake. Or have the kitchen prepare you and your guests a picnic lunch and cruise the lake on the pontoon boat.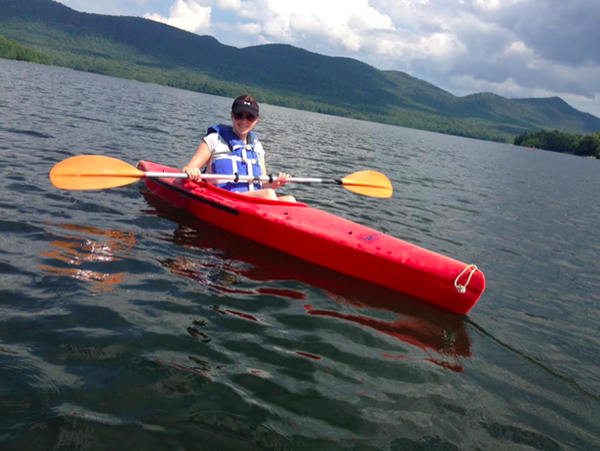 My daughter and I tried the paddle boarding and kayaks on the perfect, glassy waters.
Instructed and overseen by Operations Director Roger Hill, the Inn offers clay bird shooting for half hour periods. This activity is available to guests 15 years old and above. Although a bit skeptical at first, we were up for trying something new. As a result, my daughter said this experience was the highlight of her trip. We also soon realized that this was a fun activity that the whole family can try and enjoy together. Like Joe on the pontoon cruise, Roger too started coming to the Inn as a boy with his mother. He later met his wife here and now heads up the Inn's operations as director.
Additional activities include several family games that can be played out on the lawn behind the resort including horseshoes, croquet, badminton, and tennis, not to mention the Inn's outdoor pool and hot tub, a fitness center, massage therapy, and yoga classes.
Fishing, clay bird shooting, disc golf and more are offered at The Mountain Top Inn.
The Highlands Dining Room & Mountain Top Tavern

Breakfast, lunch, and dinner can be enjoyed in two delightful settings overlooking the lake. We sat on the terrace during a beautiful summer night and enjoyed a three-course meal. The view was breathtaking every minute of meal. The colors jumped out at you from the greenest of greens covering the mountain tops, to the vast emerald lawns on both sides of the Inn, perfectly manicured and covering the hills like green satin and secretly nestled as an oasis in the endless sea of forest.
The wild flowers colored with purples, yellows, pinks, and whites draped the edge of the dining terrace. Delicately moving from flower to flower in a slow motion that was hypnotic to watch, we were peacefully entertained by hummingbirds while we ate. The sun set beyond the mountains and we retired after a wonderful day at the Inn.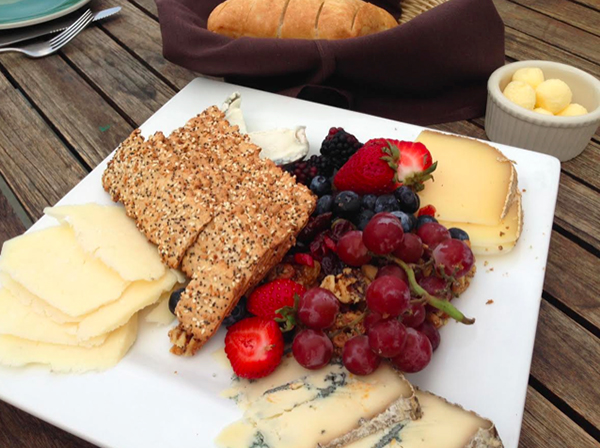 A selection of Vermont's own cheeses, which included a Grafton 5 year old cheddar; a Boucher Family Farm "Gore-Dawn-Zola" from Highgate; a Lake's Edge Blue Ledge Farm Ash ripened goat's milk cheese from Leicester; and a Woodcock Farm Magic Mountain sheep's milk cheese from Weston. We could not decide which was our favorite!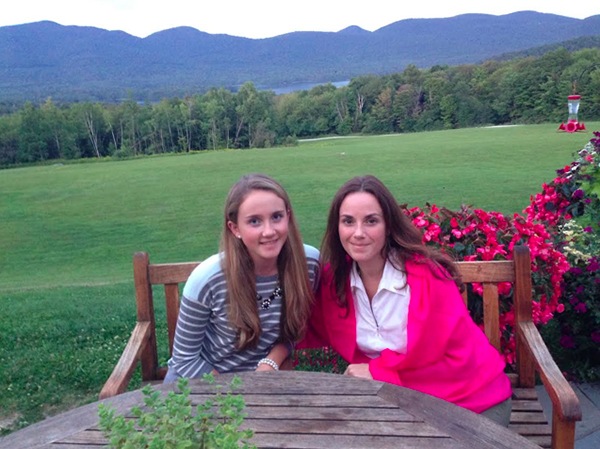 Post dinner at the Highlands Dining Room Terrace.
Impressions of Vermont

We headed out of Vermont, marveling as much as when we arrived at how green everything was and how simple things were, yet we were perfectly content, not missing our phones or the electronics we have come to rely on in the big city. The roadside signs for sweet corn and blueberries and woodcrafts had us making unplanned stops despite trying to keep to our travel schedule. The northern clouds that sat low in the sky were full and invited us to try to reach out and touch them. It seemed like the mountaintops were reaching for them too. The Mountain Top Inn & Resort was a perfect setting for an equestrian vacation and so much more!

Learn more about Vermont horseback riding vacations on The Mountain Top Inn & Resort's website and on their page in the Equitrekking Vacation Guide.