A Snowy Horseback Ride in Armenia
Winter gives way to spring at Apaga Resort in Armenia.
by Yulia Frolova
Every time I travel, there is always a certain level of probability that something will not go as planned. A couple of times I missed confirmed and prepaid rides. All types of big and small changes of plans happened on the go. But as I'm becoming a more experienced traveler, cases like this are becoming less and less. I now plan my schedule better, I pack as a professional, and I draw the maps and write all the contact details on a piece of paper, just in case my phone battery dies unexpectedly.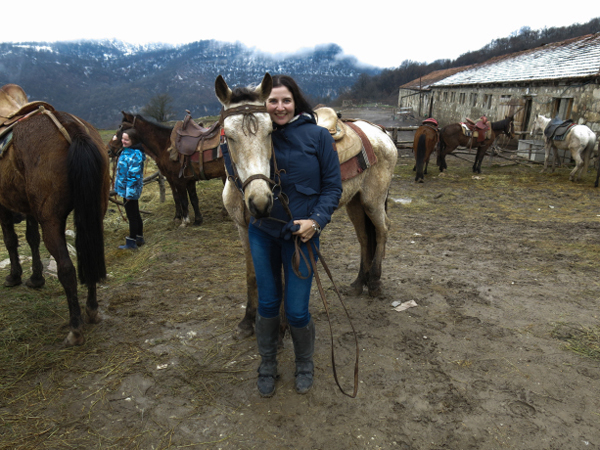 This time, we left Tbilisi four hours in advance (although the trip should have taken us only two and a half hours) so we would have enough time for border formalities and in the unlikely event of getting lost on the way to Apaga Resort.
When we finally got to the resort, located on top of a mountain, everything around us was white and deserted. The combination of fresh snow and heavy fog seemed to wipe out all our hopes for a pleasant ride (I was positive that no one will let us ride in such conditions).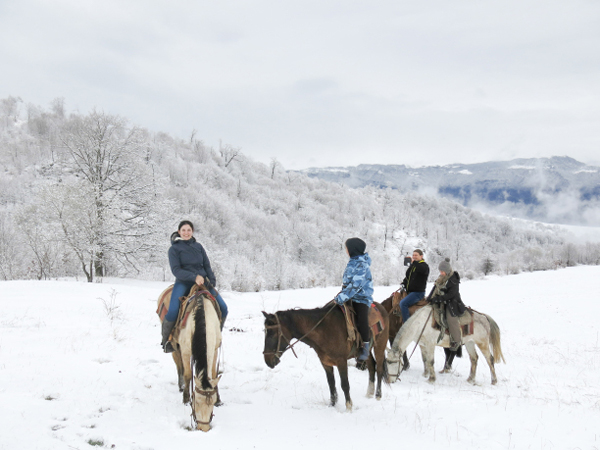 Out of the fog came a man who met us, asked our names, said that we had to wait for three more riders to arrive, and invited us to the warm and welcoming guesthouse. Three more? It was hard to believe that not one, but three more people were crazy enough to ride in these conditions.
About an hour later, when we felt too comfortable to leave the cozy armchairs next to the fireplace, our guide, Arman, came with the other riders and told us that the horses were ready.
Somehow when we ride in a group, I always get the most beautiful horse. This time was no exception. I got eight-year-old buckskin gelding Chanel. "Why name a gelding Chanel," you may ask? Because kids staying at Apaga Resort the year Chanel was born thought that he was a filly (only a filly could be so pretty, right?).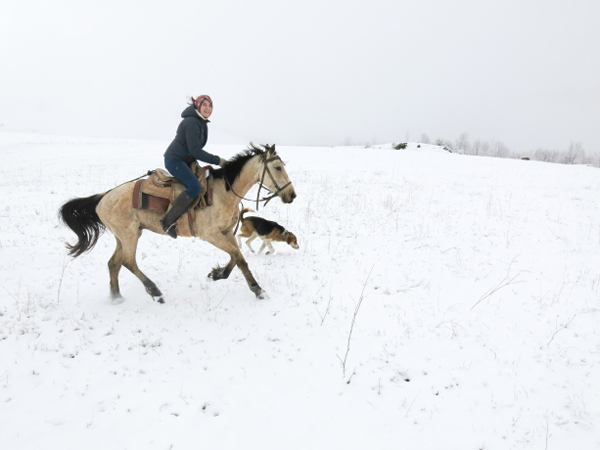 The majority of Apaga horses are a crossbreed of thoroughbred stallions and local mares. From thoroughbreds they take friskiness and from local breeds stamina and sturdiness.
Our ride was international by all means: An Armenian guide, three Kazakhstani (all living abroad), and a French lady traveling with a Russian interpreter.
We made ourselves comfortable in the locally produced saddles, and off we went, first through the milky fog, then up and up the hill, rising above the cloud we'd been in. When the sky completely cleared, Arman invited us to canter down the hill. Cantering on the snow is an enjoyable experience. I know it will come as a surprise, but it was my first snow ride in about 20 years.
Frolicking canter changed to relaxing walk uphill again, when Arman who was riding in front of me turned 180 degrees in the saddle. He also told me that Chanel is calm enough for me to do the same. Of course I did—a surprisingly comfortable way of riding, I must say.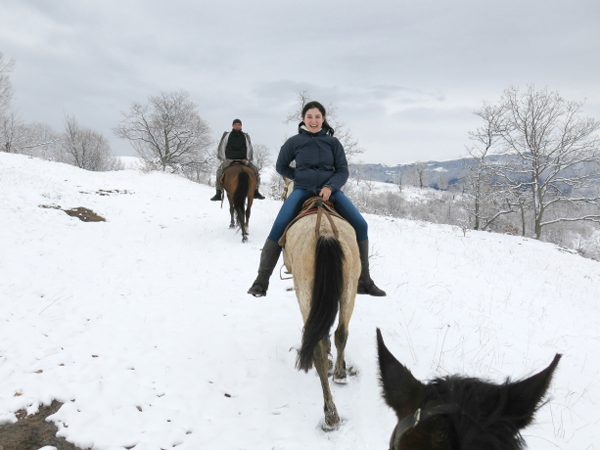 Describing the landscape as "beautiful" would be a serious understatement—it was awe-inspiring. I also realized that I completely forgot how fresh the air could be.
One thing I have learned about trail-ride horses is that the best thing you can do for both of you is to give them long reins and let them balance without interference. This is especially true for riding downhill. With the long reins, Chanel moved down in dressage-perfect lateral moves.
After getting on top of another hill, we saw this: Down the valley, the Ijevan full-bloom spring was artistically surrounded in the patterned frame of winter. With our eyes adjusted to all shades of surrounding white, I guess we saw it even more saturated than it was in reality.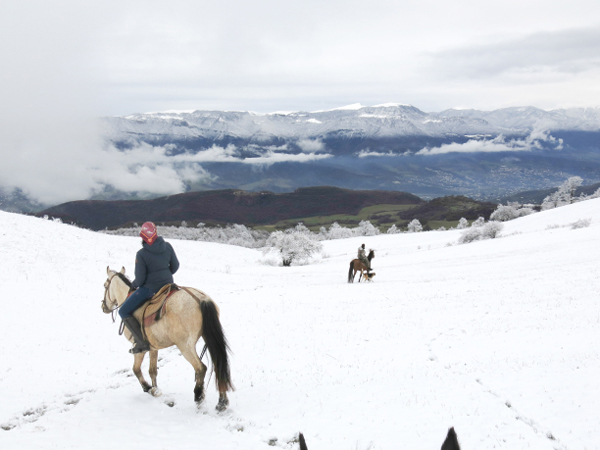 At a certain point, I realized that no photo will convey the feel of the place, so I gave up taking pictures and started to simply "drink" the beauty with my eyes.
We walked down to the quite-distinct border of spring and winter, and I saw how spring was made. Horses would step on the thin layer of snow, and when their hoofs go up, you would see an uncovered spot of green grass . . . six horses, 24 hoofs made the slope greener and greener with every step. Ten more minutes down the valley and even the memory of winter faded, defeated by spring that shamelessly crawled from everywhere. I looked back to see if it was a dream. It wasn't.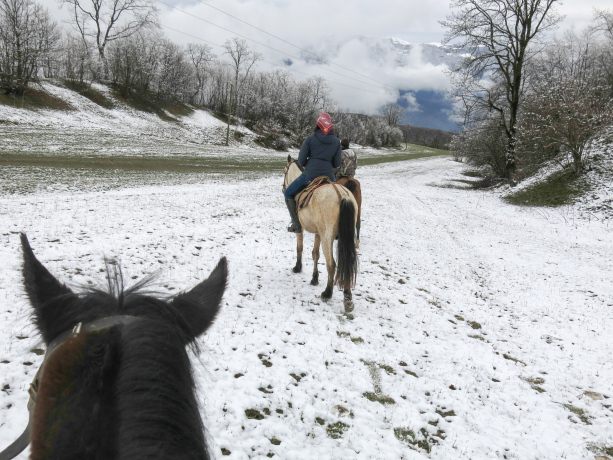 We cantered again, over the green blossoming hills. Something clicked, and I thought that one of the horses lost a shoe, but it was Arman's stirrup leather that broke, and he lost a stirrup. We made a short detour to his house to fix it.
We were met by his wife and kids and were offered aromatic tea with delicious homemade blackberry jam. Warming up by the metal furnace and browsing through photo albums that Arman's cute four-year-old daughter brought to us were pleasurable. The albums contained photos of the family and horses.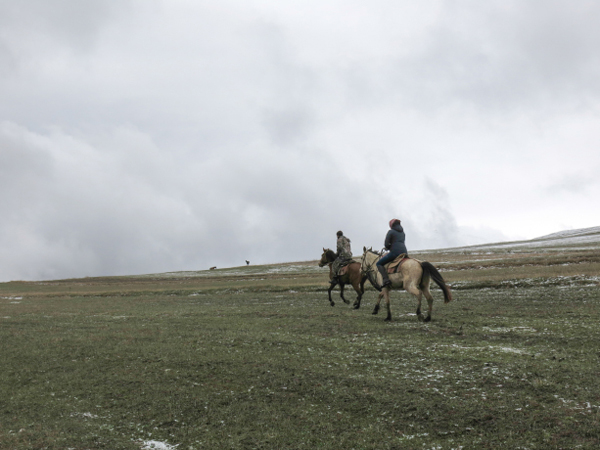 Thirty more minutes and we were back to the resort. The trip that seemed impossible just four hours ago became a refreshing and revitalizing experience, which wiped off all my worries.
If you happen to travel to Armenia, give this place a chance. It's beautiful all year round, and I'm sure you won't regret it.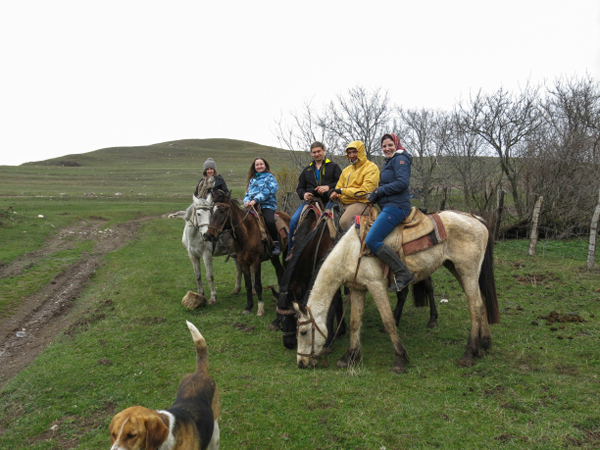 About the author: Yulia Frolova, self-proclaimed literal "globe trotter" who set herself a goal of riding a horse in every country she visits. Her count so far: 31. Her carrier requires 15-20 international travels a year and might be considered a big obstacle for horse riding, but she sees it as an opportunity to try different riding styles and learn from horsemen all around the globe. Visit her blog where she keeps chronicles of her travels and experiences and follow her on Instagram @equi_geo.