A Day at the Mongolian Horse Races
Mongolia is a destination that I've been hoping to visit for quite some time. Of course, summer is the best time to visit Mongolia, a landlocked country in East and Central Asia bordered by Russia to the north and China to the south, east and west. Mongolia is the 19th largest and the most sparsely populated independent country in the world-- meaning there's lots of room to roam.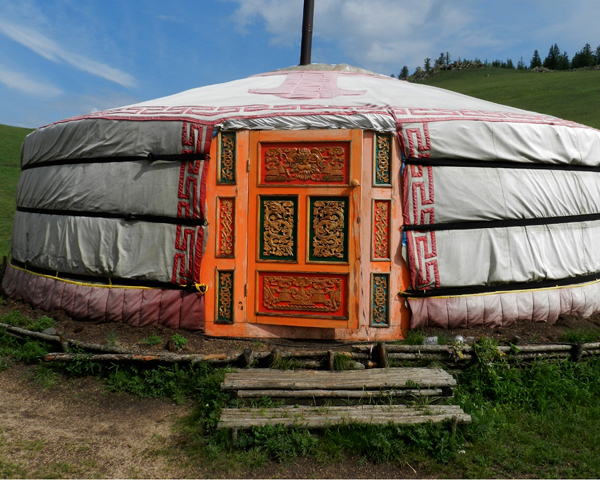 A traditional Mongolian ger or yurt. This one is used as the dining tent by Stone Horse Expeditions & Travel, outfitters who take guests on horseback riding adventures in Mongolia.
I imagine galloping across the steppes, vast grasslands that cover much of the country. It's this grass and open sky that remind me of Montana, only on the steppes, instead of cowboys, you may come across nomadic families and their yurts or gers. These are portable, expanding wooden circular framed homes that can be easily dismantled and carried compactly on camels or yaks to the next location of grazing or settlement.
The above well-done video from CNN captures a day at the Mongolia horse races, where kids, who are in the saddle and learning to ride before they can walk, are the jockeys.
Horse racing is the second most popular event in Mongolia, after traditional wrestling. July 11th each year marks the start of the annual Naadam Festival in the Mongolian capital Ulaanbaatar. Though there are Naadams throughout the country during midsummer, the one held in Ulaanbaatar's National Sports Stadium is the largest festival in the country. It features an opening ceremony with dance, athletes, horse racing, music and more. Mongolians then compete in wrestling, horse racing and archery-- the so called "three games of men," though women and girls are now competing in horse racing and archery as well.

This is a popular time for travelers to visit Mongolia to soak in colorful horse culture and history... whether it's on or off horseback.
Learn more about visiting Mongolia on a horse riding holiday with Stone Horse Expeditions & Travel in the Equitrekking Vacation Guide to great dude ranches, guest ranches, and horseback riding vacations around the world.