9 Great Yellowstone National Park Ranch Vacations
Top dude ranches and guest ranches conveniently located near Yellowstone National Park in Montana, Idaho and Wyoming, so you can visit America's first national park before, after or during your next ranch vacation.
After featuring dude ranches near national parks, including in an Equitrekking PBS TV Special on Great National Parks, and receiving emails from travelers who want to combine a ranch vacation with a visit to Yellowstone National Park in particular, we decided to feature great dude ranches near Yellowstone, so you can combine a ranch vacation with a trip to this iconic national park.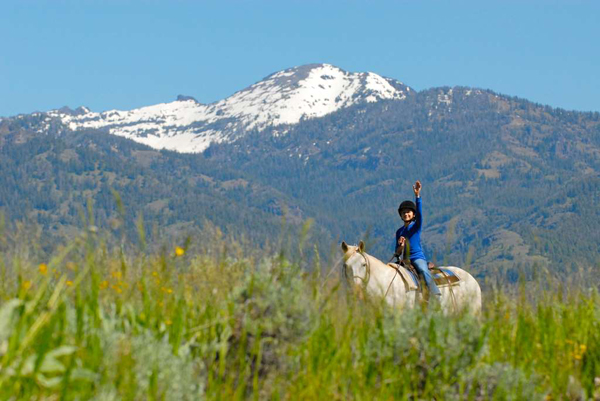 With Mountain Sky Guest Ranch, guests aged 13 and older can enjoy a special ride on their favorite ranch horse into Yellowstone National Park.

1. Lone Mountain Ranch in Big Sky Montana
This guest ranch is unique in that you can take a day trip to horseback ride into Yellowstone National Park. At only 18 miles from the Northwest Corner and 48 miles from the town of West Yellowstone, Lone Mountain Ranch offers year-round Yellowstone tours by horseback, cross country skis, snowshoes, heated snow coach or snowmobile.
2. Gros Ventre River Ranch in Moose, Wyoming
Located 60 miles from the southern entrance of Yellowstone National Park and 18 miles from Grand Teton National Park, you can hit two great parks from this convenient ranch's location. The ranch is also located 18 miles from the town of Jackson whose western heritage is reflected in the art galleries, restaurants and events around the famous Town Square. Many guests rent a car and enjoy a day trip to Yellowstone. The ranch will pack you a deluxe picnic lunch and have dinner waiting for you upon your return.
3. T Cross Ranch in Dubois, Wyoming
Located in the greater Yellowstone area, it's about a 2.5 hour drive from the historic T Cross Ranch to Yellowstone's South Entrance, along a scenic 100 miles of roadway. The charming town of Dubois, surrounded by the Absaroka and Wind River Mountains, is often called the Gateway to Yellowstone. This is a great pick for a family ranch vacation and melding in Yellowstone before or after your ranch visit.
4. Paradise Guest Ranch in Buffalo, Wyoming
A three hour trip, many Paradise Ranch guests combine their Paradise Ranch stay with a Yellowstone vacation either prior to or after their ranch holiday. The ranch is located in Buffalo, nestled in the foothills of the stunning Big Horn Mountains and conveniently located at the intersections of Interstates 25 and 90. Many other Wyoming sites are within a short drive including Fort Phil Kearney and the historic "Hole in the Wall" hideout of Butch Cassidy and the Sundance Kid along with the rest of the "Wild Bunch."
5. Mountain Sky Guest Ranch in Emigrant, Montana

Just 30 miles from the North Entrance of Yellowstone National Park, Mountain Sky Guest Ranch offers guided van tours of Yellowstone, day-long Yellowstone Horseback Rides and Yellowstone fly-fishing. For a cool adventure, trail ride to some of the park's fishing holes. Mountain Sky Guest Ranch also offers special whitewater rafting trips on the Yellowstone River. Guests may also consider visiting Livingston (less than an hour's drive) and Bozeman (1 hour and 15 minutes drive time), towns which offer fine western cuisine, charming shops and the Depot Museum.
6. 63 Ranch in Livingston, Montana

Just over 50 miles south of 63 Ranch, Yellowstone National Park is about a 1.5 hour drive from this longtime dude ranch, a National Historic Site. While at this western working dude ranch, guests may join cowboys to gather cattle, learn to rope and explore the adjoining Gallatin National Forest and Absaroka Beartooth Wilderness Area. Nearby Livingston is a picturesque railroad town you also might want to visit.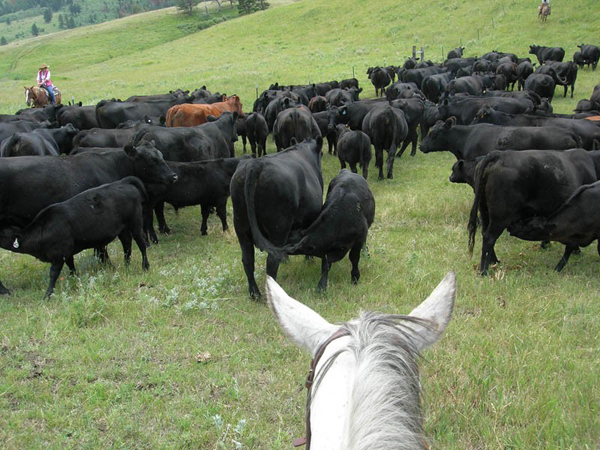 A through the ears shot, driving cattle, with 63 Ranch.
7. 7D Ranch in Cody, Wyoming

Located in remote Sunlight Basin, 50 miles northwest of Cody in the heart of the Absaroka Mountains, the 7D Ranch is about an hour from the Northeast Entrance of Yellowstone National Park. This is one of the oldest dude ranches in Wyoming, offering a strong children's program, special weeks and pack trips ranging from 3 to 14 days into the North Absaroka Wilderness, Beartooth Mountains, and Yellowstone National Park.
8. Hubbard's Six Quarter Circle Ranch in Emigrant, Montana
This guest ranch is located on the border of Yellowstone National Park in Montana and offers guests the chance to work cattle in the Gallatin Mountains. Yellowstone National Park's Gardiner entrance is 25 minutes away and the ranch offers packed lunches to those who'd like to make a day trip. While at the ranch, riders explore pristine wilderness on the edge of Yellowstone National Park.
9. McGarry Ranches in Rexburg, Idaho
Located 90 miles west of Jackson Hole, Wyoming in the upper Snake River Valley and along the South Fork of the Snake River in Idaho, Yellowstone National park is approximately 1.5 hours north of this working Idaho ranch. Guests drive Highway 20 North to West Yellowstone, Montana and the entrance to the park. While at the ranch, experienced riders may join cowboys in calving, branding, gathering, and cattle drives from the summer range to the fall range.
Learn more about great ranch vacations in the Equitrekking Vacation Guide, an online, searchable travel guide to great dude ranches, guest ranches and global horseback riding vacations and at Top20Ranches. Check out exclusive ranch and riding vacation travel deals on Equitrekking Travel Deals.