9 Great Arizona Ranch Vacations- Rancho de los Caballeros
A dude ranch resort in the Sonoran Desert, Rancho de los Caballeros attracts travelers who want to mix time with horses and golf, the spa, nature adventures and Western hospitality.
by Darley Newman
Located in Wickenburg, Rancho de los Caballeros is an upscale Western vacation destination, mixing a range of experiences to satisfy guests who want a ranch and resort experience combined. Enjoy team penning or a desert horseback ride followed by a soothing hot stone massage or leisurely game of golf. Catering to corporate groups as well as single travelers and families, the ranch has been welcoming guests since 1948. Read on to get the scoop on the type of rider and guest for this ranch is best suited.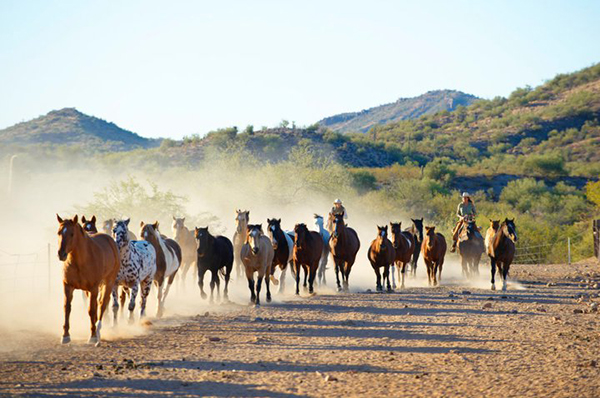 Guest relish in seeing horses on their regular morning run into the stables.
Straight From the Ranch
First Time Riders/ Beginners
This ranch attracts the first time rider with 100 head of well trained horses to accommodate every level of rider. We also hire highly experienced wranglers trained to carefully assess the riders ability to assure a safe and fun ride.
For the Experienced Horseman or Horsewoman
Rancho de los Caballeros offers rides for each level of experience, so if a loping ride is more to your liking, we can accommodate. Also we have 20,000 acres of beautiful Sonoran desert on which to ride. You never have to ride the same trail twice!
Famous Ranch Features
Rancho de los Caballeros is unique because we can offer you everything a standard dude ranch offers but so much more. We have a little something for everyone. Play a little golf on our 18 hole championship level golf course or enjoy a relaxing massage after an afternoon of riding at our beautiful spa. Definitely don't forget the 4 star quality meals.


Learn about other quality Arizona guest ranches that have met the high standards of the Arizona Dude Ranch Association and check out Special Travel Discounts and Deals at Arizona ranches.
Check out more great ranches in the Equitrekking Vacation Guide and at Top20Ranches.com and top Travel Deals.


9 Great Arizona Ranch Vacations- #8 Flying E Ranch