5 Great Ranches You Won't Find in the American West
When most people think about horseback riding ranches, they conjure up images of riding with cowboys in the American West. While there are lots of great western dude ranches and guest ranches, we've discovered ranches throughout the world that welcome travelers to saddle up and experience western riding outside of the American West.
In this week's YQA (Your Questions Answered), here are some ideas for Western style ranches that offer riding programs for all levels of riders and might be closer to your home. If the Maui ranch is close to you, I'm coming to visit. ; )

Southern Cross Guest Ranch, Georgia
For all you East Coast riders, Southern Cross Guest Ranch is conveniently located about an hour east of Atlanta, Georgia and offers year-round riding vacations for all experience levels. There are lots of horses to choose from on this ranch with over 150 Paint and Quarter horses. In fact, the owners have been breeding horses for over 25 years. You may even be lucky enough to meet some new foals while you're there.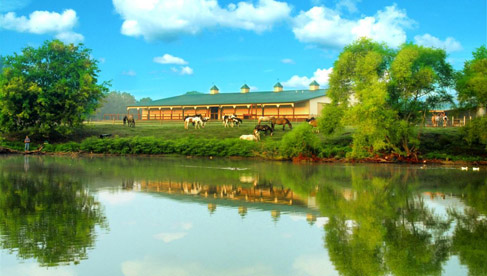 Area attractions include the historic town of Madison with its antebellum homes, antiques stores and gardens, Lake Oconee and Georgia's Stone Mountain Park.
Learn more about Southern Cross Guest Ranch.
Marriott Ranch, Virginia
Less than 60 miles from Washington, D.C., Marriott Ranch welcomes all levels of horse riders to try City Slicker & Western Vacation Packages, riding in the foothills of the Blue Ridge Mountains in Hume, Virginia. The ranch runs parallel to Skyline Drive, a scenic road that threads its way through Shenandoah National Park. During colonial times, this land was owned by Thomas, sixth Lord Fairfax, the Baron of Cameron, a member of the British aristocracy who inherited over five million acres in northern Virginia and many places throughout the region, including the city of Fairfax, bear his name.


The ranch was purchased by J.W. Marriott Sr., as a private retreat in 1951. Prominent guests like Presidents Reagan and Eisenhower and other world leaders would come to experience life on the range at J.W. Marriot's retreat and today, you can ride and stay at the Inn at Fairfield Farm on the property.
Read Marriott Ranch Horseback Riding with Longhorns.
Learn about horseback riding at Marriott Ranch.
Rancho las Cascadas, Mexico
Guests can saddle up at this upscale ranch resort located in the mountains just 90 minutes North of Mexico City's International Airport for year-round riding, yoga retreats, corporate team building and Mexican cuisine. Be prepared for some spice, because chili is a common ingredient in many of these meals.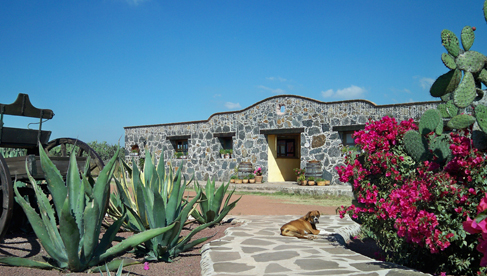 Ride horses through countryside, cross rivers, swim on horseback in the lake or challenge yourself on rocky mountain trails.
Learn more about Rancho las Cascadas.
Tod Mountain Ranch, British Columbia
Tod Mountain Ranch is an intimate guest ranch located mid-way between Banff and Vancouver. With mountain trails, meadows and forests, there's a variety of terrain to conquer at this guest ranch that offers riding holidays for riders of all abilities and riding lessons. In addition to the horseback rides, there are hiking and mountain biking trails.


All inclusive packages includes 5 - 6 hours of horseback riding daily, accommodation in luxuriously furnished cabins, home cooked meals and all on-site activities.
Learn more about Tod Mountain Ranch in Equitrekking Vacation Guide.
Meet Your Host at Tod Mountain, Tracey O'Connell.
Piiholo Ranch, Maui

This Western style working ranch on Maui is owned by an iconic Maui family, the Baldwins. The Baldwins have been on Maui since the missionary era of the 1830s. Today, Baldwin descendants share their history and culture with travelers through horseback rides at their Upcountry ranch. Piiholo's tropical flowers and lush surroundings, mixed with vast grasslands and pastures, grant travelers a different view of Maui and of Western style ranches, far away from the beaches and very far from mainland American ranches.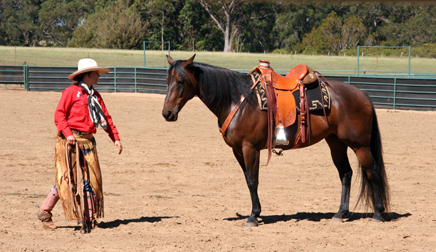 This ranch has a variety of riding adventures for all abilities. You can't stay at the ranch, but there are cool accommodations in nearby Makawao, a Western town, and many Maui resorts, or you can saddle up on an horse riding self-drive tour of Maui with EquitrekkingTravel.com.

Learn about the Baldwin Family and Piiholo Ranch's history.
Visit Piiholo on the Maui Horseback RIding Vacation.
Learn more about exploring your world on horseback in the Equitrekking Vacation Guide, a comprehensive resource for dude ranches, riding holidays, cattle drives and equestrian escapes.