5 Great Equestrian Communities- #1 Bend
If you're looking for a West Coast equestrian community, Bend, Oregon has wonderful trail riding and outdoor opportunities. Check out why it's on our list of great horse towns.
by Claire Caldwell
Bend, OR
"Mill town turned adventure playground"—recreation in the form of paddle, saddle, cycle and beyond in wide open spaces.

Guided trail rides are one of the many fun-filled activities to enjoy in Bend, Oregon. The equestrian adventures often weave through the Deschutes National Forest, following the Deschutes River or wandering into the Three Sisters Wilderness where glimpses of the majestic Broken Top and Mt. Washington can be seen. Enjoy the tranquility of the juniper and aspen trees, the fresh evergreen scent of the massive ponderosa pines, and the profound force of the historic volcanic formations along the trail.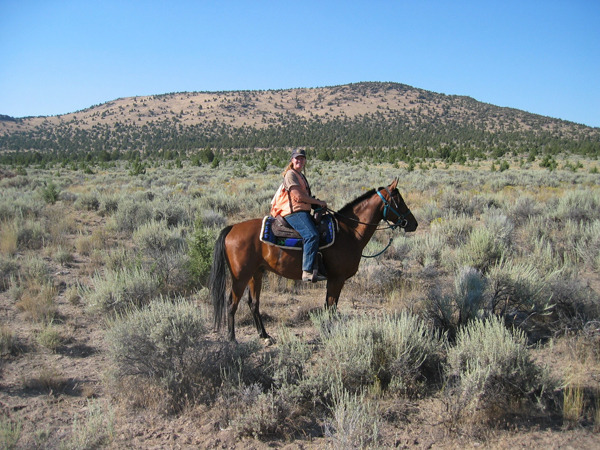 Trail riding in the Deschutes National Forest.
If you aren't bringing your own horse, consider riding Central Oregon's trails with Brasada Ranch, an equestrian vacation destination. A Preferred Hotel & Resort in Bend situated on 3,500 acres, the ranch overlooks the Cascade Mountain Range and riding trails reveal themselves in all directions.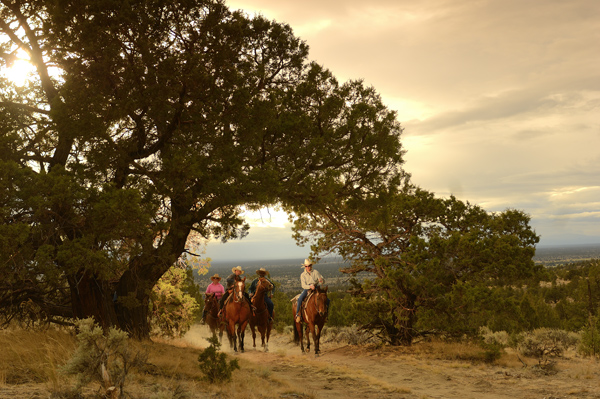 At Brasada Trails, each ride is personalized to suit the rider. There are no "nose to tail" horses.
Ride south into the Oregon Badlands, which stretch to the south for as far as the eye can see. Take a truly challenging horse ride and head east, up the rimrock-studded hills that climb the backside of Powell Butte, where you'll be treated to stunning views of Brasada Ranch, the high desert and the snow-topped peaks of the Cascade Range.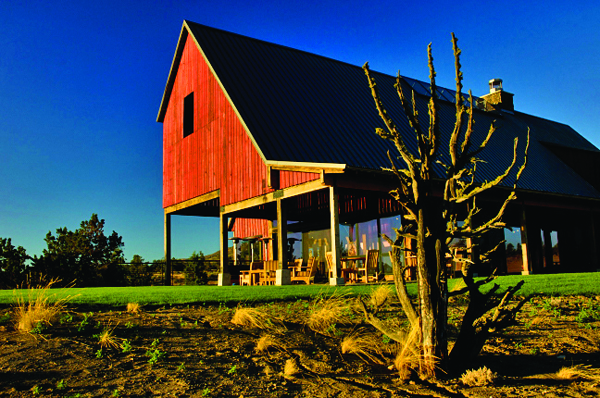 The barn at Brasada Ranch, offering a full range of instruction for riders of all ages and abilities.
Brasada Ranch is also a popular spectator's venue. Dressage, hunter-jumper and reining are just some disciplines for which events are held at the ranch's equestrian center. For non-riding companions, the ranch boasts a Peter Jacobsen designed golf course, outdoor pools with water slide and "lazy river".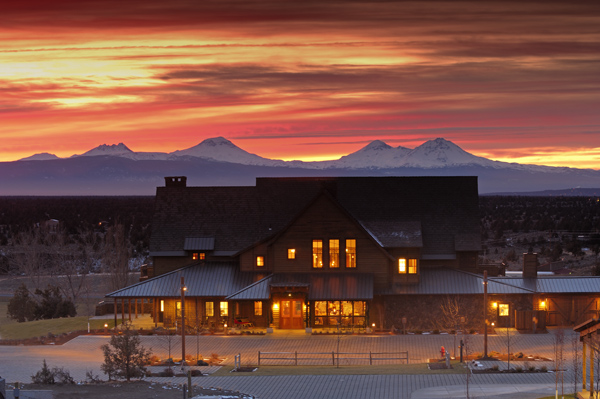 Brasada Ranch, a Preferred Hotel & Resort in Bend, Oregon is situated on 1800 acres in scenic Central Oregon.
In Bend, Oregon, there is no lack of enthusiasm for another type of saddle: the bicycle saddle. When you're not enjoying nature outings by horse, partake in the avid cycling culture that's found a home in Bend. Bend hosts a variety of cycling competitions including the Junior Road Nationals, Cycolcross Nationals, Masters Road Nationals, the Marathon MTB Nationals and (last but not least) the USA Cycling National Championships. There are plenty of opportunities for spectatorship!
If horseback riding and cycling events don't tie you up entirely, there is also a Roundabout Art Route, a tour of the town's art situated, literally, in the roundabouts of the city, and a Bend Ale Tour, a tour of nine local breweries.
Photo Credit Pete Alport/ Visit Bend.
Weather in Bend, Oregon is relatively mild in the summers with colder, snowy winters—all the better for the host of winter sports to be found in the area! Bundle up and enjoy skiing, ice-skating, sled-dog rides, tubing and more in this cool equestrian and adventure community!
Read about our #2 pick for equestrian communities-- Ocala, Florida.
Author Bio: Claire Caldwell is a freelance journalist with a Bachelor's Degree in English Literature and French language from American University in Washington, DC. She is an avid world traveler, having lived in the United States as well as Europe she has also spent time in the Caribbean and Northern Africa. While living in Paris, France, Claire blogged about the differences between linguistic and cultural traditions between America and France as well as about hot-spots and tips for traveling to the City of Lights. She has also worked for the women's travel site, Pink Pangea, blogging about safe ways for women to travel the world independently.