5 Great Ranches, Lodges & Vacations for Sporty Dads
Got a dad who loves the great outdoors? Check out these lodges, ranches and multi-sport vacations that cater to a father's love of fly-fishing, horseback riding, golf and more.
Years ago I took a father/ daughter trip to explore our family roots in Scandinavia. Both sides of my family hail from Sweden and Finland, so my dad and I went to explore our genealogy and past. It was an amazing adventure and a bonding experience that was truly once in a lifetime–– seeing Gotland ponies, taking boat rides around Stockholm and dining out in Helsinki. As the years roll on, I value that trip more and more.
One of the best gifts for any dad or parent is spending quality time together. If you want to take it to the next level and book a once in a lifetime adventure, here are some dreamy ideas that sporty dads will love.
Fly-Fishing Dads
For father's who love fly-fishing, Tsylos Park Lodge on shimmering blue Chilko Lake in British Columbia offers fully guided river dry fly fishing for Wild Rainbow Trout on one of the top North America trout rivers and fishing for Bull Trout on Chilko Lake. Remote, wild and untouched, this cozy, classy lodge is the perfect intimate setting for adventure and relaxation.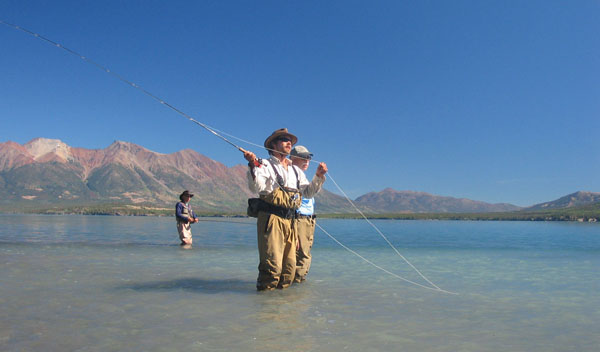 Fly-fishing on Chilko Lake with Tsylos Park Lodge in British Columbia, Canada.
Horsey Dads
There are lots of great ranches for horse riding dads, but Colorado Cattle Company in Northern Coloraod gets rave reviews from dads traveling solo who visit year after year. Of course, you're welcome to travel with dad to this working ranch, but if dad wants to play cowboy alone, this ranch is a welcoming retreat. Help saddle up the horses, herd cattle to new pasture, learn to rope a calf and more at this authentic ranch.
Travel Alert- Colorado Cattle Company offers a Cowboy School. Learn more.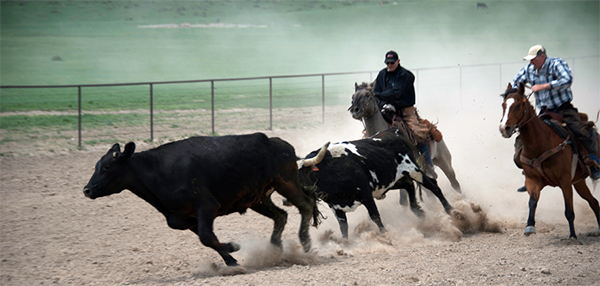 Learning cowboy skills at Colorado Cattle Company, a Top 20 Ranch pick.
Golfing Dads
Head to the Sonoran Desert to Rancho de los Caballeros, an award-winning golf resort and historic ranch, where while dad tees up, mom, daughter or son can horseback ride, relax at the spa, enjoy bird watching or take an ATV or jeep tour. Top rated by Golf Digest, the course is diverse with rolling greens and cool views of Vulture Peak and the Bradshaw Mountains.
A cowboy on the course at Rancho de los Caballeros in Arizona.
Dads Who Hike
While many ranches offer great hiking, Mountain Sky Guest Ranch in Montana stands out as a top pick for fathers who love hiking. Guides take guests through Yellowstone Country, offering early 'Sunrise Hikes' and hiking adventures during various other times of the day.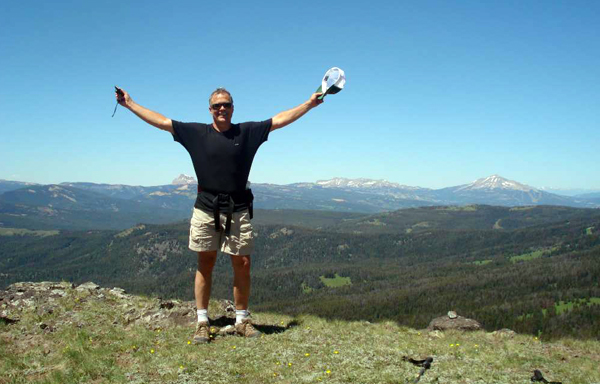 Taking in the views on a mountain hike with Mountain Sky Guest Ranch.
Dads Who Bike
For mountain biking dads, Alisal Guest Ranch & Resort in California is a great pick. Located in the Santa Ynez Valley, a big training area for cyclists and where the Amgen Tour of California has held their Time Trials twice, Alisal offers guided cycling through the rolling hills, open meadows, and beautiful scenery. You can even incorporate area vineyards into your ride, including Fess Parker, Firestone, Curtis and Sanford. Guided cycling packages are offered from September to May with scheduled rides offered during the summer months.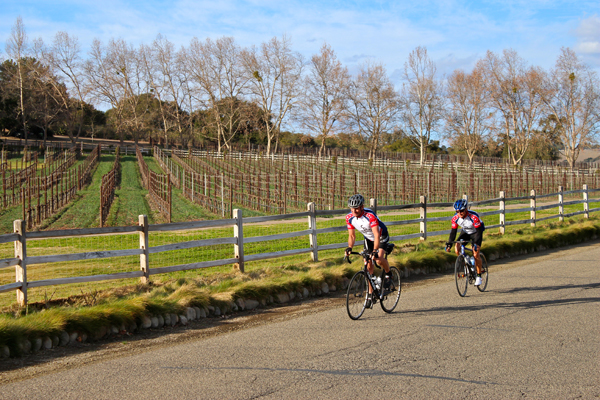 Biking by vineyards with California's Alisal Ranch.
Find more great vacations for dads in the Equitrekking Vacation Guide, where you can search by activity, location and more, and at Equitrekking's Top20Ranches.com.
SaveSave