10 Things to Love about Wyoming Ranch Vacations
From Old West saloons to stunning scenery, things to love about taking a ranch vacation in Wyoming.
by Darley Newman
Wyoming is known as the Cowboy State and for good reason. There are ranches sprinkled throughout the state, especially near Jackson Hole, Dubois and Cody. While some ranches are working ranches that welcome guests, other operate solely as guest ranches, welcoming travelers to experience Wyoming's wide-open spaces and varied terrain. After riding at various ranches throughout the state, including Equitrekking's own Top 20 Ranches, I've outlined some things to love about a ranch vacation specifically in the state of Wyoming.
Riding high with T Cross Ranch.
1. Historic Ranches
Wyoming has a number of historic ranches, meaning you can soak in the past while staying in cool accommodations, absorbing the history of homesteaders and cowboys on your vacation. HF Bar Ranch in Saddlestring has been welcoming guests for over 103 years and has 36 buildings built between 1898 and 1921 by the ranch's original owners. The ranch is on the National Register of Historic Places. Eatons' Ranch in Wolf has been offering the western dude ranch experience for over 130 years and lays claim to a special status as the oldest dude ranch in the United States. The T Cross Ranch in Dubois is also listed in the National Register of Historic Places with beautifully restored cabins in keeping with its homestead and dude ranch past.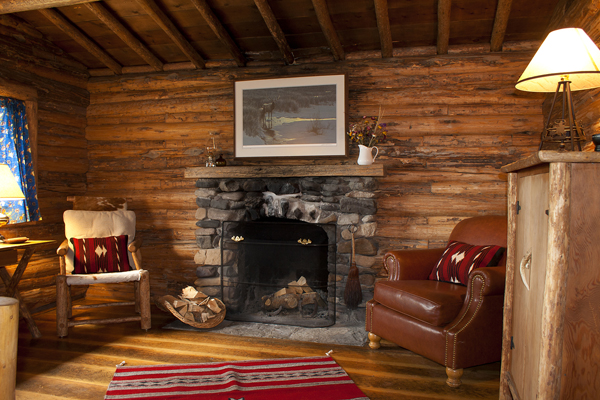 A cabin interior at T Cross Ranch in Dubois.
2. Family Owned Small Businesses
There's something nice about supporting family owned, small businesses, especially in our current, sometimes tough economic climate. Wyoming has several, longtime family-owned and operated ranches, some of which are now operated by fourth and fifth generations. Some include The Red Rock Ranch, T Cross Ranch, Eatons' Ranch and Gros Ventre River Ranch.
2. All Day Rides
With an abundance of land, guests don't have to spend just an hour in the saddle on a Wyoming ranch vacation. Many ranches offer all-day rides and pack trips, to give you the maximum time outdoors with horses. T Cross Ranch offers multi-day pack trips into Yellowstone Country for a truly off the beaten path, natural adventure. Paradise Ranch takes riders on 4 day and 3 night pack trips and offers longer adventures. Their Frying Pan pack trip was recently featured on ESPN Outdoors.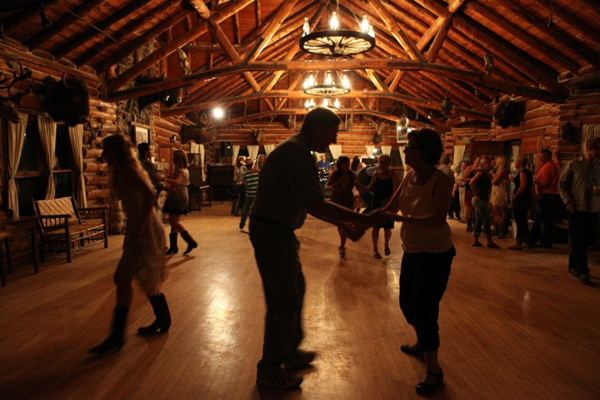 Dance night at Eatons' Ranch in Howard Hall.
3. Activities for Diverse Groups
You can go to a dude ranch and not even ride horses, though we don't recommend it. There are diverse activities for groups to enjoy including fly fishing, water sports, hiking, biking, rafting, archery, visiting dinosaur dig sites, lounging by the pool or visiting the spa. Travelers can experience unique adventures like the thrill of Class III and IV whitewater rafting on Snake River Canyon with Gros Ventre River Ranch or the sweet pleasure of cooking classes and chocolate making at The Hideout Lodge.
4. Kid and Family-Friendly
Looking for a vacation where your kids won't be bored? Many ranches offer kid-friendly camps, programs and activities. Children can explore with their peers, enjoying riding horses, creating art, fishing, and getting into nature. Most Wyoming ranches offer kid's programs with Eatons' Ranch, Gros Ventre River Ranch, and HF Bar being particularly strong.
Family-friendly horseback riding at HF Bar Ranch in Wyoming.
5. Adult-Friendly
Looking to leave the kids behind? Many ranches offer adult only weeks, especially in the summer or fall. This is a great time for a couples escape or to grab your gal pals to travel. Paradise Ranch and Gros Ventre River Ranch offer Adult Only Weeks in the fall, when families are taking their kids back to school. Cooler temperatures also bring fall colors at this time of year, making for a cool adult escape.
6. National and State Parks
Many Wyoming ranches are located by or in close proximity to state and national parks, including Yellowstone and Grand Teton. The Red Rock Ranch has the advantage of being located just outside of Jackson Hole, as well as Grand Teton National Park and Yellowstone National Park. The T Cross Ranch is by the charming town of Dubois, called the Gateway to Yellowstone as it is located a short drive from the Park's South entrance. Check out more ranches near national parks.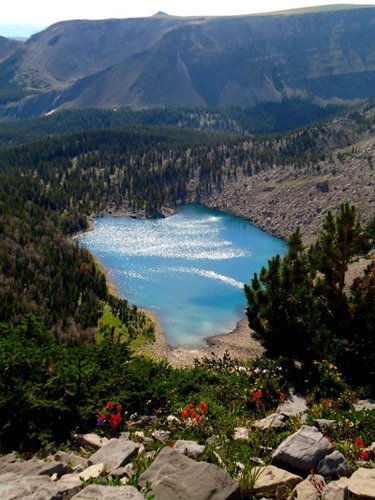 A view from up high with The Red Rock Ranch in Wyoming.
7. Old West Accommodations, Dining & Saloons
Dreaming of stepping back in time? Many ranches have stunning historic decor or have been rebuilt to have an Old West feel, making for a fun Western vacation escape. Eatons' Ranch is one example. This historic guest ranch boasts the Apartment Bar, a Western Saloon with Wyoming's local Blacktooth Brewery beer on tap.
8. True Working Ranches
For those seeking a working ranch adventure, Wyoming boasts authentic working ranches. The Hideout in Shell is a large and old working ranch with a herd of approximately 3,000 Black Angus and 250 horses grazing on a combination of private property, BLM lands, and a national forest at elevations varying between 4200 to 10,000 feet. If you want a challenging cattle drive adventure, this Top 20 Ranch is a good pick.
9. Stunning Scenery
From buttes to grasslands to mountains to winding rivers, Wyoming has spectacular and diverse scenery. Travelers can choose to visit the pine-covered eastern slopes of the Bighorn Mountains with Eatons' Ranch, the Gros Ventre Wilderness and mountains, Teton National Forest and Bridger Teton Park with Gros Venture River Ranch, or red clay hills, high desert and canyons with The Hideout Ranch.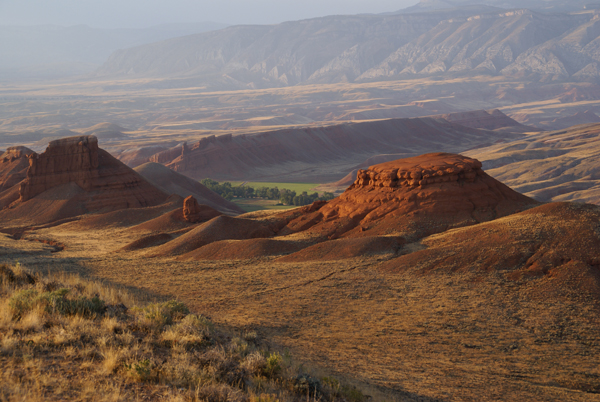 The beauty of the land surrounding The Hideout Lodge in Shell, Wyoming.
10. Upscale Amenities
You don't have to rough it, unless you choose to do so, on a modern ranch vacation in Wyoming. While some ranches work to cut you off from modern technology, a welcome choice for some travelers, others provide Wireless internet, flat screen cable TV and luxury cabins. At Gros Ventre River Ranch, guests stay in historic cabins brought over from the valley's second oldest dude ranch, the BarBC. These special cabins have been restored to include modern amenities and western luxury.
Check out more great Wyoming ranch vacations in the Equitrekking Vacation Guide and at Top20Ranches.com.