10 Things to Love About Montana Ranch Vacations
Why taking a ranch vacation in "Big Sky Country" is ohhh so good!
by Darley Newman
With spectacular mountain ranges, lush valleys, rushing rivers with "blue-ribbon" trout fishing, protected open spaces and longtime dude ranches, the sparsely populated state of Montana is a great place to saddle up for a dude ranch vacation. The state has diverse ranches from which to choose, ranging from family-run ranches with rich history to luxury ranch resorts with top amenities.
Here are 10 great reasons to pick Montana for your dude ranch vacation.

Jaw-Dropping Scenery
Snow-capped mountains juxtaposed with unspoiled prairies and sparkling rivers... Montana scenery is impressive and inspiring. Guests at The Resort at Paws Up, a working ranch in Greenough whose dude ranch roots date back to the 1800, can horseback ride through golden meadows, sprawling forests with mountain views or down to the legendary Blackfoot River. This ranch boasts the best of Montana's varied scenery. Travelers to 63 Ranch, located outside of Livingston, are treated to magnificent mountains and tens of thousands of acres with the Gallatin National Forest and Absaroka Beartooth Wilderness just a few yards from the ranch's front porch.
Mountain views from The Resort at Paws Up.
Horseback Riding for the Skilled... and Unskilled
Montana dude ranches are home to a variety of horses for riders of all levels. Horseback riding is one of the main reasons guests visit Bar W Guest Ranch, located just outside of the resort town of Whitefish. With indoor and outdoor arenas, year-round riding and special themed weeks, like cattle drives, the Cowgirl Up experience and horsemanship, barrel racing and pole bending lessons, this is a good pick for families, singles and groups who want to get out and ride.
Yellowstone Tours
Yellowstone is a gem within the National Park System and within the United States, so it's a special treat for guests to be able to combine a ranch vacation with time in Yellowstone. Several ranches offer Yellowstone tours, including Mountain Sky Guest Ranch, located just 30 miles from the park.
Fly-Fishing on Blue-Ribbon Waters
Montana has thousands of rivers and streams beckoning fly-fishing enthusiasts. Nestled in Paradise Valley along the Yellowstone River, Mountain Sky Guest Ranch is popular with anglers, who fish for cutthroat, brown, and rainbow trout. Lone Mountain Ranch boasts a number of locations for anglers to explore, including Yellowstone National Park, Lee Metcalf Wilderness and the Gallatin, Madison and Missouri Rivers.
Unique Adventures for All Ages
Horseback riding is a top activity at many Montana dude ranches, which offer trail rides, lessons in the arena and often pack trips, too. Many Montana dude ranches offer kid's programs, like The Ranch at Rock Creek, whose Little Grizzlies Kids Club includes wildlife viewing, sapphire mining, guided hikes and bike rides, pony rides, gold panning, and more. While counselors keep the kids entertained, adults may enjoy activities ranging from relaxing to extreme adventure, including time at the spa, fine dining, wine tasting, pistol shooting, fishing, riding horses, hiking or ropes courses.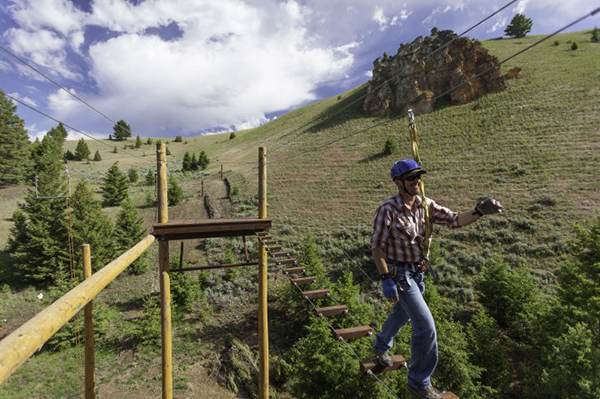 For adrenaline junkies, The Ranch at Rock Creek features thirteen high ropes and six low ropes in a protected natural basin.
Year-Round Convenience
Many Montana ranches are open year-round, giving travelers the opportunity to see the changing leaves on horseback, soak in the summer sun, roam through colorful wildflower meadows and romp through the snow on horseback or skis. The Ranch at Rock Creek and Bar W Ranch are open year-round, while others like Mountain Sky Ranch, The Resort at Paws Up and Lone Mountain Ranch are open spring, summer and fall. Lone Mountain Ranch, known for its excellent riding, was also voted the #1 Nordic Ski Area in North America by Cross Country Skier magazine.
Rich Ranching History
Many Montana ranches have been around since the dawn of the dude ranch industry and some were working ranches prior to that. The first dude ranch in Montana to be declared a National Historic Site, Montana's 63 Ranch has a rich and interesting history. Dating back to 1863, the ranch was homesteaded by George Bruffey, whose enterprising design for a brand is still present on 63 Ranch's horses today.
"Roughing It" in Luxury
For travelers seeking a mix of nature and comfort, you can find luxury accommodations on the wilds of Montana, particularly at resort ranches. At The Ranch at Rock Creek, a cedar sauna, private log homes and state-of-the-art fitness center delight travelers seeking to combine outdoor adventure with over-the-top Western luxury.
Authentic Working Ranch Experiences
Ranches in Montana don't just accept guests. Many get their bread and butter from longtime cattle operations. The Ranch at Rock Creek has been operated continuously as a working cattle ranch since the turn of the century. 63 Ranch invites guests to join cowboys in salting, gathering, working and moving ranch-owned cattle. The Lodge at Diamond Cross is also a working cattle ranch and hunting lodge that welcomes guests to step back to a more-relaxed past.
A horse grazes at Bear Basin, a favorite all-day ride for guests at Lone Mountain Ranch.
A Special Way of Life
Many Montana dude ranch owners are holding on to their Western roots and keeping cowboy and ranching traditions alive. Sharing this with a small number of guests each year makes for a unique vacation. Ranches like 63 Ranch, which takes only 30 guests at a time, and The Lodge at Diamond Cross, which takes up to 15, ensure visitors get an intimate look at life on the ranch.
Learn more about great dude ranches in the Equitrekking Vacation Guide and at Top20Ranches.com.