10 Things to Love about Horseback Pack Trips
A horseback pack trip gets you out into the wilderness to truly discover the call of the wild! Here's what we love about packing out on horseback!
by Darley Newman
If you really want to get into the wilderness, a horseback pack trip is a great option. It gets you to pristine places faster than hiking and you get to travel there with a special four-legged friend. There are lots of options, from multi-day and multi-week horseback adventures with outfitters to overnight trips during your stay at a guest ranch. From stunning Banff National Park in Alberta, Canada to the vast and diverse Bob Marshall Wilderness in Montana, there are great places to explore, camp out and see a sky full of stars.
Here are 10 things we love about horseback pack trips and what you might love, too.
#1 Wild, Beautiful Country
If you truly want to get to untouched, stunning country, ride a horse. A horse pack trip is a great way to reach unpolluted places far away from people and technology, like the most remote areas of the Bob Marshall, the fifth-largest wilderness in the lower 48 states, with A Lazy H Outfitters or Swan Mountain Outfitters.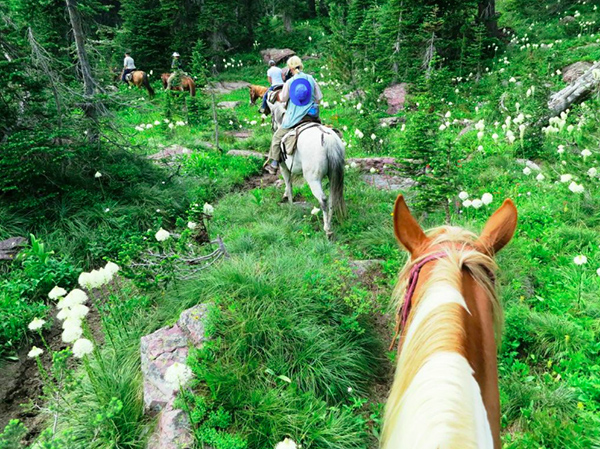 Riding with Swan Mountain Outfitters. They run authentic horseback pack trips into one of the most pristine backcountry wilderness settings imaginable–– The Bob Marshall Wilderness.
#2 Lightly Fished Rivers
If you enjoy fly fishing, you might enjoy being the only one on the water. Pack trips can take you to lesser fished rivers where the fish are plentiful and the scenery is unmatched. With A Lazy H Outfitters, fish for Rainbow Trout, Cutthroat Trout, Whitefish or Arctic Grayling found upstream, in ripples, holes and beyond. It's up to you!
#3 Cool Campfires
If you like s'mores and campfire popcorn, you'll like hanging out on a pack trip. Evening entertainment may consist of melting marshmallows by the campfire and swapping stories about the day's adventures. What's better than that!?!?!
Swan Mountain Outfitters dinner menu consists of traditional Western fare like steak, baked beans, corn on the cob and, of course, s'mores!
#4 Campfire Cooking
If you like campfire cooking, you'll be happy about the food on your pack trip vacation. While in Banff National Park with Holiday on Horseback, we had awesome meals made by an experienced camp chef. Nothing tastes better than campfire brewed coffee and a hearty meal after a day outdoors.
#5 New Riding & Wilderness Skills
You definitely learn a lot when you take a horse trek, whether it's about how to pack out your gear, how to navigate mountain trails or how to responsibly enjoy a leave-no-trace camping adventure. The Outpost at Warden Rock in the Canadian Rockies even offers a Wilderness Packing School as part of their Equine Educational Holidays. You never know when these skills may come in handy, whether on a trail at home or on your next wilderness vacation.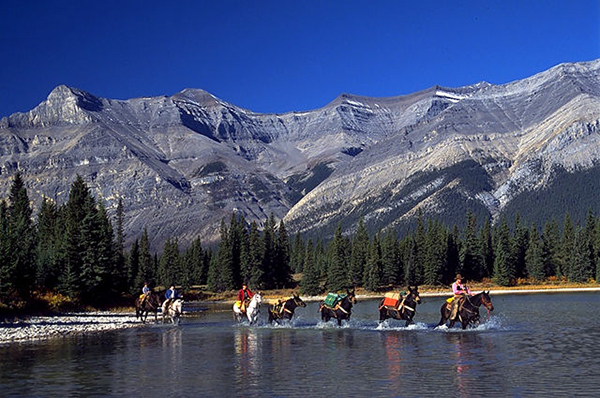 The Outpost at Warden Rock's Equine Educational Holidays include the 3-day Wilderness Packing School. In the wilds of Alberta, Canada, learn the basics of packsaddles and rigging, how to fit them to the animal, wilderness safety precautions and more.
#6 Mountain Views
While not all pack trips take you into the mountains, many do, allowing for awesome views. On horseback pack trips into Banff and the Bob Marshall Wilderness, you'll see pretty mountain scenery and in the Bob Marshall you can even ride over the Continental Divide.
#7 Being Unreachable
On a horse pack trip, you can't expect your Wi-Fi to work and that means neither can your co-workers. Being unplugged can feel so good! Take the time to truly disconnect and enjoy the peace that it can bring. For once, no one can blame you for not responding via email within 24 hours! This may be such a stress-relieving idea that you'll want to make it an annual trip.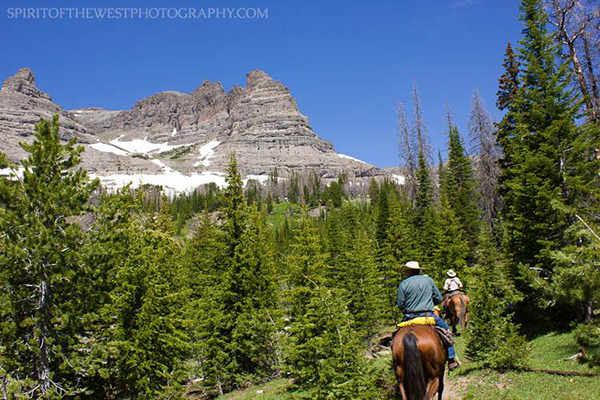 T Cross Ranch, inside the Shoshone National Forest at an elevation of 7,800 feet, offers a pack trip experience, either a 100-mile progressive or an overnight trip to base camp during July and August, so you can get a wild or as semi-wild as you'd like.
#8 Awesome Wildlife Viewing
Depending on where you're riding, moose, bear, elk, deer, cougars and wolves are just some of the wildlife you may view on your pack trip. Some wilderness adventures are specifically set up for wildlife viewing, so if you're interested in viewing animals outside of a zoo, look for one of these.
#9 Even a Beginner Can Participate
Being a first time rider doesn't preclude you from taking a horseback pack trip. Many ranches and outfitters offer trips that are suitable for first time riders. In some mountain terrain, you can't ride fast anyway, so this also can be a good choice for green horse-folks. If you're a first time rider, you might get a little sore, but a pack trip can be a cool way to get introduced to horses and see just how far they can take you.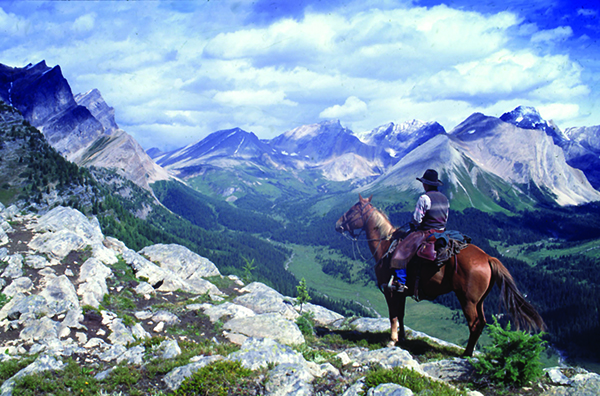 With a herd numbering over 300 horses, Holiday on Horseback, with whom we filmed for Equitrekking, can accommodate just about any rider on their Canadian Rockies pack trips.
#10 One Night Out or Many More
While many people prefer to camp out for a few days, we know not everyone does. A good option for travelers who just want one night out and a nice hot shower the next day is to stay at a guest ranch that offers overnight pack trips. T Cross Ranch in Wyoming, Lone Mountain Ranch in Montana and Eatons' Ranch in Wyoming are a few.
Check out the options for overnight and multi-day horseback pack trips at ranches and with outfitters across the USA and around the world in the Equitrekking Vacation Guide.