10 Authentic American Ranch Experiences in Colorado
Seeking a truly American ranch experience? From the quirky to the cool, check out these ten experiences travelers can enjoy at Colorado ranches, including cattle drives and brandings, Native American culture, national parks, cowboy poets, barn dancing and more.
by Darley Newman
Whether you're traveling from the UK, Germany, China or the state next door, these ranches offer truly fun, classic American adventures. Roll up your jeans and get ready for a barn dance, listen to a cowboy recite his latest poetry or take a ride in a stunning USA national park at these Colorado dude ranches.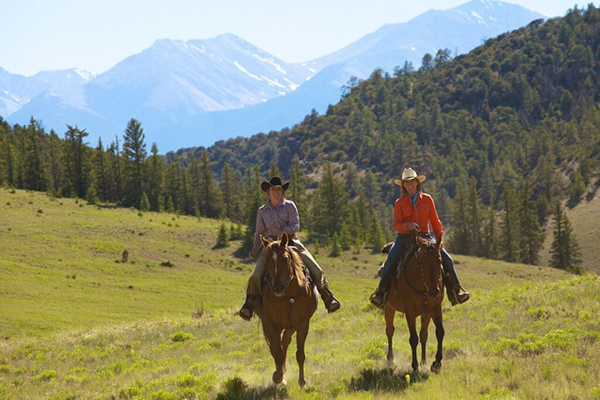 Riding high at Elk Mountain Ranch, Colorado's highest guest ranch.
#1 National Parks
With the Rocky Mountain National Park and Great Sand Dunes National Park, Colorado ranch guests can combine a ranch vacation with a national park visit. Some ranches even take travelers riding in their bordering national parks.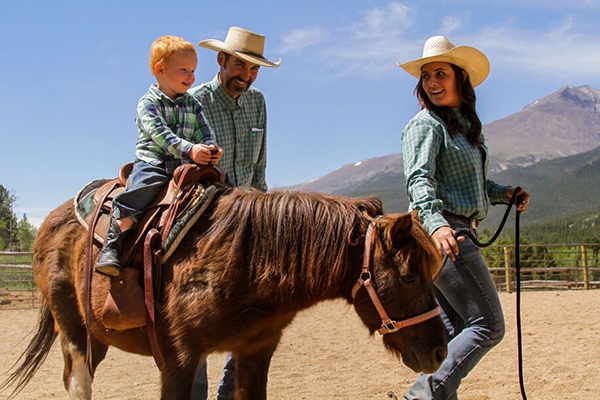 Guests at Wind River Ranch enjoy daily horseback rides through the scenic Rocky Mountain National Park.
#2 Native American Culture
Travelers looking to soak in Native American history can do so at Colorado ranches. Sylvan Dale Guest Ranch offers a special Native American Week every summer in July. The Heart-J Center for Experiential Learning at Sylvan Dale Ranch along with Gray Wolf and his fellow historians bring ancient traditions to life.
#3 Cattle Drives
Colorado has a rich ranching heritage and many guest ranches offer travelers the chance to immerse themselves in real ranch work. Gathering cattle, team penning, doctoring sick animals, branding calves, checking fences and cattle drives are just some of the fun activities that will challenge you on your vacation.
#4 Cowboy Poets & Singers
Hear poetic stories of the American West sung or said by a cowboy poet or singer. This entertainment will transport you to another place and time... at least temporarily. Ranches like Tarryall River Ranch and Sundance Trail Guest Ranch offers cowboy entertainers.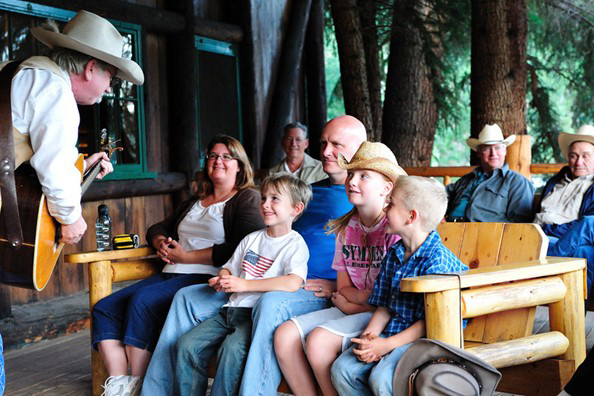 Cowboy singer at Tarryall River Ranch.
#5 Square Dancing
Many Colorado ranches offer Western music, dancing and, in particular, square dancing is a top pick at more than a few. At Deer Valley Ranch, guests can square dance beneath the stars on a large outdoor deck. Wind River Ranch offers outdoor square dancing, too.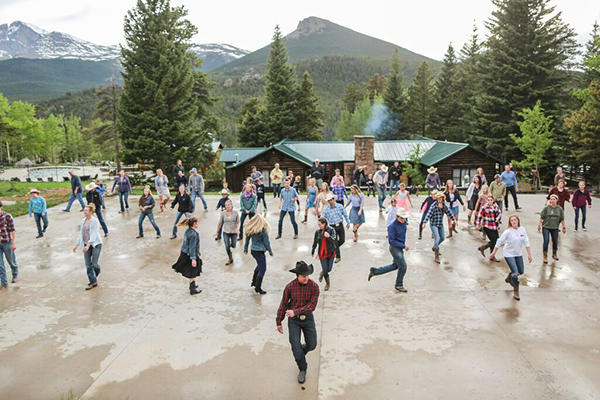 Square dancing at Wind River Ranch, a Christian dude ranch in Colorado.
#6 Campfires
From Dutch oven dishes to traditional s'mores, there's nothing better than campfire cuisine. Whether you're gathering with your family or friends or just warming your toes after a day of riding, Laramie River Ranch in Jelm, Colorado offers a special all-day cookout ride through the Roosevelt National Forest and a shorter more direct route along LaGarde Creek.
#7 Hayrides
You can hit the hay with family and friends at Colorado ranches. Tumbling River Ranch offers a true Western experience on Monday nights with hayrides. Cherokee Park Ranch offers a hayride to Prairie Divide, where s'mores and hot chocolate by the campfire with cowboy songs complete the night.
#8 Fishing
Colorado abundant rivers, lakes and reservoirs draw in fly-fishers seeking trout. With great places to fish right onsite at many Colorado dude ranches, guests can have a multi-sport vacation during their ranch stay. Both Home Ranch and North Fork Ranch are Orvis Endorsed fly fishing ranches, offering clinics and pond fishing.
#9 American West Historic Stops
From old West towns to gold and silver mines to a historic railroad, Colorado ranches are in nice proximity to some interesting side trips, so you can enjoy American history before, after or during your ranch stay. Colorado Trails Ranch is close to historic Durango and Silverton and many guests choose to ride the Durango & Silverton Narrow Gauge Railroad Train to soak in this history.
#10 Rocky Mountain Biking
Soak in the iconic Rocky Mountain views in a state where mountain biking was born. Many ranches have bikes available for guests, while others have recommendations for nearby shops for rentals. Sundance Trail Ranch has mountain bikes for guest use at no additional charge. At Vista Verde Ranch, the mountain biking vacation program involves instruction in the man-made Terrain Park and adventurous single track mountain biking or Forest service road rides.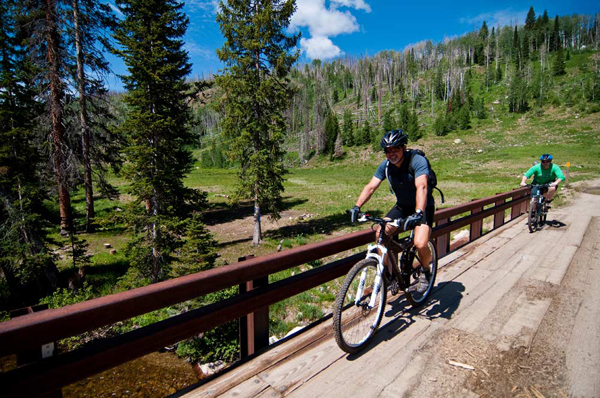 Mountain biking at Vista Verde Ranch in Steamboat Spring, Colorado.
Learn more about Colorado ranch vacations from the experts at the Colorado Dude & Guest Ranch Association.